F1 gossip: Liberty Media, Ericsson, Button
Last updated on .From the section Formula 1
Friday, 23 September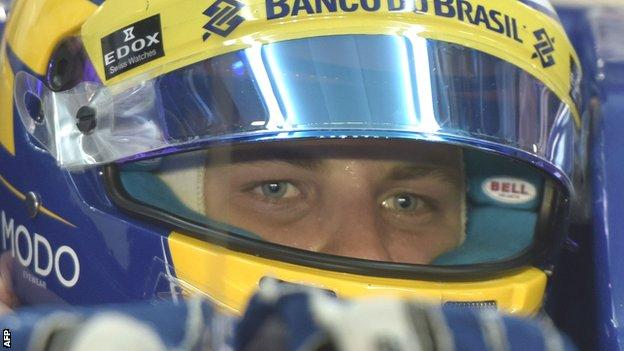 More races, more sponsors and making more of the gambling market are areas where F1 can grow, according to Greg Maffei, chief executive of the sport's new owners Liberty Media. (Pitpass)
Sauber driver Marcus Ericsson is out of contract at the end of the season and says he is in talks with a number of teams about a deal for 2017, including Williams and Renault. (Autosport)
F1 teams have agreed to run both of next year's pre-season tests at Barcelona, having considered taking them outside of Europe. (Motorsport.com)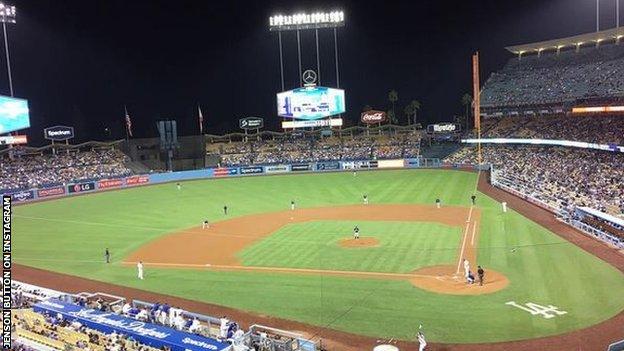 McLaren driver Jenson Button, who will not be racing in F1 next year, posted this picture on Instagram as he took some time out from this season's action to enjoy an LA Dodgers baseball game.
Thursday, 22 September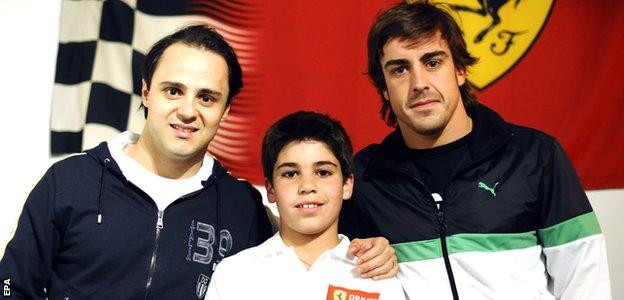 Canadian teenager Lance Stroll is the front runner to take Felipe Massa's seat at Williams when the Brazilian retires at the end of the season. Stroll, 17, is currently a reserve driver at the team. (The Checkered Flag)
Mercedes team boss Toto Wolff is unfazed by F1's American takeover, with new chairman Chase Carney planning to make drastic changes to the sport. (F1.co.uk)
Haas F1 boss Gunther Steiner says he will not silence the team's driver Romain Grosjean, who has been heavily critical of his car this season. (Motorsport.com)
Four-time F1 world champion Alain Prost believes Nico Rosberg can beat Mercedes rival Lewis Hamilton in the race for the drivers' championship. (GrandPrix.com)
Honda are aiming to introduce their final engine upgrade of the season at next weekend's Malaysia Grand Prix. (F1today.net)
Malaysian Grand Prix bosses have "taken every reasonable precaution" ahead of the race after a MotoGP test was hit by problems from resurfacing earlier this year. (Autosport)
Force India driver Sergio Perez says he needs to move further up the grid to fulfil his dream of being world champion but said he is likely to remain with his current team in 2017. (Sky Sports)
Wednesday, 21 September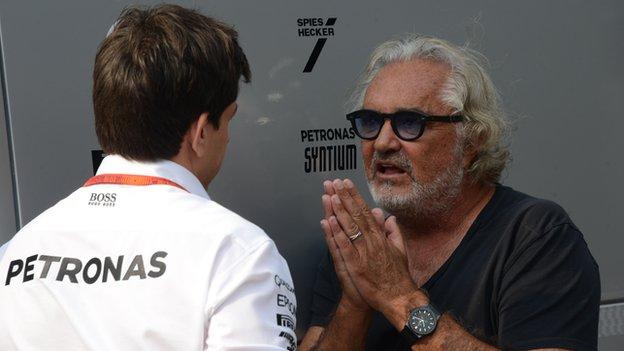 Former Renault team principal Flavio Briatore has said Lewis Hamilton should "concentrate a little less on music and a little more on F1" if he is to make the most of his talent. (Nextgen-Auto in French)
Haas driver Esteban Gutierrez has accused Toto Wolff of "making fun of me" after the Mercedes boss criticised his driving at the back of the Singapore Grand Prix. "He could very easily have come to me and spoken to me face to face, and not behind my back publically," said the Mexican. (Autosport)
Former world champion Damon Hill believes that Formula 1 has rediscovered its competitive edge after he fell out of love with the predictable races of a decade ago. (ReadMotorsport)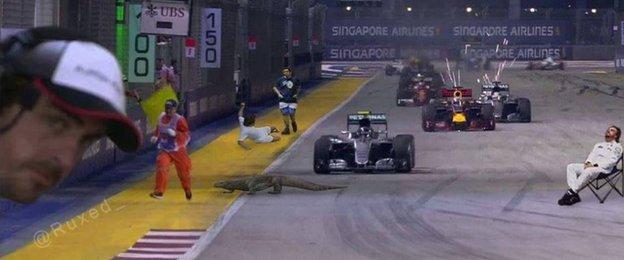 Renault driver Kevin Magnussen posted a meme from the restarted Singapore Grand Prix featuring McLaren's Fernando Alonso famous sunbathing stint from Brazil 2015.
Championship leader Nico Rosberg posted a picture on Instagram showing himself returning to the Mercedes team base in a rather more sedate style compared to his laps of the Marina Bay.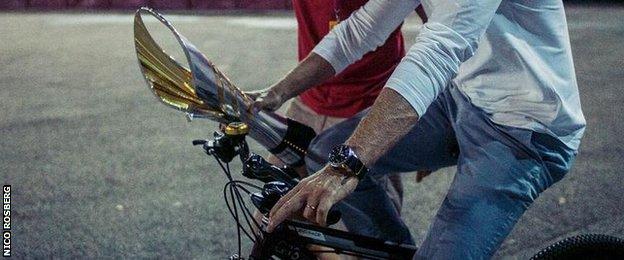 Tuesday, 20 September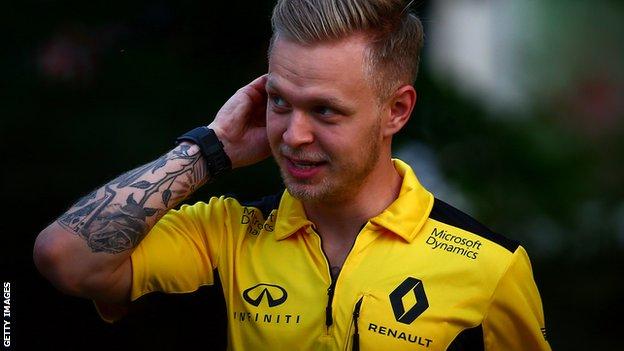 Renault's Kevin Magnussen has revealed he was unable to drink throughout Sunday's Singapore Grand Prix. (Autosport)
McLaren driver Fernando Alonso has reiterated his threat to walk away from F1 unless next year's new regulations improve the sport. (Pitpass)
Alonso is confident McLaren will win "sooner or later" but has acknowledged he perhaps had "too much hope" when he joined the team. (Crash.net)
Lewis Hamilton says there is no obvious explanation why Mercedes team-mate Nico Rosberg has overhauled him in the title race. (Motorsport.com)
Mercedes technical director Paddy Lowe says the team's cars had no brake issues at the Singapore Grand Prix. (F1i.com)
Indonesian driver Rio Haryanto, replaced at Manor by Esteban Ocon midway through the season, has not given up on returning to the grid. (PlanetF1.com)
Hamilton, meanwhile, does not appear to be letting his eight-point deficit in the championship get to him.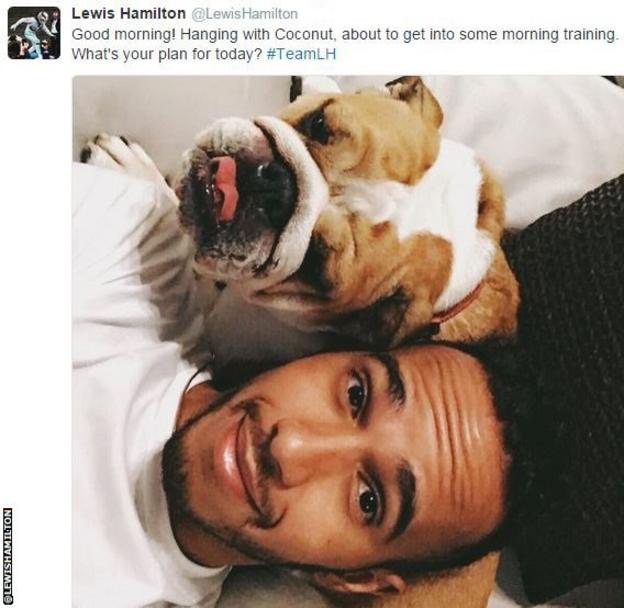 Monday, 19 September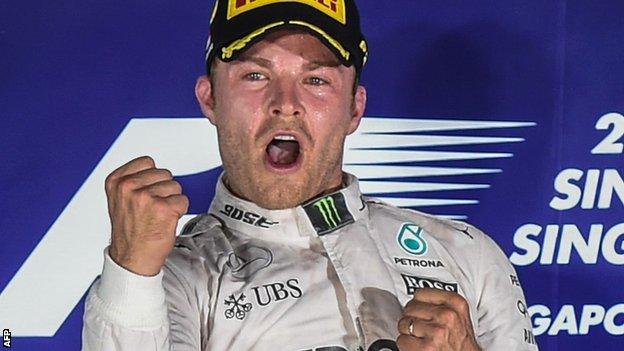 Boss Toto Wolff hailed Nico Rosberg's Singapore Grand Prix weekend as the best he has seen from the German since he took charge of the Mercedes team. (Autosport)
Red Bull boss Christian Horner says there was no problem with Toro Rosso driver Daniil Kvyat aggressively defending his position against his Red Bull replacement Max Verstappen, who eventually overtook the Russian in Singapore and finished sixth. (Planet F1.com)
Meanwhile, Horner has revealed that Verstappen's sluggish getaway in Singapore was because of a recurring clutch issue. (F1i.com)
Motorsport governing body the FIA has launched an investigation to find out why a race marshal was on the track following the restart of Sunday's race in Singapore. (Sky Sports)
Ferrari boss Maurizio Arrivabene, a former Marlboro employee, was detained for six hours in Singapore after being caught throwing a cigarette butt on the ground. (ABC Spain - in Spanish)
German Nico Rosberg enjoyed the celebrations of legendary Mercedes non-executive chairman Niki Lauda after the victory in the Singapore Grand Prix.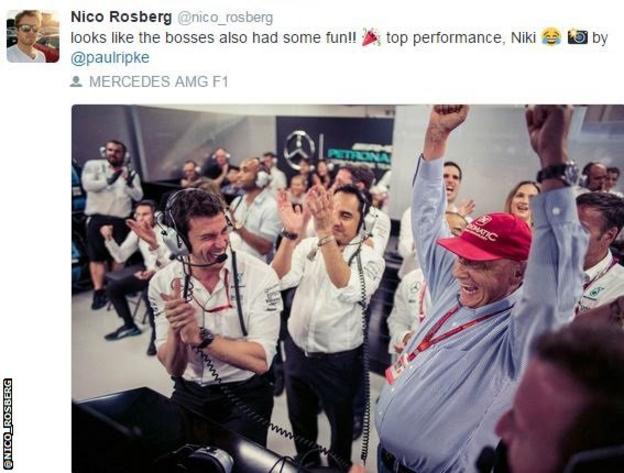 But it was back to the drawing board for Marcus Ericsson, who was 17th of the 18 finishers in Singapore and remains without a point for Sauber this season.