F1 gossip: Hamilton, Lauda, Stroll, Alonso, Schumacher, Perez, Ricciardo
Last updated on .From the section Formula 1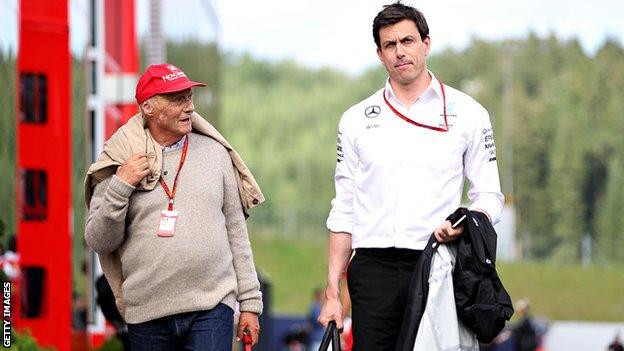 Sunday, 2 October
Mercedes non-executive chairman Niki Lauda has called talk of the team sabotaging Lewis Hamilton's Formula 1 championship hopes "ridiculous and stupid". (Eurosport)
Canadian Lance Stroll, 17, who has been strongly linked with the Williams F1 team, sealed the 2016 European F3 title on Sunday. (Motorsport.com)
Sergio Perez has committed to Force India for the 2017 Formula 1 season. (Autosport)
Fernando Alonso insists there are no reasons for McLaren to get carried away yet despite a positive race in the Malaysian Grand Prix. (Motorsport.com)
Mick Schumacher, 17, the son of seven-time Formula 1 world champion Michael, has been beaten to the German Formula 4 title by main rival and former team-mate Joey Mawson. (ESPN)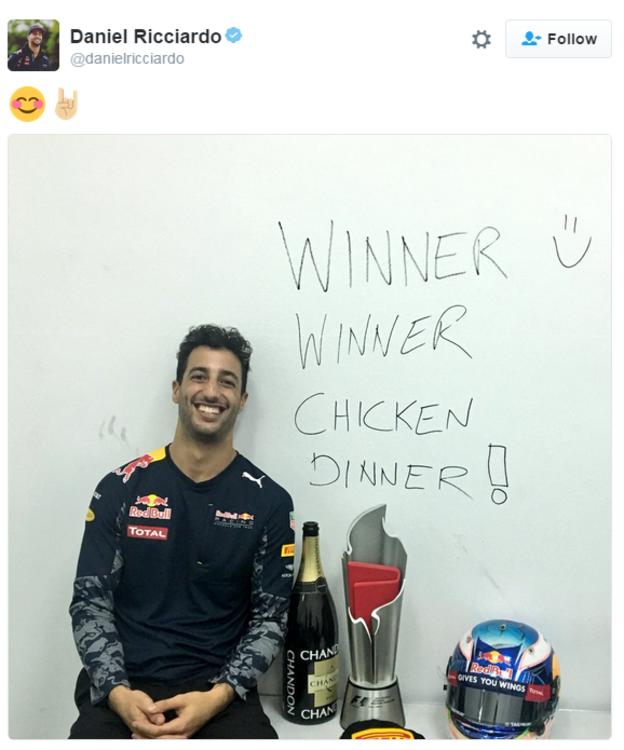 Saturday, 1 October
Renault are planning to change their driver line up completely, with Nico Hulkenberg, Carlos Sainz and Valtteri Bottas the team's main targets. (AMS)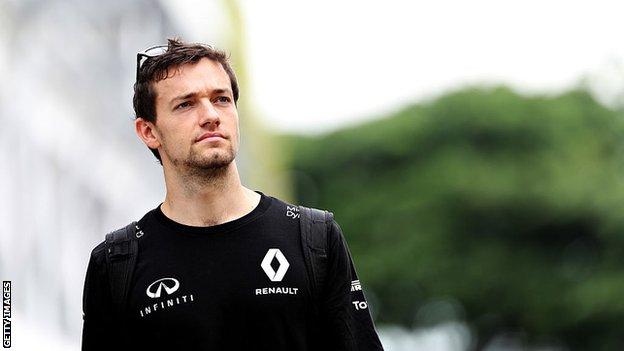 Lewis Hamilton says Mercedes' decision, at the start of this season, to switch the mechanics working on his and team-mate Nico Rosberg's cars has had a "psychological effect" on him. (Daily Mail)
However, Mercedes boss Toto Wolff has told Hamilton that the changes to his pit crew are no excuse if he misses out on the championship this season.(Fox Sports)
Force India are "very confident" of extending the contract of Sergio Perez, despite the Mexican driver's threat that he will be forced to consider changing teams if a deal is not reached this month. (NBC Sport)
Team boss Guenther Steiner says Haas are "looking for experience" for their 2017 line-up as new rumours emerge linking Perez to the team. (Planet F1)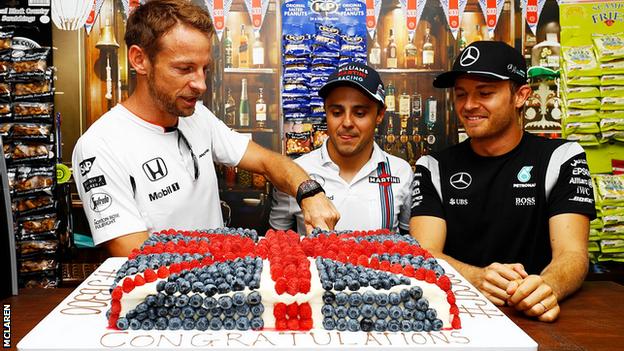 Friday, 30 September
The British Grand Prix has nine months to secure its Formula 1 future beyond 2019. (Autosport)
Swedish Sauber driver Marcus Ericsson says he was "lucky" to escape a more serious injury after colliding with a chicken crossing a road. (Planet F1)
McLaren's Jenson Button conceded that he never expected his Formula 1 career to last so long going into his 300th grand prix start in Malaysia this weekend. (NBC Sport)
Thursday, 29 September
Force India's Sergio Perez has warned he will not compete in Formula 1 in 2017 if his future is not resolved by the end of next week. (Autosport.com)
Organisers of the Brazilian Grand Prix have said they are surprised that their race is only listed as subject to confirmation after the provisional 2017 F1 calendar was released. (F1i.com)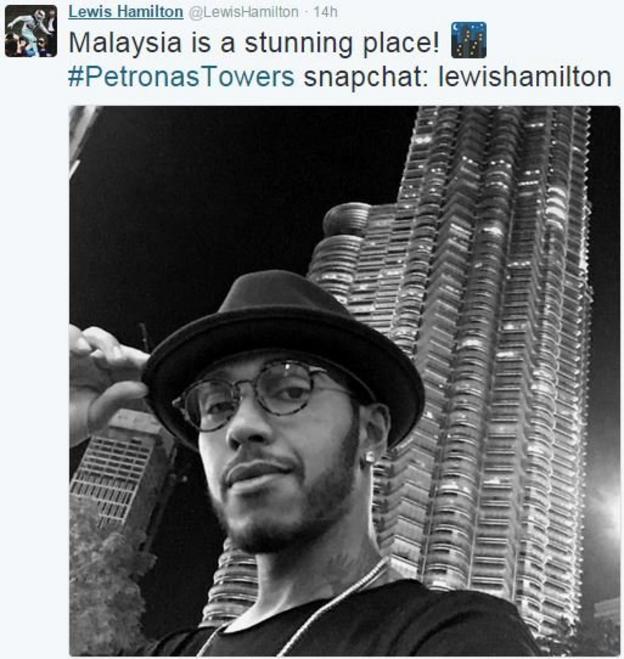 Mercedes team principal Toto Wolff is relishing the rivalry between his drivers - Lewis Hamilton and Nico Rosberg - and says the pair are "pushing each other to new heights". (Fox Sports Asia)
McLaren's Jenson Button, who is expected to start his 300th F1 Grand Prix on Sunday, warmed up for the weekend with some long-distance running. He wrote on Twitter: "32km of running in the bag here in the Malaysian heat & humidity, think I'm ready for the Malaysian GP now. Bring it."
Lewis Hamilton is still the bookmakers' favourite to retain his world championship title, despite being eight points behind Mercedes team-mate Nico Rosberg. (Reuters)
Sauber's Marcus Ericsson was involved in a bizarre accident when he was riding his bike and crashed into a "big chicken". The animal was OK and Ericsson is able to race this weekend after suffering a few cuts and bruises.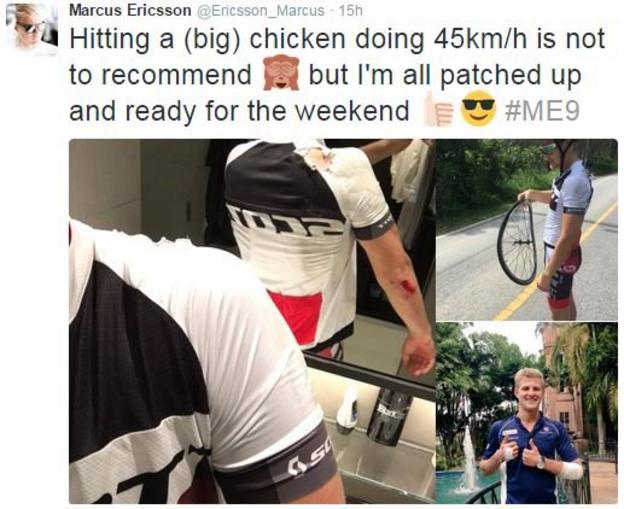 Fancy some Formula 1 power when driving your car? Mercedes have launched their new Mercedes-AMG hypercar, which the company says will be the first road vehicle to "offer genuine 1:1 Formula 1 technology" with a "Formula 1 hybrid powertrain". (Mercedes)
Manor racing director Dave Ryan believes Pascal Wehrlein and Esteban Ocon are "a good match" and would represent the ideal pairing for the 2017 Formula 1 season. (Eurosport)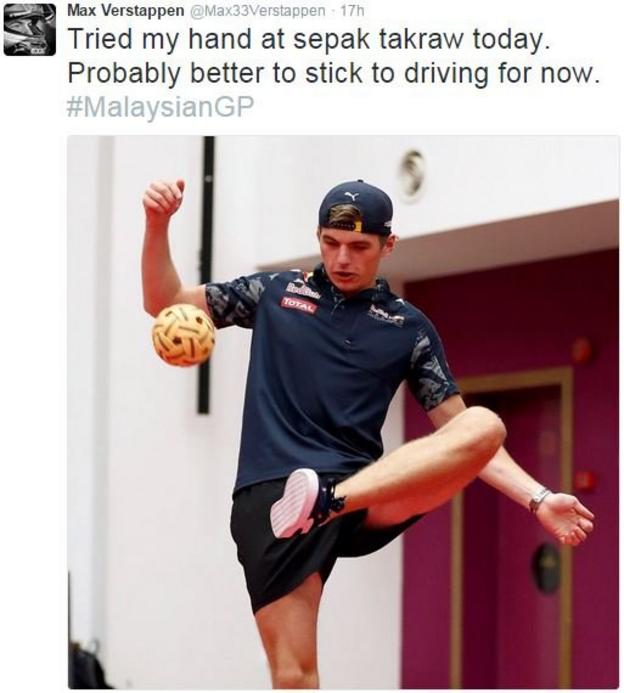 Wednesday, 28 September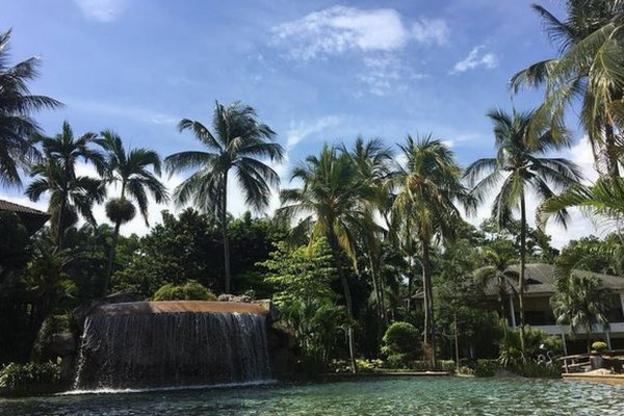 Racing legend Stirling Moss has defended Lewis Hamilton's lifestyle. The 87-year-old said the Mercedes driver "is not stupid" and backed him to win a fourth title this season. (Irish Examiner)
Hamilton remains confident he can overhaul team-mate Nico Rosberg. The Briton is eight points behind the German with six races remaining and said "there's no reason" he can't win. (PlanetF1)
The top-five teams in Formula 1 have all opted for different tyre choices for the Japanese Grand Prix. (Autosport)
Formula 1's new owners Liberty Media should make it a 'priority' to add a second race in the United States by 2019, says motorsport's leading business figure Zak Brown. (Motorsport.com)
Sauber is expecting to sign Formula 1 drivers with financial backing for 2017, according to team principal Monisha Kaltenborn. (Autosport)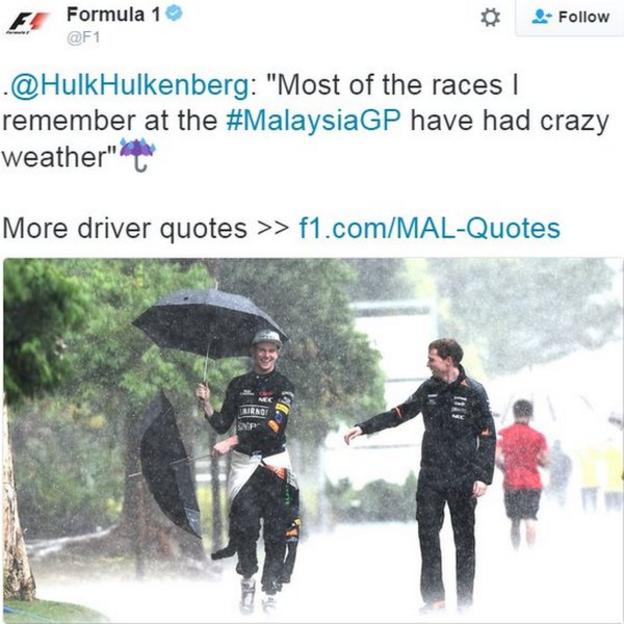 Tuesday, 27 September
McLaren's Fernando Alonso says he hopes to put up a "strong fight" in Malaysia and build on the momentum of the last race where he finished seventh in Singapore. (Formula1.com)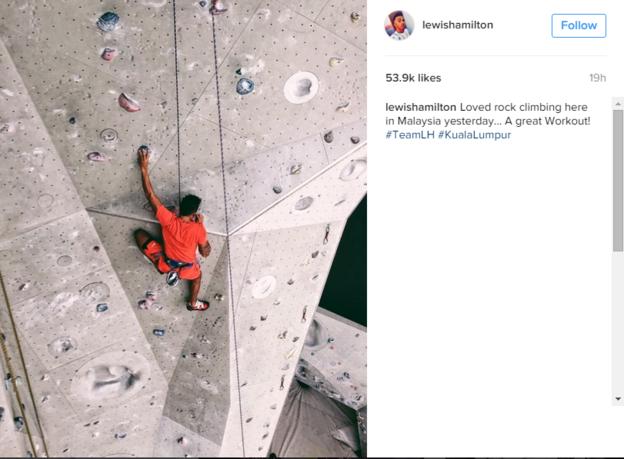 Honda will wait until it gets to Sepang before deciding whether to introduce its last F1 upgrade of the season for the Malaysian Grand Prix. (Autosport)
Liberty Media's takeover of F1 may not be as smooth as they had hoped as questions have been raised about the FIA's conflict of interest. (Planet F1)
Zak Brown will step down from his role as group chief executive officer of CSM Sport & Entertainment at the end of the year, amid growing speculation that he will be drafted in for a commercial role with new F1 owners Liberty Media. (Motorsport.com)
McLaren are ready to win again, according to racing director Eric Boullier, and Honda say they expect to match Mercedes' power output in 2017. (Sky Sports)
Red Bull team principal Christian Horner feels the criticism aimed at Max Verstappen's aggressive driving this season has been "99%" unjustified. (Autosport)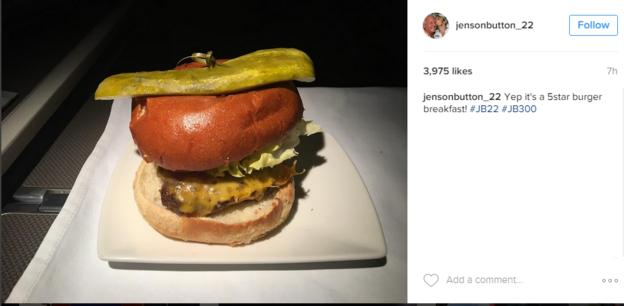 Monday, 26 September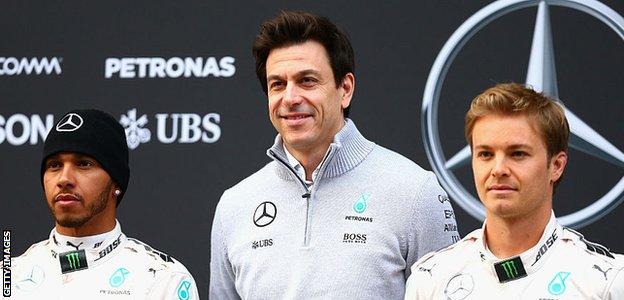 Lewis Hamilton says he has "no idea" if the momentum in the drivers' championship will swing back to him after Mercedes team-mate Nico Rosberg moved eight points clear in the title race. (Autosport)
Mercedes team boss Toto Wolff has warned that Hamilton and Rosberg's struggles on the starting grid will continue this season. (Paddock Talk)
But the Austrian believes the pair are "pushing each other to new heights" in their battle for the title.(F1i.com)
Honda are hoping to be ready to supply more teams with engines by the 2018 season. The Japanese manufacturers currently only provide engines to McLaren. (GrandPrix.com)
McLaren driver Jenson Button has been relaxing before his 300th grand prix start, which comes in Malaysia where he gained his first podium in 2004.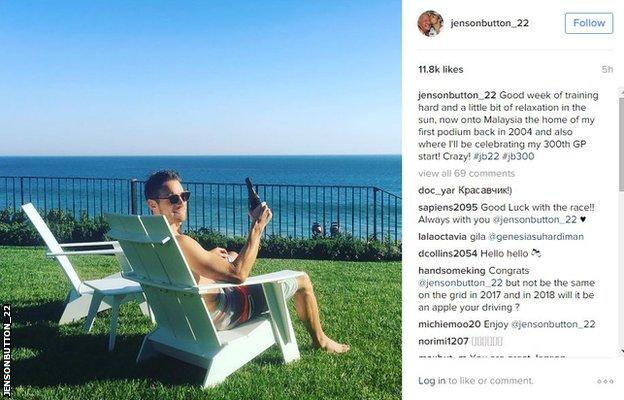 Renault managing director Cyril Abiteboul said this year's poor car has added to the problems in determining the team's driver line-up for the 2017 season. (Autosport)
Haas have found the problem which prevented driver Romain Grosjean from starting at the Singapore Grand Prix. They say the issue was due to a connector falling off and have designed a fix for this weekend's grand prix. (Grand Prix Times)
Toro Rosso team principal Franz Tost says Red Bull have no interest in allowing driver Carlos Sainz to leave for Renault in 2017. (Motorsport.com)