Gossip: Massa, Williams, Gutierrez, Button
Last updated on .From the section Formula 1
Sunday, 27 November
Felipe Massa, who retired after Sunday's race in Abu Dhabi, will be presented with the car that he raced at his final home Brazilian Grand Prix as a leaving gift from his Williams team. (Motorsport.com)
Many teams used the Abu Dhabi weekend to prepare for F1's major rules shake-up in 2017. (Autosport)
Esteban Gutierrez says returning to the Ferrari F1 team as a reserve driver is one of the options he is considering for 2017 after being dropped by Haas. (Motorsport.com)
McLaren's Jenson Button posted this picture on Instagram before his last race in F1. He said: "I will always know I reached my goal and dream in life to become a Formula 1 World Champion. I arrived with dreams and leave with memories."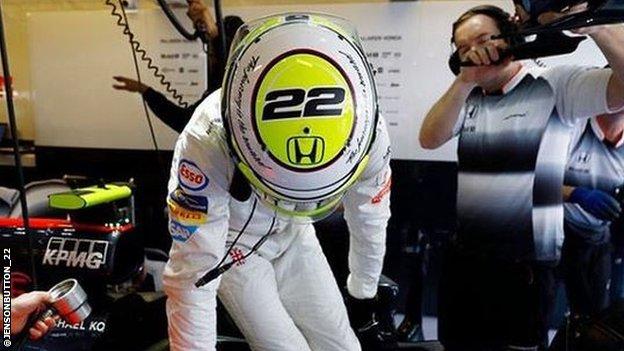 Saturday, 26 November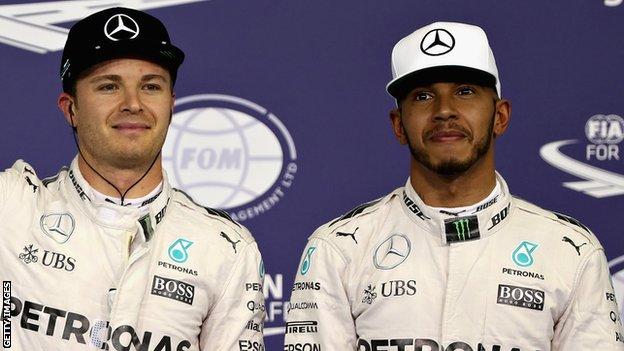 Mercedes boss Toto Wolff has claimed that the relationship between Lewis Hamilton and Nico Rosberg "is like a volcano that is ready to erupt" before the title-deciding final Grand Prix of the season in Abu Dhabi. (Sun)
Wolff is not concerned that Hamilton may be employing mind tricks in a bid to beat team-mate Rosberg to the drivers' title this weekend. (F1today.net)
Hamilton has admitted he has only practised starting from pole position this weekend as he strives to avoid another poor start on the grid. (F1 Fanatic)
Red Bull driver Max Verstappen says he is too far back on the grid to have an impact on the championship battle. (ESPN)
New McLaren boss Zak Brown has said 'never say never' to the idea of Hamilton returning to the team. (Sky Sports)
Red Bull principal Christian Horner is convinced his drivers - Verstappen and Daniel Ricciardo - will be a lot closer to Mercedes next year. (Guardian)
But the drivers' title will be the furthest thing from the mind of Brazilian Felipe Massa who will retire from F1 after Abu Dhabi. His Williams team paid an emotional tribute after qualifying.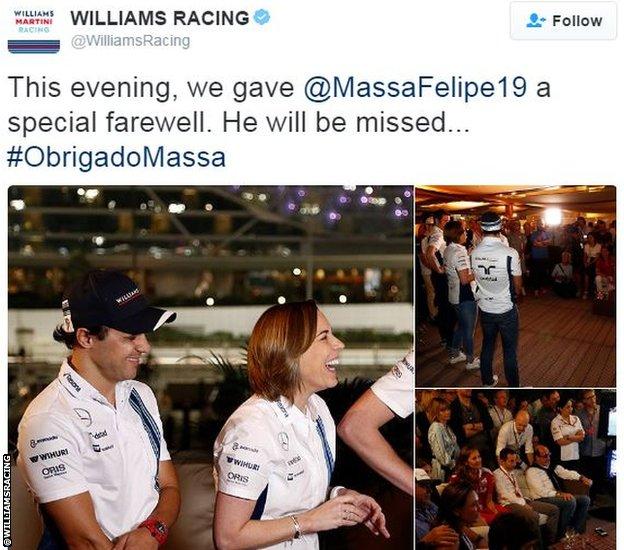 Friday, 25 November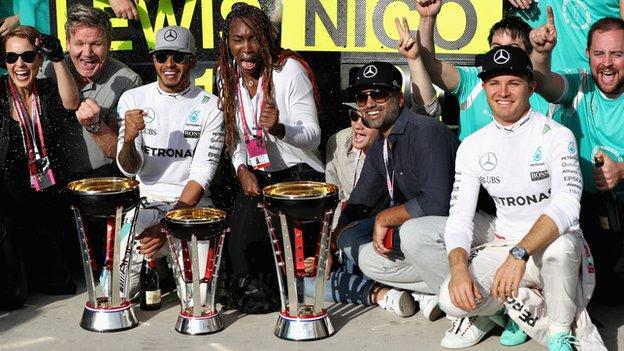 Triple Formula 1 world champion Lewis Hamilton takes inspiration from American tennis sisters Venus and Serena Williams and says they "have a lot of fun around each other". (Reuters)
Max Verstappen says his family used to holiday with Michael Schumacher and that the seven-time world champion provided a "perfect example to follow". (Daily Mail)
The German Grand Prix is set to be dropped from next year's F1 calendar for financial reasons. (Reuters)
McLaren's new executive director Zak Brown says his aim is to get the team "back into victory lane". (Formula1.com)
Sauber's Felipe Nasr believes his performance at the Brazilian Grand Prix last time out will boost his chances of staying in F1 for the 2017 season. (NBC Sports)
Jenson Button posted this picture on Instagram before what looks like his last race in F1: "I go into this Grand Prix with the mindset that it's my last race in F1 so I thought I'd bring back some memories from my World Championship-winning year with a little hint of Pink for papa. I think it looks absolutely awesome, hope you guys do too."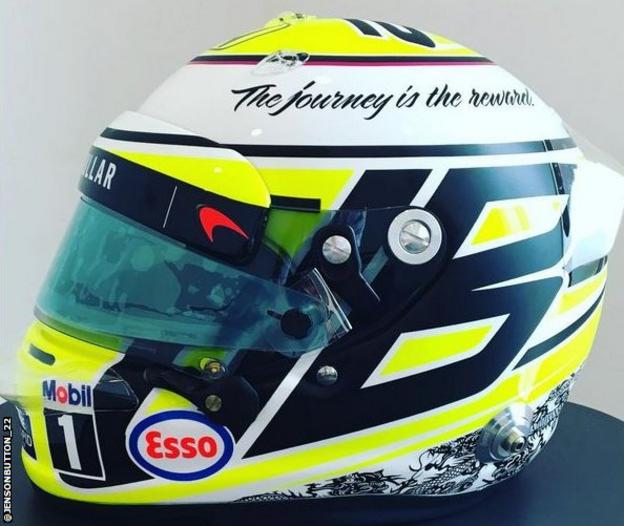 McLaren's Stoffel Vandoorne has been showing off his football skills...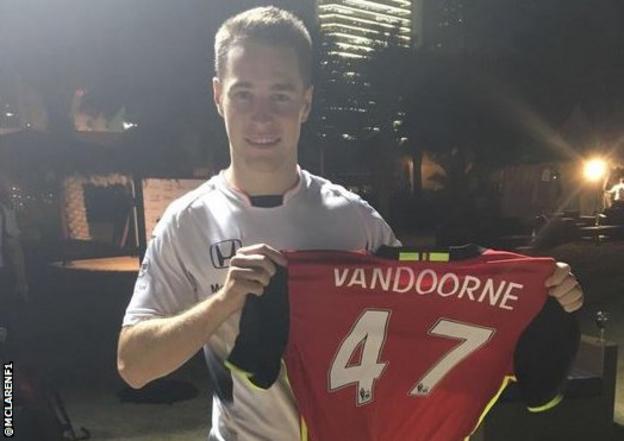 Thursday, 24 November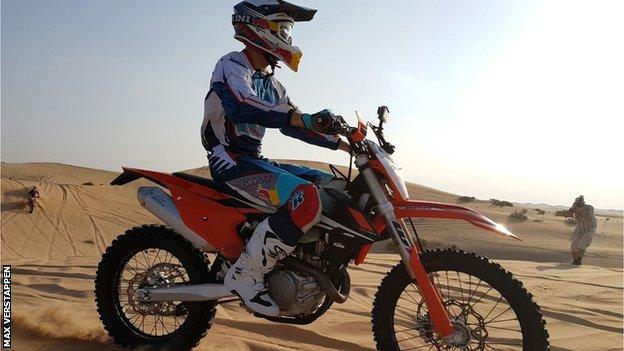 Sebastian Vettel texted Max Verstappen to clear the air after their latest clash at the Brazilian Grand Prix, and gauge his feelings on Formula 1's wet tyres. (Motorsport.com)
Lewis Hamilton will be "quietly happy" if Nico Rosberg wins the drivers' title this weekend, says his former karting boss Dino Chiesa. (Sun)
McLaren's Jenson Button believes next year's rule changes will allow teams to significantly improve cars during the season, which is "great for the sport". (Autosport)
Manor is in discussion with at least one potential buyer. (Joesaward.wordpress.com)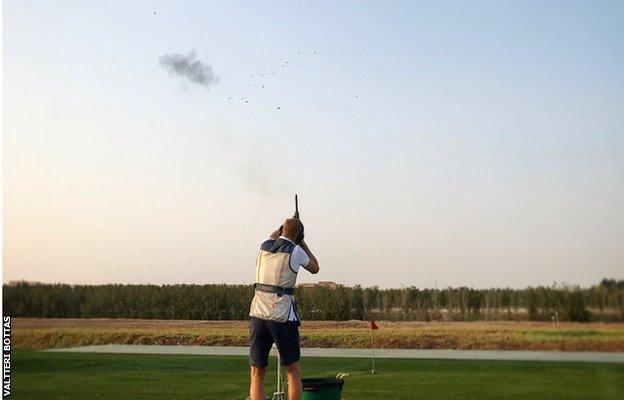 Red Bull drivers Max Verstappen and Daniel Ricciardo swapped four wheels for two as they rode scrambler bikes in the Abu Dhabi desert.
Toro Rosso's Daniil Kvyat says there have been "bad times" for him during 2016 but it "turned out all right in the end". (Grandprix.com)
Rival F1 teams are better than Williams at exploiting the regulations, says technical chief Pat Symonds.(Autosport)
Williams' Valtteri Bottas has had a go at skeet shooting.
Wednesday, 23 November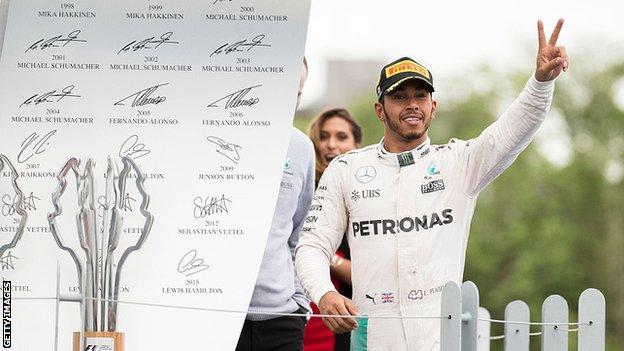 Both McLaren drivers, Fernando Alonso and Jenson Button, would like to compete in the Le Mans 24-hour race in the future. (Fox Sports)
McLaren needs a title sponsor and partner, according to the team's new executive director Zak Brown. (Motorsport)
Manor driver Pascal Wehrlein has emerged as the leading candidate for Sauber's second Formula 1 seat in 2017. (Autosport)
Haas driver Romain Grosjean believes the American team should be targeting a top-seven finish in the 2017 season. (Motorsport)
F1 teams have been arriving in Abu Dhabi for the season finale and taking in some spectacular sights: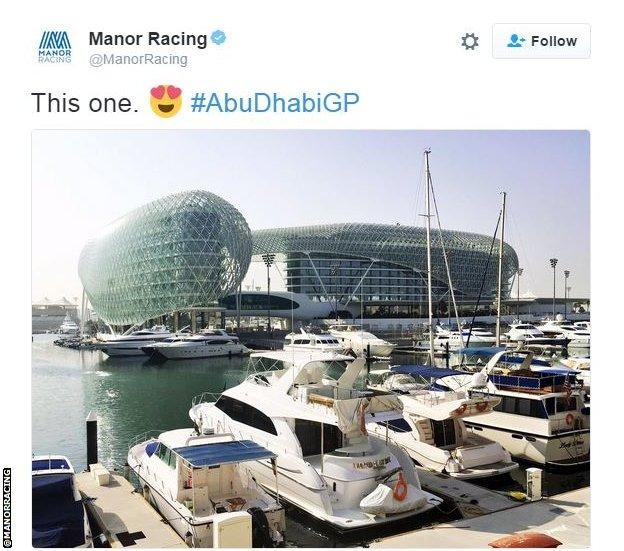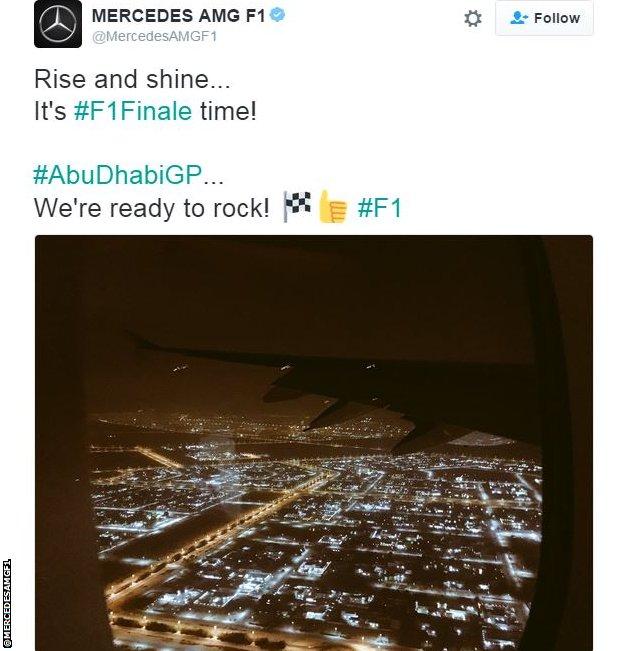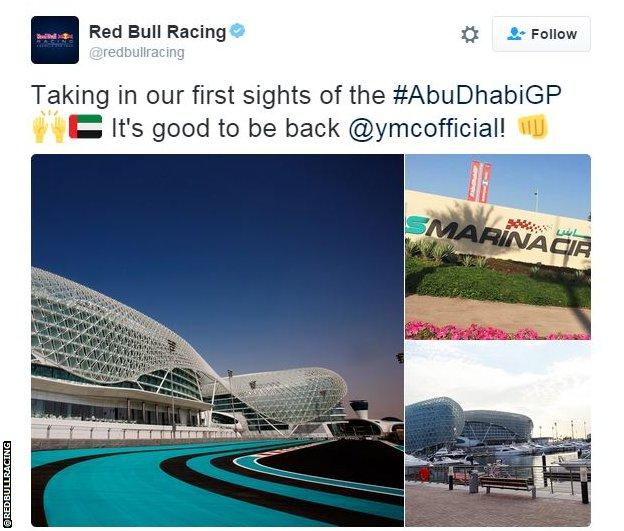 Tuesday, 22 November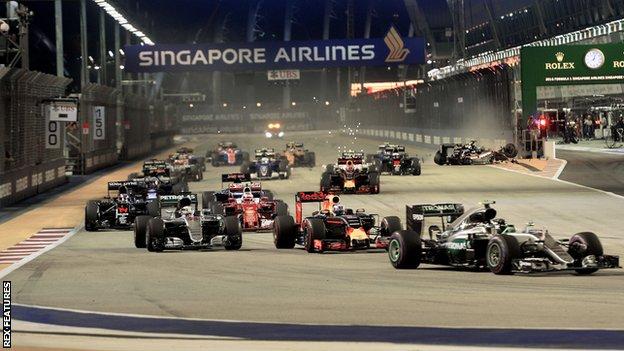 F1 boss Bernie Ecclestone says his suggestion that Singapore did not want a grand prix anymore was taken in a "funny way" and that the race will "hopefully continue". (The Straits Times in Singapore)
McLaren racer Jenson Button is expecting a "hugely emotional" weekend at the season finale in Abu Dhabi in what could be the Briton's final race in F1. (Somerset Live)
Nico Rosberg will have his focus on clinching the drivers' title in Abu Dhabi and says he will "go all out" to beat Mercedes rival Lewis Hamilton to the crown.(Autosport)
Hamilton is 12 points behind Rosberg going into the race at the Yas Marina circuit but cut a relaxed figure as he tweeted a picture with the message: "Squaaaad!! My fam for life".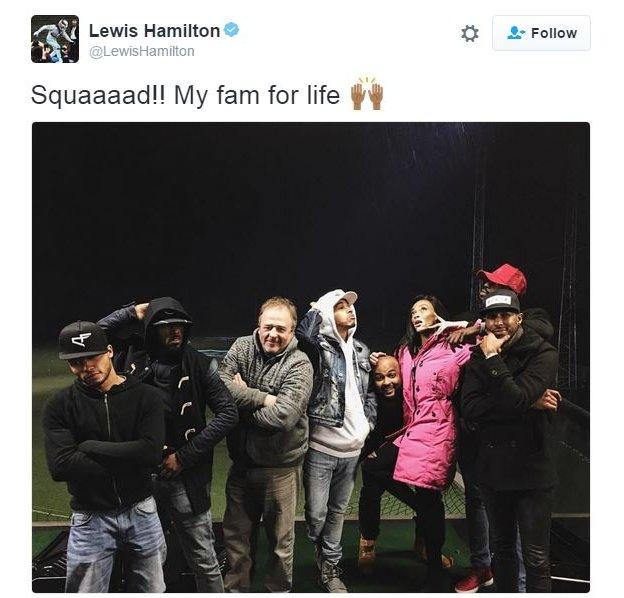 Monday, 21 November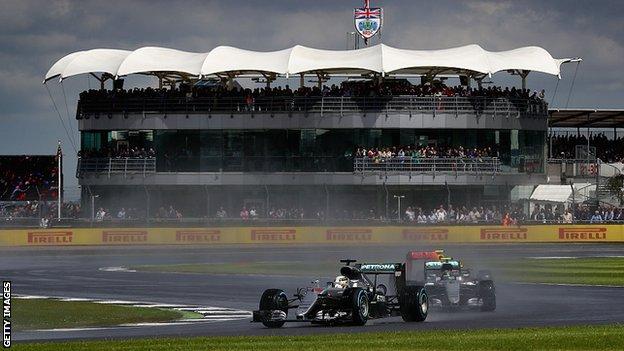 A Russian consortium is in exclusive talks about buying Silverstone from the British Racing Drivers' Club who are trying to sell the track. (Daily Telegraph)
Red Bull's Max Verstappen, 19, has the potential to become the best driver of all time, according to three-time world champion and Mercedes non-executive director Niki Lauda. But the Austrian said Verstappen needs to "be careful" because he is having "too many crashes". (Diario de Ibiza, in Spanish, via F1today.net)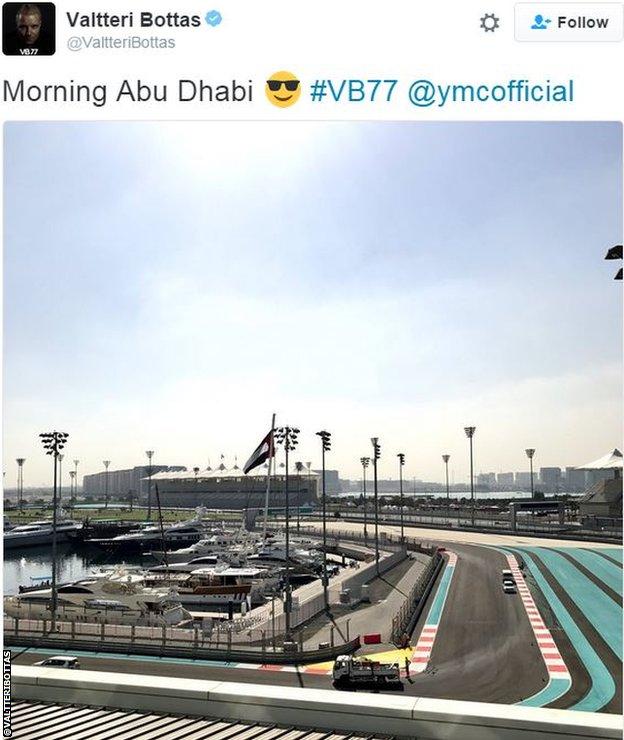 Fernando Alonso, 35, has hinted he may join former F1 driver Mark Webber in driving for Porsche in the World Endurance Championships when he ends his F1 career. (ESPN)
McLaren have confirmed that talks did take place with technology giant Apple over a potential takeover or strategic investment but no bid was ever made. (Auto Express)

Haas F1 driver Romain Grosjean, 30, says the team's next targets are a podium finish and a race win after a successful debut season.(F1i.com)
Pascal Wehrlein, 22, can still have a bright future in Formula 1 according to Force India, despite the team choosing not to promote him from Manor to a driver's seat on their team for 2017. (Motorsport.com)
Subscribe to the BBC Sport newsletter to get our pick of news, features and video sent to your inbox.