Formula 1 gossip: Mercedes, Vettel, Rosberg, Hamilton, Bottas, Toro Rosso
Last updated on .From the section Formula 1
Friday, 24 February
Mercedes team boss Toto Wolff has shrugged off fears of a potential protest against his cars at next month's season-opening Australian Grand Prix. (Reuters)
Former world champion Jacques Villeneuve believes the 2017 cars are tailor-made for Ferrari's Sebastian Vettel and that the German will shine this year. (Bild via F1i.com)
Current world champion Nico Rosberg, who retired in December, is a fan of his former team Mercedes' car.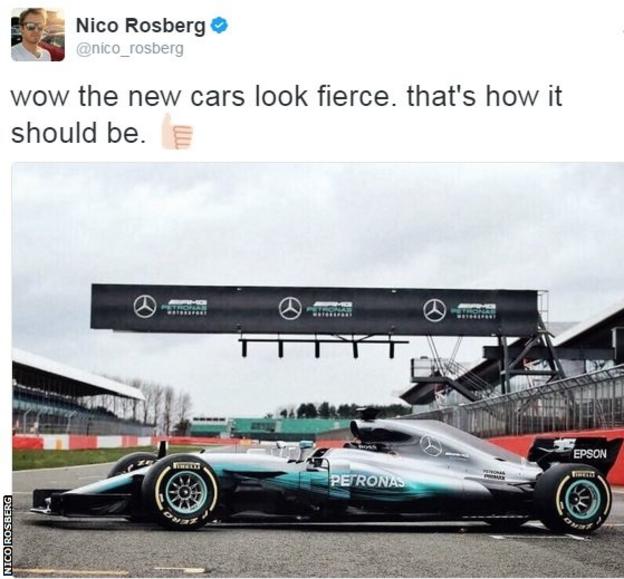 Three-time world champion Lewis Hamilton responded on Twitter to the new Mercedes W08.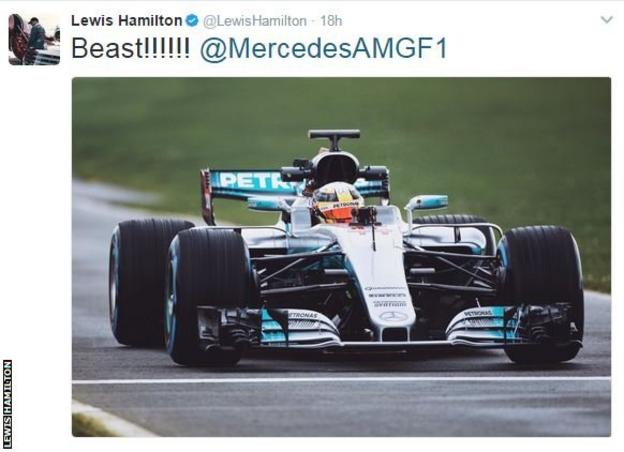 His new Mercedes teammate Valtteri Bottas posted this more cryptic message.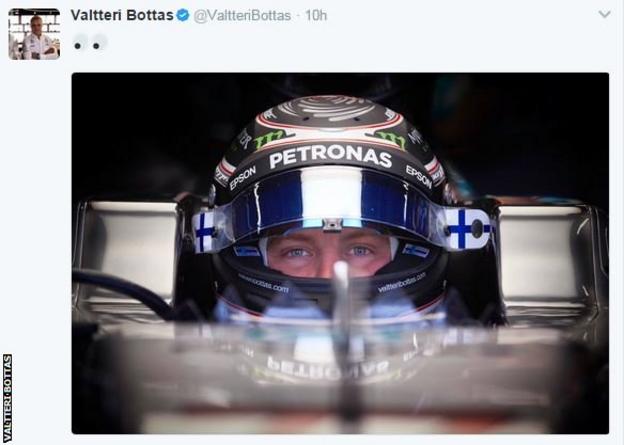 Toro Rosso were forced to cut short a filming session in Italy when their new Renault engine failed after just six laps. (PlanetF1)
Lewis Hamilton wants new F1 owners Liberty to relax the rules on social media on race weekends. (Fox Sports)
Thursday, 23 February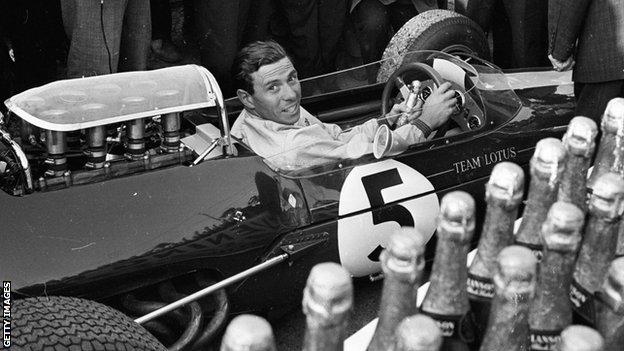 Valtteri Bottas has a "good chance" of challenging Mercedes team-mate Lewis Hamilton, according to Formula 1 legend Alain Prost. (GrandPrix.com)
The Lotus in which Jim Clark won the 1965 World Championship will go on public display for the first time in more than 40 years. (Daily Telegraph)
Sergio Perez believes Force India will be F1's surprise package this season after the British-based team vowed to break into the sport's elite. (Daily Mail)
Vijay Mallya, the one-time billionaire who co-owns the Force India team, insists Indian authorities have no grounds to extradite him from Britain and he will not be leaving. (Reuters)
McLaren have 17-year-old British driver Lando Norris as part of their young driver academy after he impressed in the junior series. (Fox Sports)
Haas driver Romain Grosjean has completed his winter training programme.

Sauber's Marcus Ericsson is pleased with his new helmet design for the 2017 season.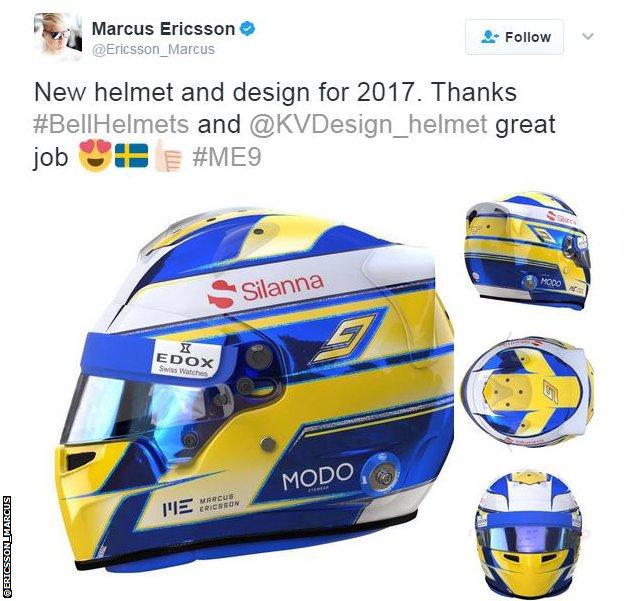 Wednesday, 22 February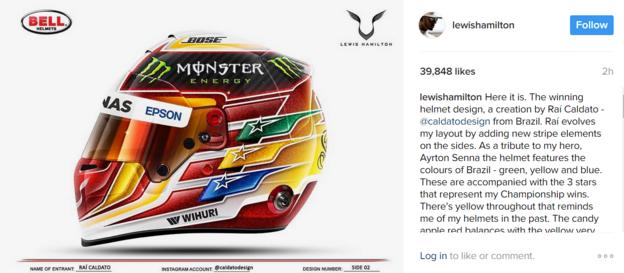 Lewis Hamilton announced the winning design for his new helmet on social media on Wednesday. The three-time world champion asked fans to design his 2017 helmet and received more than 8,000 ideas. (Lewis Hamilton on Instagram)
Renault launched their new RS17 car on Tuesday and it went down a storm with their British driver Jolyon Palmer.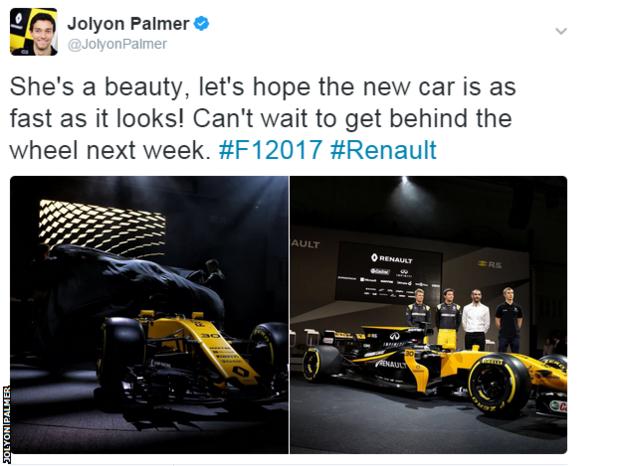 New Renault race driver Nico Hulkenberg was also impressed by the "sexy" car. (Formula1.com)
Hulkenberg says he will not return to the Le Mans race this year, despite the race not clashing with the F1 calendar. (Autosport)
The German believes that 2017 will still be a building year for Renault as the team continue their transformation from the end of the Lotus era. (Foxsports)
Red Bull have revealed Max Verstappen's new helmet for 2017.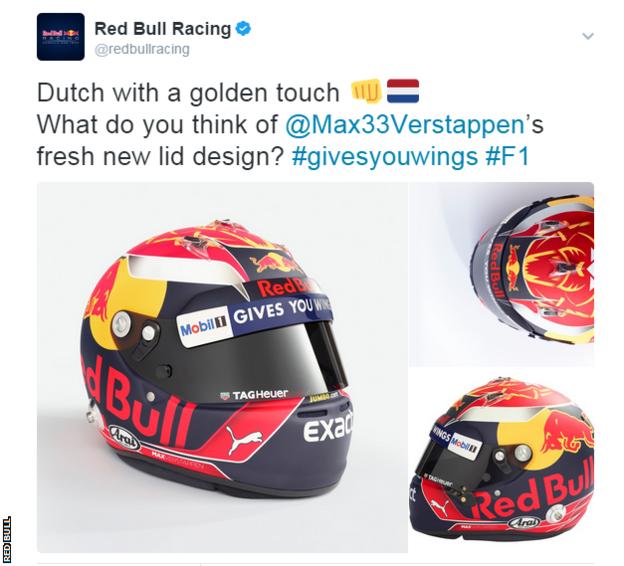 And Verstappen has explained all about his new helmet, which includes a Dutch lion on the top. (Twitter)
Barcelona and Brazil footballer Neymar has been spending some time with Lewis Hamilton in London. (Daily Mail)
Renault driver Jolyon Palmer has bulked up to cope with the physical demands of the new cars this season and believes the new regulations for 2017 will give more drivers the chance to "upset the form book". (Reuters)
The Briton says he will be "better in every way" this season. (Formula1.com)
Russian Sergey Sirotkin has been promoted to the role of third and reserve driver for the Renault team in 2017. (Autosport)
Max Verstappen's father Jos believes 2017 might be one year too early for the Red Bull driver to challenge for the championship. (Ziggo Sport via Eurosport)
Tuesday, 21 February
Lewis Hamilton has clarified his comments on team data sharing in Formula 1, insisting he has "zero problems" with Mercedes or new team-mate Valtteri Bottas. (Sky Sports)
The Briton has also compared the new Mercedes car for 2017 to a "boat". (Foxsports)

Red Bull are hoping Renault's revamped engine will give them the power to challenge Mercedes and Ferrari this season. (Reuters)
Red Bull say the new aerodynamic regulations could actually lead to more overtaking opportunities. (Foxsports)
Brazilian Enzo Fittipaldi, the grandson of two-time world champion Emerson Fittipaldi, will be entering the Italian Formula Four Championship with the Prema team in 2017. (F1i.com)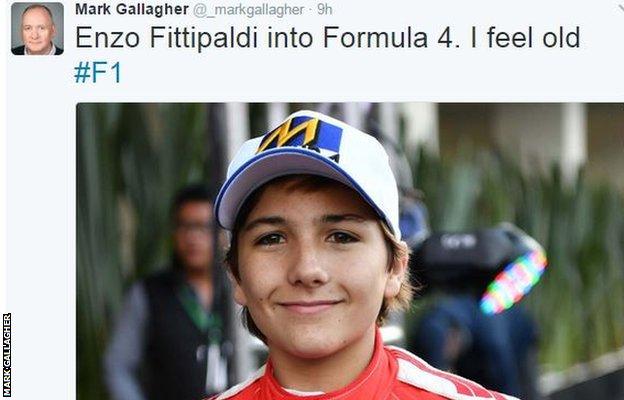 Monday, 20 February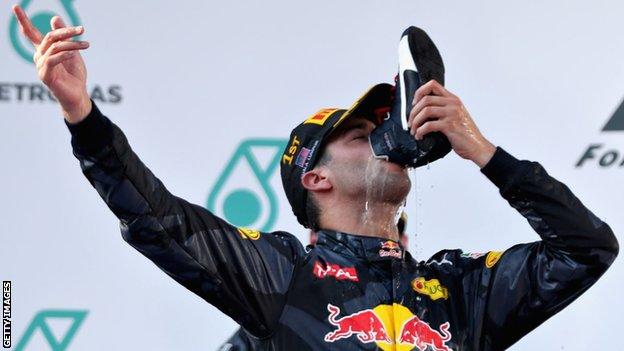 Mercedes driver Lewis Hamilton is unhappy that team-mates share data in Formula 1, and he said that drivers should have to "find it all themselves" when it comes to on-track performance. (Autosport)
And the former world champion says he will never do a 'Shoey' - the practice started by Red Bull's Daniel Ricciardo, who drinks - or asks someone else - to drink champagne out of a shoe he has been wearing during a race. (F1i.com)
Renault's Jolyon Palmer, 26, hopes his 19-year-old younger brother Will, who races in Formula Renault, will one day join him in Formula 1. (Daily Mail)
Williams Felipe Massa, 35, says he "went with his heart" when he decided to race in the 2017 season, only months after he had "retired" from the sport. (Channel 4)
World champion Nico Rosberg will never return to Formula 1, according to former F1 driver Johnny Herbert. (Badger GP)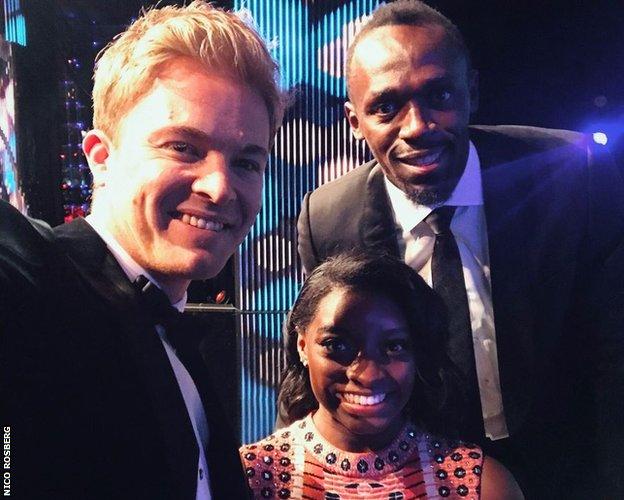 Romain Grosjean says new team-mate Kevin Magnussen's experience will be valuable for Haas this season. (Read Motorsport)
Ferrari want Mick Schumacher, the son of seven-time F1 world champion Michael Schumacher, to join the team's junior programme, the Ferrari Driver Academy. The 17-year-old will be making his Formula 3 debut this year. (Gazzetta dello Sport, via Motorsport Week)
F1 race director Tavo Hellmund has said he made a £22m offer to take over the now defunct Manor F1 team, which folded last month. (Austin American Statesman)