Fernando Alonso: McLaren driver has private Indianapolis 500 test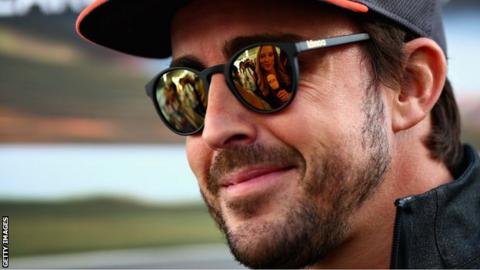 Fernando Alonso has taken part in a private test at the Indianapolis Motor Speedway in preparation for his Indy 500 debut later this month.
The 35-year-old McLaren driver will miss this year's Monaco Grand Prix for a guest outing at the famous Brickyard.
His McLaren Honda Andretti car reached average speeds in excess of 215mph in the test session on Wednesday.
Britain's Jenson Button, the 2009 Formula 1 world champion, will replace Alonso at McLaren in Monaco on 28 May.
Button sent his former McLaren team-mate a good-luck message on social media before the test session.
Alonso successfully completed several stints at the wheel of the Honda-powered Andretti car, which has been decked out in papaya orange in a nod to the colour schemes of some of the early McLaren F1 cars.
The test is Alonso's only taste of the car before the official start of Indy 500 practice on 15 May. The Indy 500 is on 28 May.
The double world champion has retired from every F1 race so far this season as McLaren-Honda continue to struggle towards the back of the grid.
He will be back in the McLaren for the Spanish Grand Prix on 14 May.
Sorry, this content is no longer available.