Formula 1: How did BBC Sport readers predict the Hungarian GP?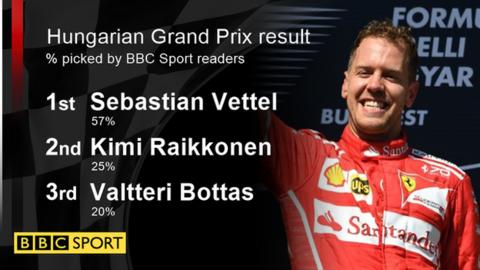 Prior to the Hungarian Grand Prix we asked you to predict who you thought would finish on the podium in Budapest and in what order.
And brilliantly, the majority of you were not far off, accurately predicting Sebastian Vettel would take the crown.
In fact, 57% of you were correct in the assumption Ferrari's championship leader would convert his pole position into maximum points.
However, only a quarter of those who voted (25%) thought Kimi Raikkonen would finish second.
Mercedes driver Valtteri Bottas completed the podium after team-mate Lewis Hamilton pledged to allow Bottas back past him if he could not overtake Raikkonen.
He kept his word and allowed the Finn to finish third.
You may not have predicted that was going to happen but 20% of you said you thought Bottas would take the metaphorical bronze.
Lower down the pack, three percent of BBC Sport Predictor users thought Daniel Ricciardo would win the race.
Sadly he couldn't complete one lap after an incident in which Max Verstappen took out his team-mate.
We bet Ricciardo didn't predict that....
Who will master qualifying for the Belgian Grand Prix? Make your predictions here