McLaren split with Honda: When F1 partnerships go wrong
Last updated on .From the section Formula 1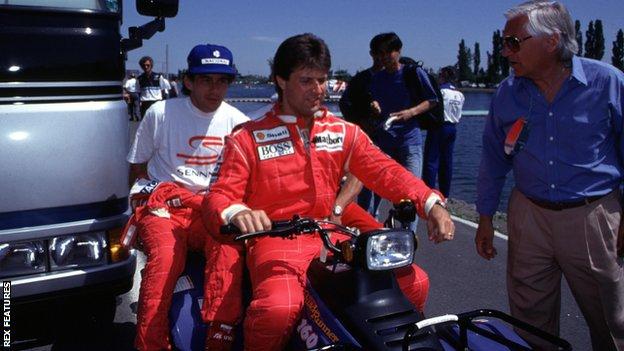 After three seasons of repeated blown engines and numerous Fernando Alonso radio rants, McLaren's second marriage with engine suppliers Honda has ended in divorce.
They say never go back and that proved to be the case for two organisations who won four consecutive drivers' and constructors' championships together between 1988 and 1991.
The 53 races since the start of the 2015 season have not brought a single podium. Well, it seemed like a good idea at the time.
However, this is far from the first example of an F1 partnership going badly wrong, although quite a few of them do involve McLaren...
McLaren and Peugeot - going out with a bang (too often)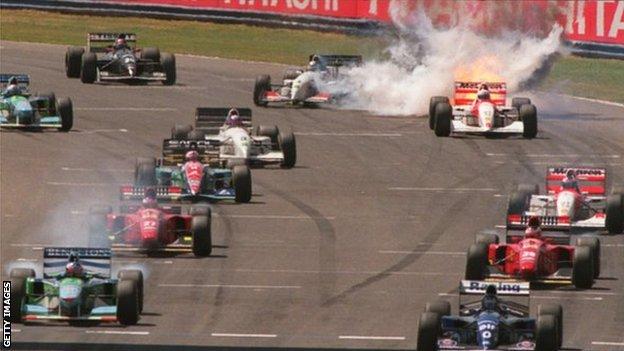 McLaren's latest dalliance with Honda is not the first time the team have been left frustrated by an exclusive engine deal.
Back in 1994, they were searching for a new engine partner after their original working relationship with Honda had ended in 1992. A year with a customer Ford engine in 1993 brought five wins for Ayrton Senna, but McLaren wanted more and pursued a factory deal with Peugeot, who had turned their sights on F1 after a period of dominance in sportscars.
The pairing was a failure. The Peugeot V10 engine was rapid enough to deliver eight podiums in 1994 but was painfully fragile, failing with alarming frequency - as demonstrated by Martin Brundle at the British Grand Prix.
McLaren and Peugeot dissolved their association before the end of the year, with the team entering into a far more successful union with Mercedes that would deliver 77 race wins and three world drivers' titles right the way through to 2014. For their part, Peugeot moved from McLaren to three years at Jordan and three with Prost before quitting the sport in 2000.
Fittipaldi and Copersucar - not a sweet success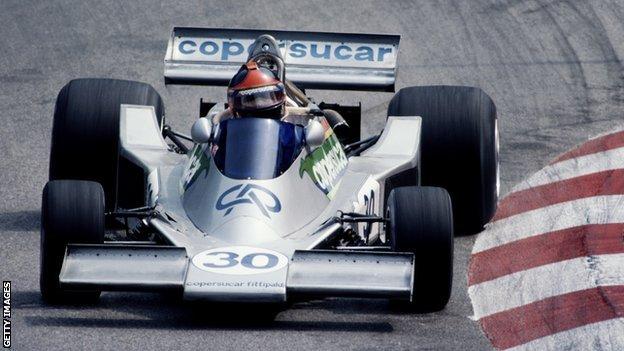 It's possible to pinpoint from just the merest scan of Emerson Fittipaldi's F1 results where his career fell off the cliff. The talented Brazilian won a race for Lotus in his debut F1 season in 1970 and was crowned the sport's youngest champion to that point, aged 25, just two years later.
More victories followed in 1973 before a move to McLaren for 1974 delivered a second world title. The following year brought another title fight as he continued a stellar four-year spell in which he had finished as either world champion or runner-up.
Then, at the peak of his powers, he stunned the F1 world by turning his back on McLaren to join his older brother Wilson's Copersucar-Fittipaldi team for 1976. Over the next five years with the team - the first and only one to ever be based in Brazil - Fittipaldi scored just 37 points and two podiums before quitting, thoroughly disillusioned with F1, in 1980.
As an aside, his McLaren seat for the 1976 season went instead to a chap named James Hunt. But that's another story...
McLaren and Andretti - the son doesn't emulate his father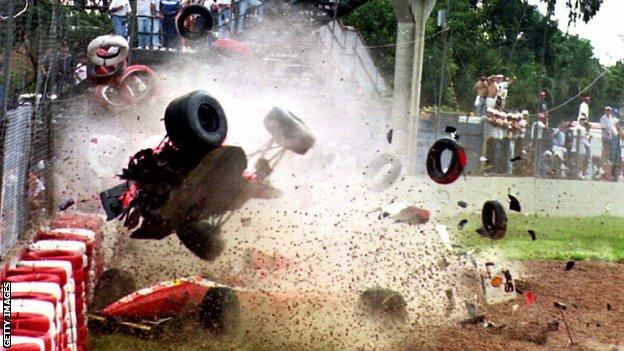 There was something a bit odd about Fernando Alonso's Indy 500 appearance in May coming in a car called McLaren Honda Andretti, given that when McLaren and Andretti worked together in 1993, it was a total failure.
The son of 1978 F1 world champion Mario Andretti, American Michael Andretti was signed by McLaren for the 1993 season having had plenty of success in the Indycar series where he had won 27 races.
"I think he can win grands prix and become the world champion," said team boss Ron Dennis. Unfortunately the then 30-year-old didn't come close to doing either.
Circumstances were against Andretti but he didn't help himself either by choosing to still be based in the United States, rather than moving to Europe, immersing himself in all things F1 and being easily on hand for test sessions.
From the start of 1993 there were only 23 laps allowed in the morning's untimed session and 12 in a qualifying session, severely limiting his chances to become accustomed to the car.
Partnering three-time world champion Ayrton Senna meant he had extremely high standards to match across the garage, while McLaren used customer Ford engines in 1993 and the overall package was significantly slower than the dominant Williams-Renault.
Senna managed to drag the McLaren-Ford to five race wins but Andretti began the season with a couple of crashes, including a huge shunt at Interlagos. His best performance came at the Italian Grand Prix in September with a third-place finish but that proved to be the end as McLaren then replaced him with test driver Mika Hakkinen.
Mansell and McLaren - hips don't lie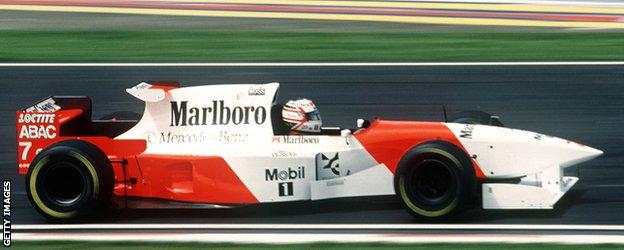 This was an unlikely partnership from the start given that Nigel Mansell and McLaren team boss Ron Dennis had never exactly been bosom buddies, and it was all over after two miserable races.
It was largely an arranged marriage, with F1 chief Bernie Ecclestone and McLaren's new engine supplier Mercedes wanting a big name behind the wheel.
Mansell had taken part in four races for Williams in 1994 as a 'guest' driver, winning the last event of the year in Australia. However, the team decided to go with the youth of David Coulthard alongside Damon Hill in 1995 and Mansell, 41, appeared to be left on the shelf.
Enter McLaren-Mercedes and, while 1992 world champion Mansell provided pedigree and a big name, he also brought big hips that didn't fit the MP4-10. The Briton was forced to miss the first two races in Brazil and Argentina while a hasty rebuild of the monocoque took place.
Mansell made his McLaren debut in San Marino but could only manage a 10th-place finish at a time when points were awarded solely to the top six. Two weeks later in Spain he lasted 10 laps and the divorce was soon announced, with Mansell diplomatically describing it as a "stand-down" while McLaren's own website says "it was the end of a fraught and disappointing story".
Lola and Mastercard - no credit for either side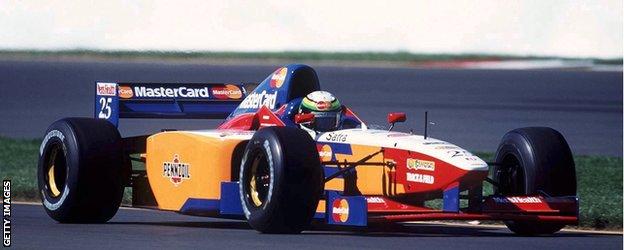 Founded in 1958, Lola was one of the oldest and largest manufacturers of racing cars in the world.
So when they announced their intention to enter F1 in 1998, it didn't take long to attract the attention of sponsors.
In fact, so keen were main sponsor Mastercard, they pressured the manufacturer to debut its new car one year earlier than planned, in 1997.
The hastily bodged together car made its way to the season-opening 1997 Australian Grand Prix but not much further than that.
The rules stated drivers were only allowed to start the race if they set a qualifying time within 107% of the pole position time. With the two Lolas - driven by Ricardo Rosset and Vincenzo Sospiri - 11 and 13 seconds off the pace, they didn't even make it to the grid.
At the Brazilian Grand Prix, the team announced they were withdrawing from the race because of "financial and technical problems".
They were never seen in F1 again.
Villeneuve and BAR - too many DNFs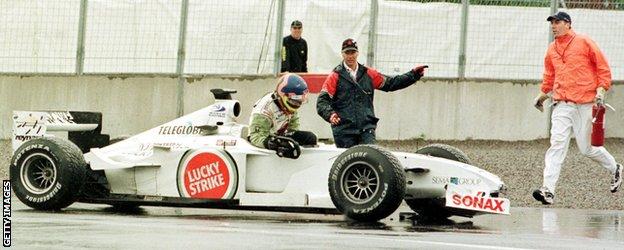 When Jacques Villeneuve signed for the newly formed British American Racing (BAR) in 1998, the 1997 world champion said they "were shaping up to be the team of the future".
Minority partner Adrian Reynard made an ambitious claim that the team, partly owned by Villeneuve's manager Craig Pollock, would win a race in their debut season.
Spoiler alert - they didn't. BAR failed to score a single point in their maiden season because of atrocious reliability issues.
Over the next four seasons, Villeneuve had 24 DNFs and only reached the podium twice - both third places in 2001.
In 2003, after new engine supplier Honda requested Japanese driver Takuma Sato replace him, Villeneuve was dropped from the team and they went on to have better fortunes with Jenson Button behind the wheel.
In fact Villeneuve was not entirely wrong: they were a team of the future - just one that was taken over first by Honda, then Ross Brawn and, as it is today, Lewis Hamilton's dominant Mercedes team.