Red Bull to split with Renault at end of 2018 season

By Andrew Benson
Chief F1 writer in Singapore
Last updated on .From the section Formula 1257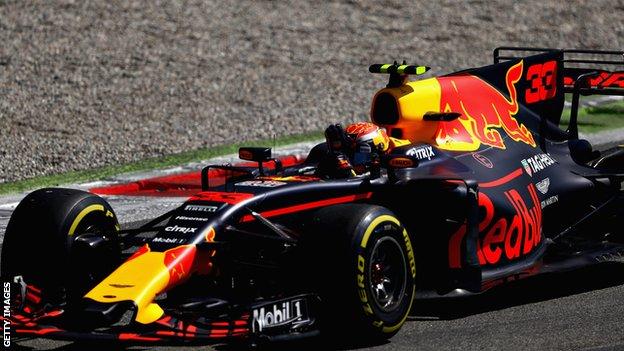 Red Bull are set to split with engine partner Renault at the end of the 2018 Formula 1 season, multiple sources have told BBC Sport.
Renault have told Red Bull they no longer want to supply them after next season and while the move has not been officially confirmed, insiders say the divorce is almost certain.
Red Bull will be forced to use Honda engines with both its teams in 2019.
Junior team Toro Rosso's switch to Honda is to be confirmed on Friday.
McLaren's switch from Honda engines to Renault for the next three seasons, the same period as Toro Rosso's Honda contract, is also due to be announced on Friday as part of a busy series of news developments at the Singapore Grand Prix weekend.
Renault will also confirm that they have signed Toro Rosso driver Carlos Sainz for 2018, to replace Englishman Jolyon Palmer as team-mate to German Nico Hulkenberg.
The McLaren-Renault, Toro Rosso-Honda and Sainz deals have long been expected but the decision by Renault to split with Red Bull emerged on Thursday.
It is a consequence of what has been a fractured relationship between Red Bull and Renault since the start of the current turbo hybrid engine formula in 2014.
The two won four consecutive drivers' and constructors' titles between 2010-13 but as Renault have struggled to match Mercedes under the new rules, Red Bull's patience has frayed.
The two have sparred continually, both publicly and privately, and Renault are now understood to have had enough.
Negotiations are ongoing - particularly over a contractual commitment Renault have that they will supply Red Bull if the team are without an engine - but insiders close to the deal say that a split is by far the most likely outcome.
Red Bull were keen to get Honda engines into the Toro Rosso cars as part of a long-term plan to switch the senior team to the Japanese company if and when they improved their engine.
The Honda is currently the worst engine in F1, which is why McLaren have lost faith in them.
Red Bull had intended to run a split strategy, with Renault engines in the senior team and Honda in the junior outfit.
But that plan is now in tatters following Renault's decision to drop Red Bull and focus on its supply to McLaren and the French car company's factory team.
The only way Renault would continue with Red Bull after 2018 is if they were forced to under F1 rules that dictate no team can be left without an engine supplier.
But that would be a difficult argument to make given that Toro Rosso will already be using Honda engines and Honda is known to be willing and able to supply a second team.
Team boss Christian Horner said Red Bull had a contract with Renault until the end of 2018 and anything after that was "paddock speculation".
But asked directly by BBC Sport whether Renault had told Red Bull they wanted to split after next season, Horner said: "I'm not going to give you a straight answer to that."
The move raises questions about the long-term future of Red Bull in F1, which was already in doubt post-2020.
Red Bull co-owner Dietrich Mateschitz is no fan of the turbo hybrid engines and has made it clear he will decide on his company's future in F1 once the rules for 2021 onwards are decided.
Engine companies and F1 bosses are in the process of deciding them but the latest signs are that the small-capacity turbo engines will stay in a similar format.
The move also has ramifications in the driver market - both Red Bull drivers are potential title winners and neither Daniel Ricciardo nor Max Verstappen are likely to want to stay if the team use Honda engines and they are at the level they are now.