Fernando Alonso: McLaren 'very close' to securing driver for next season

By Andrew Benson
Chief F1 writer in Singapore
Last updated on .From the section Formula 1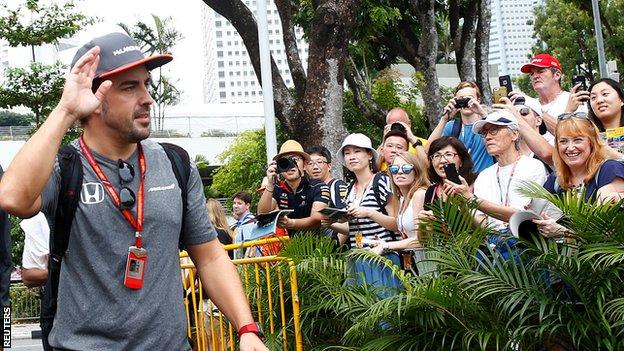 McLaren are "very close" to securing star driver Fernando Alonso for next season, says boss Zak Brown.
"He's very happy with the direction of the team and the team in general," said McLaren executive director Brown.
He added Alonso, 36, would continue to earn a salary similar to his existing one, which is $40m (£29.4m) a year.
"He is one of the highest-paid drivers in the sport, and for us to retain him he will continue to be one of the highest-paid drivers in the sport," Brown said.
Asked if double world champion Alonso would need to take a pay cut now McLaren have lost Honda's financial contribution in terms of free engines, sponsorship and half the drivers' salaries, Brown said: "Not necessarily. The big boys cost big money.
"We have very committed shareholders that want us to win races and that is the mandate and remit they have given us - to do what it takes to win. We will work together to deal with the financials.
"We will come to whatever financial agreement we need to. We are not going to compromise our racing product."
Alonso said he would discuss with McLaren and Renault their plans and expectations for next season before making a decision.
BBC Sport understands he and McLaren have finalised all major aspects of the contract, including his salary, and only small details remain unresolved.
Brown said McLaren had a "Plan B" if Alonso did not sign, but added: "I'm confident we're going to get there with Fernando."
McLaren and Alonso had both lost confidence Honda, with whom they have been partnered since 2015, would become competitive quickly enough to satisfy their needs.
"When I joined the project it was when McLaren joined forces with Honda," Alonso said. "We all felt it was the perfect match and that it could be a great time for this partnership.
"Unfortunately, we tried our best and we didn't succeed in terms of results but I feel very proud of what we tried to achieve in the last three years. They will stay in the sport with Toro Rosso and it will be interesting to see the future of them.
"You never know if it is the good or bad move for the team but if McLaren thought it was time to split with Honda and go for Renault, it is because they had good information about next year.
"Hopefully that puts McLaren again on the places we all feel the belong - and that is fighting for podiums and championships."