Lewis Hamilton surprised at 'crazy' Singapore Grand Prix win

By Andrew Benson
Chief F1 writer in Singapore
Last updated on .From the section Formula 1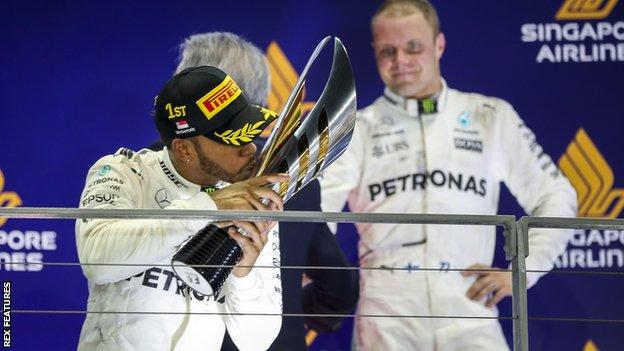 Lewis Hamilton said he was struggling to believe his victory in a "crazy" Singapore Grand Prix that put him in control of the title race.
"I needed a miracle," Hamilton said after dominating a race that started wet and featured three safety cars.
"The rain was a miracle. I had no idea it would be such a positive outcome."
Hamilton started fifth after struggling in qualifying but was up to second at the first corner behind Vettel, after the German collided with team-mate Kimi Raikkonen after the Finn had come together with Red Bull's Max Verstappen, who was pincered between the two Ferraris as Vettel moved left.
Vettel retired immediately afterwards with damage from the incident and Hamilton dominated the race.
But he said his comfortable lead would not make him alter his approach to the season.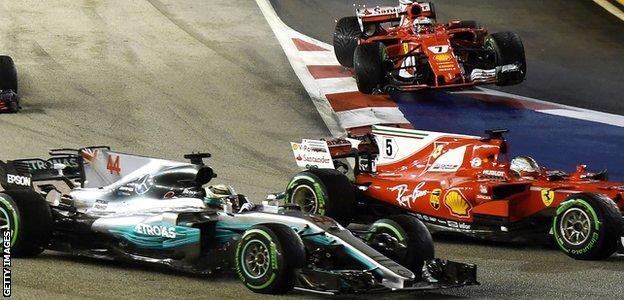 "I definitely won't change anything, there is no reason to," said Hamilton.
"It is a perfect balance of being aggressive and cautious at the same time, the formula works at the moment so just continue with it.
"It is still soaking in. My 60th grand prix win and also the (points) gap - it is hard to believe.
"It was a long, long race and I definitely went into the race thinking it was about damage limitation, to minimise the loss somehow.
"If I'd got stuck behind Kimi I could have been finishing fifth so I could have come out of it a lot worse, so to come out the complete other direction for sure is a shock.
"But I'll take it. I'm grateful for it and we have worked so hard as a team that fortunate conditions just fell into our direction and we capitalised on it."