Singapore Grand Prix: Has Sebastian Vettel's aggression just cost him the title?

By Andrew Benson
Chief F1 writer
Last updated on .From the section Formula 1841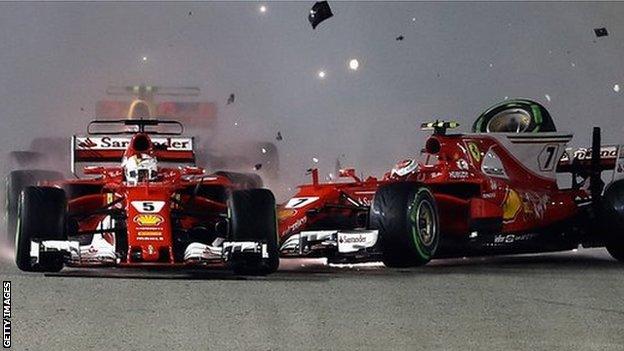 How much will Sebastian Vettel come to regret the aggressive defensive move that contributed to the collision that took him out of the Singapore Grand Prix?
It is something of a signature move of Vettel's. He has used it to great effect in the past. He may well have learned it from his hero Michael Schumacher, who also specialised in that sort of uncompromising lunge. Usually it works to his advantage - but this time it could have cost him a world championship.
That is not to say the Ferrari driver was wholly or even primarily to blame for the incident that also accounted for his team-mate Kimi Raikkonen and Red Bull's Max Verstappen. There were and will be lots of differing opinions about that.
But Verstappen had a point when he said that, as a contender in a tight fight for the title, Vettel "shouldn't take those risks".
It is easy to say that, especially when you are the only other person who could be blamed for the incident. How should a title contender behave in these scenarios? Can they afford to be more conservative than normal? Or is that a potential risk in itself?
This is an example of the fine margins Formula 1 drivers are dealing with as they battle wheel to wheel at speeds approaching 200mph, and the split-seconds they have to make their decisions.
Those fine margins were clear at the first corner. Lewis Hamilton chose the outside line in his Mercedes and stayed out of trouble, slotting in behind Vettel and soon moving into a lead he was not to surrender, and which gave him a commanding advantage in the championship over Vettel.
Just behind him, McLaren driver Fernando Alonso had done the same. The Spaniard was briefly in third place behind Vettel and Hamilton after a trademark flying start, and for a moment was dreaming of his and McLaren-Honda's first podium. Then he was collected by Raikkonen's wildly spinning Ferrari, and just like that his hopes evaporated.
Have Vettel's for the title just gone the same way? Mercedes and Hamilton were keen to emphasise after the race that nothing had changed, they had to retain focus, there were a lot of points still to play for, a lot of things could happen and so on.
But there was no doubting that Hamilton realised what this meant.
"Time will tell," he said. "But it is a very positive day. I had no idea it would be such a positive outcome. I need to hit hard in the next two races and - game on."
Game on indeed.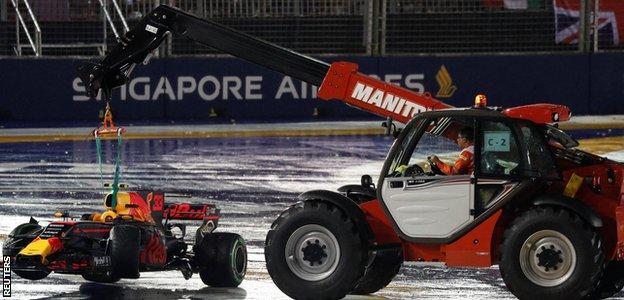 The Vettel incident
In the paddock afterwards, opinion was split on who was to blame for the start-line incident. Some felt Vettel had been too aggressive in diving across to the left to defend against Verstappen. Others felt that Verstappen, as the man who had a clear view of both Ferraris, could have decided discretion was the better part of valour and backed out of it.
In the end, the stewards were probably right to take no action over the start-line incident, deciding that "no driver was wholly or predominantly to blame".
Vettel was undoubtedly very aggressive in covering against Verstappen. In normal circumstances, that would have been OK. He would have edged the Red Bull to the pit wall, they would have disputed the first corner and moved on from there.
The problem was that Vettel clearly did not realise team-mate Raikkonen was on Verstappen's inside and moving ahead, having made the best start of all three.
Raikkonen kept his car arrow-straight, the only movements on his steering wheel to correct wheelspin in the wet conditions. Verstappen initially went right towards Vettel but quickly began to inch to the left, seeing Vettel coming across and Raikkonen on his inside.
As Vettel kept coming, Verstappen soon found himself pincered.
The initial touch that triggered the collision was the Red Bull's left front tagging Raikkonen's right rear, which spun the Finn around into Vettel.
But by the time that touch happened, Vettel was arrowing in rapidly towards the pair of them and Verstappen looked like he had nowhere to go.
It was just one of those things that can happen at the start of a grand prix, but there was no doubt who was the biggest loser.
A mammoth task for Vettel now
Hamilton has now won three races in a row and Vettel's deficit is more than a clear race win. That's quite a turnaround from the German being 14 points in front after his victory in Hungary at the end of July.
Hamilton has serious momentum now, and of the circuits coming up there are no major headaches for Mercedes of the kind that Singapore was expected to be.
Mercedes are a little concerned about Mexico and Brazil, where they feel the characteristics may favour Ferrari and Red Bull. But by and large the fight should be pretty even.
If the season goes as it has so far, the competition will be close, but Hamilton will be on pole more often than not and probably win more than Vettel.
"It doesn't change much," Vettel said. "I'm sure there will be more opportunities." There almost certainly will. But will there be enough, or will Singapore come to be seen as the race that decisively turned the championship in Hamilton's favour?
One of Hamilton's great wins
If Singapore does prove a defining moment in Hamilton's favour, it would only be appropriate - for it was one of his finest drives.
Mercedes were struggling, well off the pace of both Ferrari and Red Bull in practice and they arrived at the track on Sunday expecting a day of damage limitation. But then it started to rain.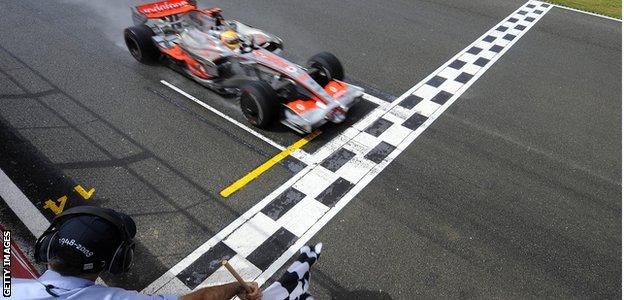 "They were in another world in dry conditions," Hamilton said. "For the rain to fall, I was so happy. You can't imagine how happy I was. Normally when it rains you are a little apprehensive. It is a little nerve-wracking because it makes it so much trickier for us and here we've never even driven in the rain.
"But I was kind of like: 'Yes!' When those conditions happen, it's more of a lottery. There's more opportunity, it levels the field.
"When that happened, I was like: 'It's on. I am dead certain we can do a very good job in terms of damage limitation and potentially even win.' I was convinced in my mind I was going to overtake everyone.
"They are my conditions. I felt if any part of my ability is going to shine it is going to be in the first laps in those conditions.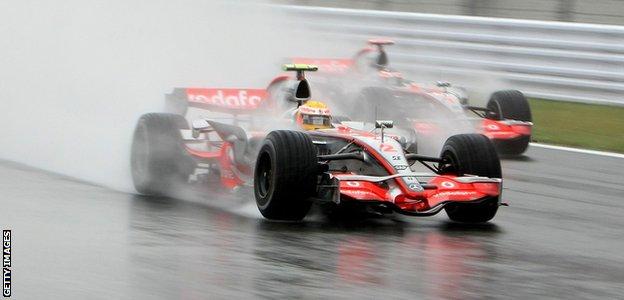 "A bunch of them went missing. I think I did a good job to stay out of it all. Then I had the Red Bull behind me and it has been a quicker car all weekend and he had nothing on me. I had so much pace."
If that reads like bragging, Hamilton doesn't mean it like that. For him, it's just a stated fact. And in any case his career justifies such self-confidence. Time and again he has shone in those conditions and he did it again in Singapore.
Fastest lap followed fastest lap as he pulled away from the Red Bull of Daniel Ricciardo behind him and soon the race was totally under his control.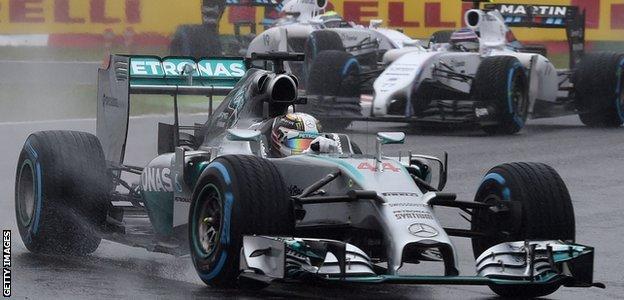 Why the turnaround? Mercedes said they did not fully understand.
Undoubtedly, part of it was the driver, but there were technical reasons, too. Hamilton was four seconds clear by lap six, but then Ricciardo started to run into gearbox problems that cost him in the region of half a second a lap.
On top of that, the rain lowered the track temperatures and that played into Mercedes' hands. "We were running in an area where we had the tyre temperatures always under control," said team boss Toto Wolff, "and on Saturday it was hotter and in order to extract them on one lap you need to run them higher."
Hamilton was delighted to get what he accepted was an unexpected present, but said: "I definitely won't change anything, because working the approach I have there is no reason to change it, It is a perfect balance of being aggressive and cautious at the same time. The formula works at the moment so just continue with it."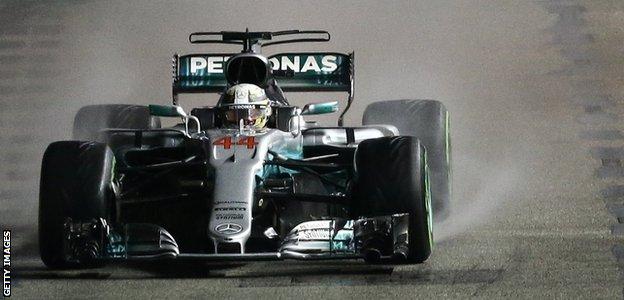 Kubica still in frame for a return
Until the competitive action really got going, much of the focus in Singapore was off track, on the shape of team line-ups for next year.
Mercedes, Ferrari, Red Bull, Renault and Force India now have both drivers confirmed, after Mercedes re-signed Valtteri Bottas, Renault took Carlos Sainz on loan and Force India secured Sergio Perez. And it seems only a matter of time before Fernando Alonso puts pen to paper on a new contract with what will be McLaren-Renault for next season.
The intriguing team is Williams, where the name of Robert Kubica keeps cropping up as potential team-mate for Lance Stroll.
Williams are keeping their cards close to their chest, but it looks as if the Pole, trying to make a comeback after seven years out following his horrendous rally accident in 2011, could soon test for the team.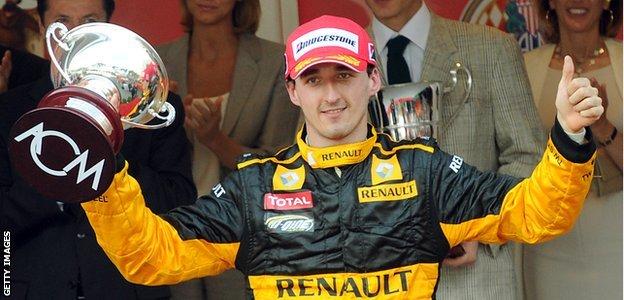 It would be a sensible move from Williams. Their options are limited. They could yet retain Felipe Massa, but some in the team are asking whether that is a good idea. They have reserve driver Paul Di Resta as a back-up. Jolyon Palmer, who scored his career-best result on Sunday, is available after Renault dropped him, but they are not interested in him.
Renault worked very hard to bring Kubica back, giving him three tests before deciding they could not be certain he would be ready by the time they needed to commit to a driver for 2018.
Williams, though, have more time - and their demands are perhaps not as great as those of a works team building towards a title challenge in a couple of year's time.
Kubica's final test for Renault in a 2017 car in Hungary cooled their interest. But did he not impress as much as hoped there because he will never be ready as a result of the limitations of his right arm, which has only partial movement? Or because he has not had the chance after so long out to build up the strength he needs to drive a modern F1 car?
The only way to find out is to test him - and conveniently Williams have a test programme with a 2014 hybrid car up and running, which they use to give Stroll experience.
It would be no surprise at all if Kubica was to test that car in the next few weeks.
If he does, and it doesn't work out, Williams will likely stick with Massa. But if Kubica is even somewhere close to the driver he was before, he would be a very interesting alternative - and the exposure Williams would get from bringing him back would be immense.