Podium pain: Can you pick the fizz-sprayers from the bit-part players?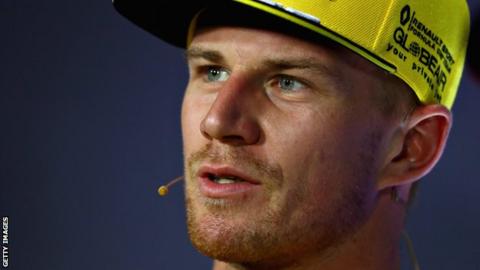 Nico Hulkenberg set one of Formula 1's unwanted records at last Sunday's Singapore Grand Prix as he made it 129 races without scoring a podium.
Hulkenberg, who shared the record with fellow German Adrian Sutil, looked for a time as though he might be spared the ignominy of holding it outright as he ran strongly near the front after the first-lap crash that took out the Ferraris and Red Bull's Max Verstappen.
But painfully, inevitably, his Renault slipped away from the front-runners, and when he was forced to park up with mechanical issues late in the race the record was his alone.
The 30-year-old is a highly-rated talent in F1 - Renault were only too eager to sign him up as the driver to lead their factory operation a year ago - but this is a record that does not look like being shifted anytime soon.
Among the current crop of drivers, the likes of Daniil Kvyat, Kevin Magnussen and Romain Grosjean have podium finishes to their name, but you would be hard pressed to find many in the F1 paddock that would rate them above Hulkenberg.
Circumstance and opportunity of course play a huge role in this - Kvyat's podiums came during his time at Red Bull, Magnussen's at McLaren and Grosjean's at the wheel of a competitive Lotus - but it goes without saying that achieving a podium is no easy feat.
It's for that reason that plenty of drivers never manage it.
Play our flip-card gallery below to see if you can recall who sprayed the fizz the podium and who was left to get wet underneath.
Podium finisher or not?
Sorry, this content is no longer available.