Malaysian Grand Prix verdict: 'Fate favouring Lewis Hamilton but work to do'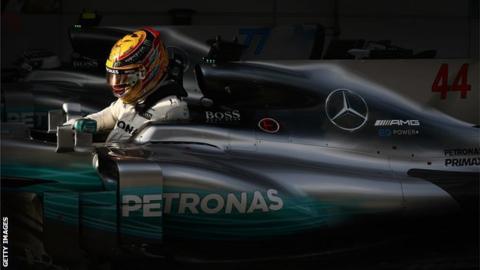 The championship fates are twisting for Lewis Hamilton at this crucial stage of the Formula 1 season, but there is a lot of work still to do if he is to fend off Sebastian Vettel and seal a fourth world title.
The south-east Asian leg of the season has been kind to Hamilton - he has scored 31 points more than Vettel in two races and is now 34 ahead with only 125 still available in the remaining five races.
Yet those results have come very much against the run of play, and the overwhelming impression given out by Mercedes after what for now is the last ever Malaysian Grand Prix was of concern - about Ferrari's pace and their lack of it, and what that means for the final races of the season.
On raw performance, Vettel should have won in both Singapore two weeks ago and in Malaysia on Sunday. Had that happened, the championship would be looking very different. The German would have a significant lead, and Hamilton would be right up against it. Even now, with a tidy advantage, Hamilton is well aware the title is a long way from won.
Cruel twists for Ferrari
In Singapore two weeks ago, an unfortunate conflation of aggressive driving and circumstances led to Vettel crashing out at the first corner - and taking two of Hamilton's rivals for victory with him. In Malaysia, it was reliability that dashed Vettel's hopes.
An engine problem in final practice on Saturday meant a rushed power-unit change before qualifying. The new engine then developed another problem and Vettel failed to set a time, consigning him to the back of the grid.
Hamilton was on pole and things looked bleak for Vettel on one level. But with team-mate Kimi Raikkonen second on the grid, and the Ferrari and Red Bull much faster than the Mercedes on race pace, Ferrari still had hopes that Hamilton's points gain could be kept to a minimum with a Raikkonen victory. They were dashed when the Finn suffered engine problems on the way to the grid and did not even start.
Raikkonen's issues were similar in nature to those Vettel experienced in qualifying, in terms of a loss of power that felt to the driver as it if was turbo-related. Vettel suffered a failure in a manifold through which pressurised air passes from the compressor to the engine, but Ferrari have not yet had a chance to analyse Raikkonen's engine to see whether he had the same problem.
Vettel mounted one of his trademark fightbacks through the field, expertly balancing aggression and caution to take fourth, but his thoughts afterwards were rueful. "We should have won, but starting last we did what we could," he said. "Shame with Kimi. Not a great weekend but for sure the speed is promising."
Red Bull's Max Verstappen did Vettel a favour with his superlative victory - well deserved after a difficult season in which many potentially strong results have been lost to reliability problems, as well as a few driving errors - but, in the circumstances, second place was very much a win for Hamilton.
What's going on with that Mercedes?
Hamilton's results in Malaysia - pole position and second in the race - belie the reality that Mercedes struggled all weekend. The fastest time in qualifying was very much Hamilton and not the car - not for the first time this season - and the world champions went into the race expecting trouble.
Hamilton said: "It is OK, but considering he [Vettel] started last, it is not that great. We should have won and we just didn't have the pace.
"We knew going into the race we didn't have the quickest car - on our deltas [pace differentials based on calculations after practice], the Ferraris were 0.8secs faster than us, which they were at least, and the Red Bulls 0.5-0.6s, which they were."
Mercedes F1 boss Toto Wolff said it had been "a painful Sunday", despite the gain in the championship.
"Benefiting from Ferrari's problems shouldn't hide that they have caught up 30 seconds this race," he said.
There is an inherent contradiction about Mercedes this season.
On average, the car is the fastest on the grid, and Hamilton has nine poles in 15 races. Yet his average qualifying advantage over Vettel - ignoring the outlier races in Monaco and Malaysia when outside factors intervened - is just 0.1secs, and the Ferrari is a far more consistent race car.
While the Ferrari is quick everywhere, and has a much more level overall performance from race to race, the Mercedes is unpredictable and difficult to manage and, as a race car, it is probably on balance inferior to the Ferrari. And this is at least part of the reason for Valtteri Bottas' struggles to get anywhere near Hamilton in recent races.
Wolff was quick to underline the team were leading the drivers' and constructors' championships, so the car is "not a lame duck" and is "on many occasions the quickest out there".
But he added: "We have a capricious car that has a very narrow operating window with the tyres where the tyres generate optimum grip, and dipping in and out of the window is the fundamental story of 2017 for us. Driving style plays a role. Lewis was able to better adapt to the problem than Valtteri but changing driving style is not something that comes easy to anybody."
Mercedes' problem in understanding this aspect of the car is complicated by a lack of consistency in terms of when it occurs. The longer the season goes on, the more confusing the picture, the less of a pattern to the type of circuits on which Mercedes struggle.
For a while, it appeared to be exposed by circuits with predominantly low-speed corners and low levels of grip - Russia, Monaco, Hungary and Singapore, for example. But the car was also very quick in Canada and Azerbaijan, which also share those characteristics.
And Malaysia is very different - there are long, fast corners and plenty of grip. Then again, Malaysia is hot, and the higher the track temperature, the more that seems to be a problem for Mercedes in terms of managing the tyres.
All the team know for sure is they struggle to get the car to operate its tyres consistently, and that it is generally worse in low-grip conditions - but not exclusive to them.
"There are definitely question marks," Hamilton said, summing up the weekend. "We have had a lot of problems - on track and back in the garage. There is definitely a lot of work to do to make sure that's not a problem in the next races."
A star beginning to shine
There were some impressive performances in Malaysia - Verstappen's magnificent drive to victory, yet another stunning pole from Hamilton, some typically decisive overtaking and aggressive defence from Daniel Ricciardo on his way to third, and an assured debut from Pierre Gasly in the Toro Rosso - but one man in particular caught the eye.
Stoffel Vandoorne arrived in F1 this year touted as the next great talent, but he had a difficult first half of the season, lagging a long way behind double world champion team-mate Fernando Alonso, who is about as tough a partner as a rookie could ask for.
But McLaren always had faith in the Belgian's ability, the team worked hard with him behind the scenes, and in recent races he has begun to show his true potential. His performance in Malaysia was outstanding.
McLaren had some new aerodynamic parts, but there were only enough for one car, so they understandably went to Alonso. But it was Vandoorne who qualified the quicker - his 0.122secs margin put him seventh, higher than McLaren thought possible, and three places ahead of Alonso.
From there, Vandoorne made a strong start to run fifth on the first lap and despite the McLaren's lack of race pace - rooted in the inherent weakness of its Honda engine's hybrid system - he lost places only to Vettel and Force India's Sergio Perez.
Vandoorne is relaxed, approachable and friendly, but very much an undemonstrative, understated character, who is going about his first season with admirable modesty and a determination to keep his head down and just get on with it. But his delight and sense of achievement was clear after the race.
"It was an extremely satisfying race," he said. "To finish seventh on a circuit like this; we thought it was going to be a bit difficult. Start was amazing. We knew it would be difficult to keep the Force Indias and Williams behind but only Perez got ahead."
Alonso had a difficult race. He, too, made an initially strong start, but a clash between the two Williams cars at Turn Two delayed him and cost him a couple of places, and after that he spent much of the grand prix stuck behind Kevin Magnussen's more powerful Haas. Alonso eventually muscled his way past on lap 32, having been left distinctly under-impressed by the Dane's defensive driving tactics.
The McLaren team-mates were on off-set strategies - Vandoorne stopping early; Alonso relatively late - so it is hard to compare their races on a pure level. But Vandoorne was at least a match for the great man - and in the closing laps, with both in free air, was faster more often than not, despite much older tyres.
Alonso has yet to sign his new McLaren contract, but he is expected to do so in the gap between the Japanese and US Grand Prix later this month.
If Vandoorne can keep up this level of performance, McLaren will be challenging Red Bull next year in having arguably the strongest driver line-up on the grid.