Lewis Hamilton worried by pace of Sebastian Vettel's Ferrari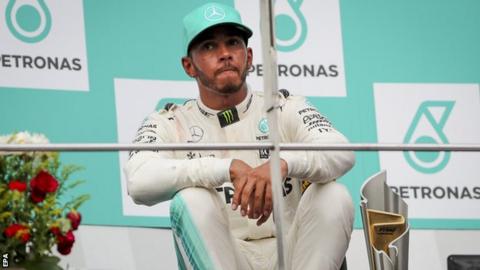 Lewis Hamilton is worried about the pace of rival Sebastian Vettel's Ferrari despite extending his championship lead in Malaysia.
Hamilton is 34 points ahead of the German after finishing second behind Red Bull's Max Verstappen, while Vettel fought from the back to come fourth.
Asked if Ferrari's pace concerned him, Mercedes driver Hamilton said: "Yeah, definitely. We have some work to do."
He could be helped by a grid penalty for Vettel in Japan next weekend.
Vettel was involved in a bizarre crash with Williams driver Lance Stroll on the slowing down lap, which smashed his left-rear suspension, and will get a five-place grid penalty in Suzuka if the gearbox needs changing.
Ferrari said they did not yet know the extent of the damage to the gearbox.
A spokesman said that if only the gearbox casing was damaged, the team could replace that without a penalty, but that would not be the case if the unit also needed internals.
Hamilton hoping for Mercedes improvement
Hamilton gained six points on Vettel in Malaysia and said the result was "pretty good considering the pace deficit we had in the race".
Mercedes struggled for speed in Malaysia but Hamilton's title hopes were aided by reliability problems for Ferrari.
An engine problem in qualifying left Vettel at the back of the grid and team-mate Kimi Raikkonen, who was due to start second behind Hamilton, did not make the start, also hit by engine failure.
Hamilton took pole against the run of play and his car was slower than the Red Bull and Ferrari in the race.
"We still have problems with this car and it was magnified here," Hamilton said.
"I'm hoping it's not like this at the next few races. It feels like it is getting worse as the season goes on but it has been great in other races. I have no idea where it will be an issue and where it will be fine. Hopefully it won't be so bad."
He added that there was "nothing we can do about the car".
"People have been talking all year that we have the best car," he said. "It is a fact that some races the car has worked out to be better but overall globally we have not got the best car and we have done an exceptional job with what we have.
"There are some real big problems that I cannot really explain, but we need to rectify for next year's car if we are going to have any chance of fighting both these teams next year when they step up their game.
"This year I think we can just stay there or thereabouts. I don't know which races are going to be good for us and which are not but we are going to do everything we can to try and stay ahead."
Hamilton said he drove a cautious race, not fighting Verstappen when the Dutchman went to pass him on lap four.
"Driving mistakes are starting to come into play," he said. "You've seen a couple from Sebastian. Today for example - crashing into someone. Who knows whether that is his gearbox busted for the next race? We will see.
"So I am just trying to be smart with the decisions I make on track, so I didn't put up much of a fight [with Verstappen].
"He had everything to gain and I had everything to lose. That goes against my heart but you live to see another day."
Vettel optimistic over penalty
Vettel said he was optimistic he would avoid a penalty in Japan.
"We need to see but I am sure we will find a way," he said. "It's not my fault if somebody decides to pick up rubber and hit another car."
However, the stewards ruled that "neither driver was wholly or predominantly to blame" for the incident with Stroll, and BBC Sport understands Ferrari will not be able to claim 'force majeure' as a reason to get a free gearbox change if one is necessary.
Of his wider chances, Vettel said: "We should have won but starting last we did what we could. Not a great weekend but for sure the speed is promising.
"The car is quick so we have reason to believe we can be strong [in Japan]."