Japanese Grand Prix: 'A challenge unsurpassed anywhere on earth'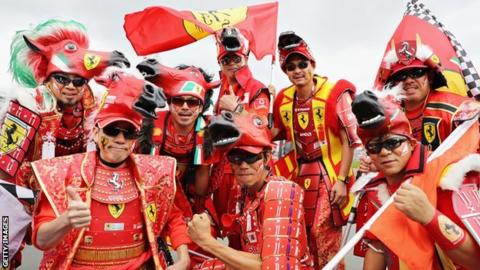 To get to the Japanese Grand Prix from Europe is quite a trial.
There's the 13-hour-flight, for a start. Even from Malaysia, scene of the last race, it's more than seven - like flying from London to the Gulf.
From Tokyo, it's then three hours on the Shinkansen bullet train to Nagoya and another hour by train or car.
Or there's the Osaka route, which means a half-hour journey from Kansai into Osaka central, on a purple train straight out of the Beatles' Yellow Submarine, then three hours on the Kintetsu line to nearby Shiroko or Yokkaichi.
In either case, there's the question of negotiating at least one busy mainline Japanese station with a massive language barrier.
Somewhere in there you lose a third of a day in time zones. And that has its own discombobulating effect, a day or two spent in that slightly hallucinatory daze that accompanies seriously long-haul travel.
But none of that matters. Because Suzuka and Japan are worth it, and then some.
Designed by Dutchman John Hugenholtz in the 1960s, it is a race track from the gods, a perfect marriage of imagination and the natural contours of the land, creating a challenge for racing drivers unsurpassed anywhere else on Earth.
From the fast, downhill Turn One, the great corners just keep on coming. Braking and turning through One into Two, the track rises on the exit, a short burst of acceleration and into the Esses, a left, right, left, right sequence, climbing uphill then plunging down, that is arguably the toughest section of track on the planet.
That feeds straight into the fast left-hander of Dunlop, uphill all the way at 160mph or so, and then the super-challenging Degners, two rights, a fast flick followed by a fiendishly difficult slower one, where someone is guaranteed to go off every year.
Under the crossover that makes the circuit's unique figure-of-eight, a tricky right-hand kink is the approach to the Hairpin. Uphill out of there, a long, looping run to Spoon, a double left-hander, downhill understeer on entry, descending all the way through, so easy to get it wrong. Then the track climbs, the car passing over a bridge above the exit of Degner Two just as the driver flicks left, flat out at more than 200mph, into the legendary 130R.
The chicane follows, but even then it's not over - the right-hander that loops back onto the pit straight looks easy but is anything but, as Timo Glock and Daniel Ricciardo have both discovered to their cost in recent years.
Nowhere on earth is like it, and the drivers look forward to going there every year to put themselves through the ultimate test.
There is real jeopardy at Suzuka. The corners are demanding, the track is narrow, run-offs small. Mistakes are punished by bits of broken carbon-fibre rather than a harmless trip across an expanse of asphalt. But that just makes the achievement feel so much more special, heightens the buzz for competitor and spectator alike.
On top of that, it's just such a unique place. The fans are wildly enthusiastic, yet charmingly polite. The track is next to an amusement park. The hotel rooms are cramped, the high-tech toilets virtually incomprehensible, but, hey, it's Japan, what do you expect?
Suzuka is no Tokyo or Kyoto, but there is unspoiled charm to this workaday Japanese town. It's hardly party central, but look in the right places and there is some deliciously authentic local cuisine.
In so many ways, it is a highlight of the year.
Andrew Benson, chief Formula 1 writer
The track
F1 golf
Before he hot-foots across to Japan, Lewis Hamilton has been on the golf course in China with NBA star Stephen Curry.
Not content with playing the usual 18 holes, the F1 championship leader handed the Golden State Warriors guard a tricky challenge.
Sorry, this content is no longer available.
Name that tune
Sleeping beauty
What's your flavour?
How to follow on BBC Sport
BBC Sport has live coverage of all the season's races on BBC Radio 5 live, BBC Radio 5 live sports extra, plus live online commentary on the BBC Sport website and mobile app - including audience interaction, expert analysis, debate, voting, features, interviews and video content.
Japanese Grand Prix coverage details
Date
Session
Time (all BST)
Radio coverage (available online)
Online text commentary
Wednesday, 4 October
Japanese Grand Prix preview
21:00-22:00
BBC Radio 5 live
Friday, 6 October
First practice
01:55-03:05
BBC Radio 5 live sports extra
From 01:45
Second practice
05:55-07:05
BBC Radio 5 live sports extra
From 05:30
Saturday, 7 October
Final practice
03:55-05:05
BBC Radio 5 live sports extra
From 03:45
Qualifying
06:55-08:05
BBC Radio 5 live sports extra
From 06:00
Sunday, 8 October
Race
05:30-08:00
BBC Radio 5 live
From 04:30
Monday, 9 October
Review
04:30-05:00
BBC Radio 5 live