Japanese GP: Lewis Hamilton position 'not comfortable at all'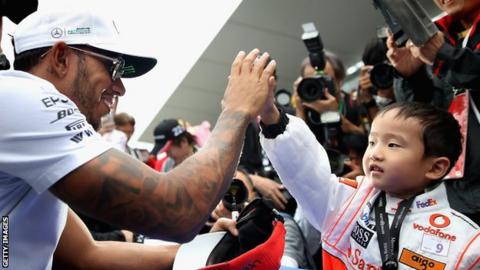 Lewis Hamilton says he is "not comfortable at all" with his position in the championship despite a sizeable lead over rival Sebastian Vettel.
The Mercedes driver is 34 points ahead of Vettel heading into Sunday's Japanese Grand Prix with 125 available in the remaining five races this year.
Hamilton said: "I am under no illusion. I might have the nail a little bit in, but I need to keep hammering it.
"It is not done until there is no more to push it in."
Hamilton has gained 31 points on Vettel in the past two races after problems for the German and his Ferrari team.
"There are so many points available and you have seen other years where things swing," Hamilton added.
"The pendulum can swing. I am hoping if it starts to swing the other way we have enough force to push it back to where it should be."
Ferrari have been quicker than Mercedes in the past two races but both their cars crashed out together at the first corner in Singapore and Vettel finished fourth in Malaysia after starting from the back because of an engine problem.
Asked to rate his chances of overhauling Hamilton, Vettel said: "We have a chance. I tend not to rate many things. I think there is a chance and we make sure we use it.
"We are behind so it depends on what Mercedes are doing. We just have to do our best and we need to score much more than them. How we achieve it doesn't matter as long as we do achieve it."
'If the car was perfect every weekend, it would be boring'
Mercedes had a difficult weekend in Malaysia, where they expected to be more competitive than they were.
Hamilton said Mercedes had "definitely still question marks" about the car's performance but added: "I saw some stories that we had been thrown off the ball or are on the back foot. We're not.
"We are still leading the championship, we still have a great car. Each race is really just about trying to understand more about the car because there is constantly something new coming in the mix that can catch us off guard.
"That is the exciting thing about this car. If the car was perfect every weekend, it would be boring and we are enjoying the fact we are being challenged and that she is not the easiest.
"I don't know if any of you guys can predict but I definitely can't predict what races are going to work and what are not. We thought we'd be stronger in the last race but we were way off but we still got pole and finished second."
The weather forecast for Suzuka is for a wet day of practice on Friday before drying up into the weekend.