Japanese Grand Prix: Lewis Hamilton says Mercedes feels 'strong' at Suzuka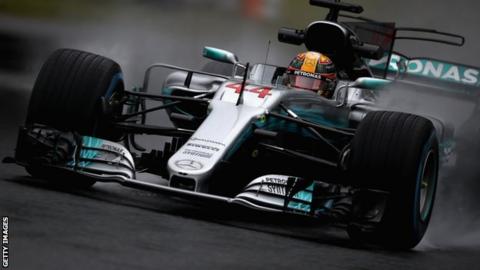 Britain's Lewis Hamilton said after Friday practice at the Japanese Grand Prix that Mercedes were "definitely strong" and could compete with Ferrari.
Hamilton, who leads Ferrari's Sebastian Vettel by 34 points in the title race, said the car felt "massively different" from the last race in Malaysia.
"It's definitely in a better direction, in the wet and in the dry," he said.
Hamilton topped the wet afternoon session and was second, two tenths down on Vettel, in a dry first practice.
Hamilton was one of only five drivers to set a lap time in a second session shortened by half because of heavy rain in the first 45 minutes.
He said: "It was important for me [to go out in the wet] because the car felt different in first practice compared to last week - massively, massively different - and in the rain [in practice] in the last race we were, like, 2.5 seconds off and the car was terrible so it was important for me to just go out and double check if that's still the case here.
"It feels so different to the last race."
Mercedes had only the third-fastest car behind Ferrari and Red Bull in race trim at Sepang but Hamilton benefited from problems for Vettel, who could finish only fourth after an engine failure in qualifying left him at the back of the grid.
Vettel did not set a time in second practice on Friday, although he did briefly venture out on track.
"The car was behaving well right from the start so it looks like everything went as planned," the German said.
"The results were not the best the last couple of races but we were strong so we have all reason to be confident and I am pretty sure on Sunday we will be able to show what we can do."
Vettel said he "didn't think it mattered" what the weather did at the weekend in terms of Ferrari's competitiveness.
Of the drivers who did run in the wet once the rain abated, Hamilton was 0.799secs quicker than Force India's Esteban Ocon.
The Frenchman's team-mate Sergio Perez was third fastest ahead of the Williams drivers Felipe Massa and Lance Stroll.
Teams were reluctant to run because each driver is limited to four sets of wet-weather tyres for the weekend, although qualifying and race are expected to be dry.
Even when the green light was shown only 14 of the 20 drivers ventured out at all, and the majority returned to the pits after one lap.
Stroll was the only driver to fall prey to the conditions, sliding off the track after hitting a patch of water at Turn One and narrowly avoiding a crash.
Hamilton criticised the rule that limits each driver to just three sets of the 'extreme' wet weather tyre for an entire race weekend.
"It is a silly rule because there are fans that pay and sit out in the rain all damn day and because they restrict us with these stupid tyres, we can't go out," he said. "'We can't go out because we might need this for the race.
"They should just make it a lot more relaxed and free so we can go out and give some entertainment because that is the most important thing.
"The guys were sitting out for the whole session in the rain and they saw, what, three cars maybe? I think that's unfair.
"Because of that rule we robbed them of that. Of course the teams don't want us to go out because it's risky but if we had more tyres we could run more."
Hamilton's team-mate Valtteri Bottas, who was fifth fastest in first practice, is to be hit with a five-place grid penalty for changing his gearbox before the regulation limit of six consecutive events.