Japanese Grand Prix: Fernando Alonso hit with 35-place grid penalty after engine change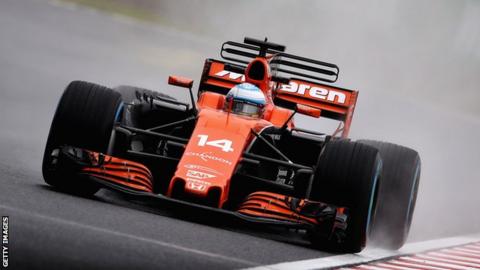 Fernando Alonso has been hit with a 35-place grid penalty at the home Japanese Grand Prix of McLaren's engine partner Honda.
The team found a hydraulics problem in the Spaniard's power-unit on Friday and fitted a new engine overnight.
As Alonso has used far more than the permitted number of engine parts this season, the penalty was inevitable.
The engine is the same specification as before, the latest upgrade not ready yet from Honda.
"Hard luck. Had an unexpected engine change last night that will compromise again the GP," Alonso said.
"But an extreme team effort from the crew working all night to have the car ready. I will try my best and we will fight back."
Teams are permitted to use only four each of the six parts of a power-unit in a season.
This is Alonso's eighth internal combustion engine and MGU-K, 10th turbo and MGU-H, seventh energy store and sixth control electronics.
The MGUs are the devices in the hybrid system that recover energy from the rear axle (K) and turbo (H).
Renault's Jolyon Palmer will join Alonso at the back with a 20-place grid penalty, for using his fifth internal combustion engine and his sixth turbo and MGU-H.