United States Grand Prix: Can Hamilton wrap up title at 'little jewel' Austin?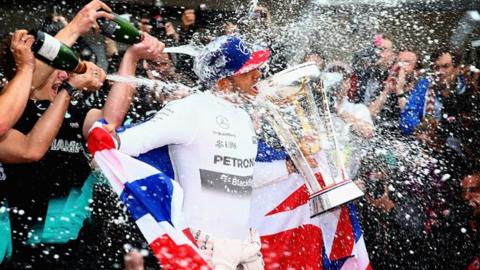 The United States Grand Prix could be the race at which Lewis Hamilton wins his fourth world title.
It's not likely - Hamilton needs to score 16 more points than Sebastian Vettel to do it - but the way things have been going for Ferrari in recent races, it cannot be ruled out.
Vettel and Ferrari's season has collapsed in spectacular fashion over the three Asian races in Singapore, Malaysia and Japan, and the team and driver have only themselves to blame.
The German triggered the start-line crash that took out himself, team-mate Kimi Raikkonen and Red Bull's Max Verstappen at the start in Singapore, and then Ferrari's reliability went south in Malaysia and Japan.
The good news for Vettel is that if he can just get through this weekend and stay in the game, the next race in Mexico could give him a chance to keep things alive for even longer.
The bad news for him is that, unlike Mexico City, the Circuit of the Americas in Austin, Texas, is not a track Mercedes especially fear. They don't expect to dominate, but they feel they should at least be competitive - although if the weather remains as forecast at around 30C ambient, that might change.
Cota, as they call it, is a rare new track in F1 where the architects have got things absolutely right. It has a bit of everything and is a great place to watch racing, as well as a challenge for the drivers.
It is arguably the best new circuit to emerge on to the calendar in 20 years, but there is more to the success of the latest iteration of the US Grand Prix than that. As a package, the weekend is difficult to beat.
Ask anyone in F1 what are their favourite races and you can guarantee that Austin is right up there.
How Hamilton can win it in the United States
He wins and Vettel finishes sixth or below
He comes second and Vettel finishes 10th or below
The track is excellent, the crowd is large, knowledgeable, warm and enthusiastic, and it is all held down the road from one of the most enjoyable cities in America.
Austin might not have the glamour and cachet of New York or Los Angeles but it is a terrific little place - and about as far from the cliched image of Texas as you can get.
Yes, just outside it there are Western stores and trailer parks, big skies and big horizons - and all that is wonderful in itself.
But the city itself is a little jewel - cosmopolitan, vibrant, atmospheric, packed full of restaurants and bars and with live music all over town.
It's not perfect, of course. The traffic can be pretty bad - but at least you can usually enjoy a glorious Texas sunset while you're sitting in it.
Andrew Benson, chief Formula 1 writer
Howdy, Daniel
The track
Alonso's Indy tribute
Beard Crufts
How to follow on BBC Sport
BBC Sport has live coverage of all the season's races on BBC Radio 5 live, BBC Radio 5 live sports extra, plus live online commentary on the BBC Sport website and mobile app - including audience interaction, expert analysis, debate, voting, features, interviews and video content.
United States Grand Prix coverage details
Date
Session
Time (all BST)
Radio coverage (available online)
Online text commentary
Thursday, 19 October
Preview
21:00-22:00
BBC Radio 5 live
Friday, 20 October
First practice
15:55-17:35
BBC Radio 5 live sports extra
From 15:30
Second practice
19:55-21:35
BBC Sport online
From 19:30
Saturday, 21 October
Third practice
16:55-18:35
BBC Sport online
From 16:30
Qualifying
21:55-23:05
BBC Radio 5 live sports extra
From 21:00
Sunday, 22 October
Race
19:00-22:00
BBC Radio 5 live
From 17:30
Monday, 23 October
Review
04:30-05:00
BBC Radio 5 live