Formula 1: Brendon Hartley to race for Toro Rosso at United States Grand Prix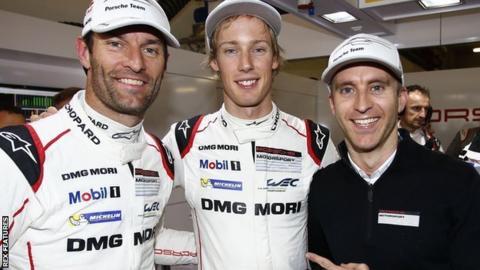 New Zealander Brendon Hartley is to make his Formula 1 debut for Toro Rosso at next weekend's US Grand Prix.
The 27-year-old is replacing Pierre Gasly, who is to take part in the final race of Japan's Super Formula series in which he is a title contender.
The other car will be driven by Daniil Kvyat, who returns after being dropped in favour of Gasly two races ago.
"What an amazing feeling!" said Hartley, whose F1 hopes looked to have ended when he left Red Bull in 2010.
The shake-up was required because Spaniard Carlos Sainz has moved to Renault for the final four races of this season in preparation for a full year with the French team on loan from Red Bull in 2018.
When Hartley was dropped from the Red Bull junior driver programme in mid-2010, he left F1 and turned instead to sportscar racing.
He became world endurance champion in 2015 for Porsche driving alongside former F1 driver Mark Webber and German Timo Bernhard.
Hartley is leading the world endurance series again this year and could become champion at this weekend's race at the Fuji Speedway in Japan.
Hartley said: "This opportunity came as somewhat of a surprise, but I never did give up on my ambition and childhood dream to reach F1.
"I have grown and learnt so much since the days when I was the Red Bull and Toro Rosso reserve driver, and the tough years I went through made me stronger and even more determined.
"I want to say a huge thanks to Red Bull for making this a reality, and to Porsche for allowing me to do this alongside the World Endurance Championship.
"Cota is a track I really enjoy and one I have raced at recently. I'm trying not to put too many expectations on my F1 debut, but I feel ready for it."
Toro Rosso have not said who will race their cars for the remainder of the season after next weekend's race at the Circuit of the Americas in Austin, Texas.
Frenchman Gasly is expected to return for the final grands prix in Mexico, Brazil and Abu Dhabi, and also to retain the seat into next year.
But there is doubt about who will partner him - both for the end of this year and in 2018.
And while it might seem likely that Kvyat will stay on, he has now been demoted twice by Red Bull - once from the senior team back to Toro Rosso in May 2016 and then dropped altogether after this year's Singapore event.
There are no clashes between F1 and the remaining two WEC events in China and Bahrain so Hartley is theoretically free if he impresses in Austin.