Formula 1: Hamilton focused on his priority to win race amid protests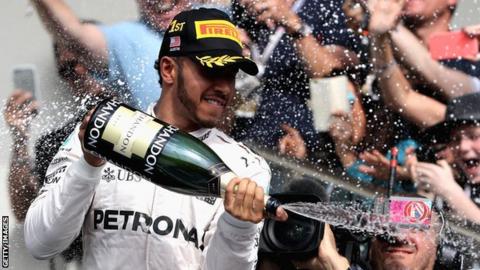 Lewis Hamilton says he has "no plans" to 'take a knee' during the American national anthem before Sunday's United States Grand Prix.
Hamilton, 32, said he thought the movement protesting against racial injustice in the US was "awesome".
But the world championship leader added his priority was to win Sunday's race.
"I don't plan on allowing all the BS that's surrounding the topic pull me down in my striving to win the title," said the Mercedes driver.
"While I have opinions and feelings on the situation, I have no plans to do anything."
The protests were started by NFL player Colin Kaepernick, who sat during the national anthem in August 2016, before opting to kneel instead.
Other players followed suit, and criticism from President Donald Trump in September this year has led to protests spreading.
Hamilton - who has previously made clear his opposition to Trump - last month intimated he might consider 'taking a knee' when the national anthem is played before the race in Austin, Texas.
But before the race on Thursday, he said: "Of course there has been a lot of mention of it. Not of the kneeling, just the whole situation.
"I know a lot of people in America. I get quite a good view of what is happening here in the States and opinions about the movement, which is pretty huge.
"I have posted about it [on social media] and I respect it highly; the movement Kaepernick started I think is awesome.
"I am here to win, that is my priority at the moment, so I am not really focused on anything else at the moment.
"Winning here is the most important for me. In the midst of all that's going on in the country - you know what I am talking about - that is a priority for me."
Hamilton is 59 points clear of Ferrari's Sebastian Vettel in the championship and will take his fourth title on Sunday, with three races to go, if he wins the race and the German is lower than fifth.
But he said "nothing has changed" in the way he is approaching the weekend.
"I anticipate [Ferrari] will be very strong here and for the next four races. That is why nothing changes for me. I just have to keep the pressure on."
Hamilton said he did not mind when he wins the title.
"I couldn't care whether it's the last race, as long as it is done."
'Huge admiration for Kaepernick'
Hamilton said he knew Kaepernick and was a "big admirer of what he started".
He added: "No-one has done that since Martin Luther King.
"It is crazy to think when slavery was abolished in 1865, and 1833 in the UK, and to think that still 100 years later we've still got the same problem. People are still divided, there is still racism, still discrimination, it's sickening.
"Equality and diversity is a really important thing and it is great to see some places applying more diversity, in fashion shows and so on. Same with this sport, a lot of kids from different ethnicities trying to get into F1.
"It is great to see people standing up for their beliefs. Particularly with Kaepernick sacrificing his career for the greater good. Just that alone is admirable and I have huge admiration for him.
"It kind of puts me on the spot, what do I do? To be continued."