Lewis Hamilton: Four world titles and Ayrton Senna's speed - Michael Schumacher's record next?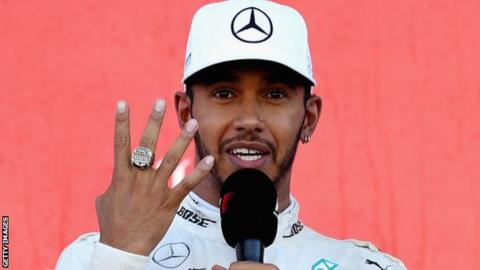 Lewis Hamilton is now one of the best drivers of all time.
The 32-year-old has won his fourth world title, eclipsing Sir Jackie Stewart's record to become Britain's most successful Formula 1 driver ever.
Hamilton has his idol Ayrton Senna's speed - but Michael Schumacher continues to dominate the statistics.
The German has more titles (seven) and more wins (91) than Hamilton, but how long before the Briton catches up?
He's on his way...
Age on Hamilton's side, just as it was for Schumacher
If Hamilton wants to leave the sport with the most world titles of all time, he's going to have to stick around for at least another four seasons.
He is currently three behind Schumacher's all-time record but time is very much on his side. Schumacher was the same age - 32- as Hamilton when he won his fourth title and went on to win it again in the next three seasons.
Hamilton's former team-mate, Jenson Button, believes his compatriot will at the very least equal Schumacher's record.
"When you look at the facts and the stats, he's out-qualified Michael but in terms of world championships he's got a little way to go," Button told BBC Sport.
"Michael is still the greatest when you look at the outright results but if Lewis stays in the sport and if Mercedes stay as competitive, you could see him getting close to winning seven world championships - but only time will tell."
Hamilton is a driver who you get the sense won't be fully satisfied until his name is at the top of all notable record charts in Formula 1.
Schumacher's seven world titles will be his main ambition but he will also be keen to take the German's record of most wins.
Schumacher is currently way out in front on 91 but Hamilton is creeping closer...
All conquering Hamilton by 2020?
So how realistic is it that Hamilton could overtake Schumacher's wins record?
As the below graphic shows, Hamilton really started to rack up the wins after his first season at Mercedes.
Since the start of 2014, when Mercedes produced a competitive car, he has won 40 races - an average of 10 per season. If he maintains that form then he could feasibly surpass Schumacher by the end of 2020, when he is 35.
Given that Schumacher won the last of his seven world titles at that age, then, assuming Hamilton continues to have a car capable of battling for wins, he has every chance of achieving that feat long before he decides to hang up his racing gloves.
For Stewart, the best is still to come from Hamilton.
"The halcyon years are your mid-30s," he said.
"You have maturity, you still have strength, you are still learning but you have corrected a lot of knowledge.
"You are still vibrant and still hungry."
Vote
In a BBC Sport poll, Lewis Hamilton and Ayrton Senna were tied on 29% as the most talented drivers out of the so called greats.
The best of British?
Hamilton's win on Sunday was his 62nd in 205 races. It's a hugely impressive record but, in terms of win ratio and how it compares with other British drivers, legendary Scottish driver Jim Clark remains out in front.
Clark, world champion in 1963 and 1965, won 25 races during his career. It was a record at the time and although it has since been surpassed by several other drivers after the Scot's tragic death, none in so few races.
Clark's came in just 72 starts, a win ratio bettered only by Alberto Ascari and Juan Manuel Fangio.
'A worthy successor' to Stewart
Stewart, the man who Hamilton replaced as Britain's most successful driver in terms of world titles, believes his compatriot is a worthy successor.
"I have held the record for 44 years and records are meant to be broken," said Stewart.
"He has earned it. He has made big decisions. He left McLaren and that was a surprise to a lot of people including me. He made that right decision and went to Mercedes, it was a big decision and the right decision. He has learnt so much.
"Niki Lauda has been able to guide Lewis very well. He has huge experience, he is three-time world champion and been through so much, a lot more than me and in fact died twice and was resuscitated. Niki has been able to guide Lewis a great deal and soften some of the emotions from time to time.
"Lewis has been in a great team with a great package but nevertheless you have to drive the car and get it to the finish line."
He's already the king of qualifying
It seems only right that Hamilton becomes the most decorated British driver of all time in a season he wrote history.
By taking the 69th pole position of his career for the Italian Grand Prix in September he broke Schumacher's long-standing pole positions record. And in Austin he surpassed the German's record of front row starts to 117.
Hamilton has since moved on to 72 career pole positions, meaning by the time he does retire the bar will be set extremely high for any future Formula 1 drivers hoping to become the king of qualifying.
But given the way Hamilton is going, it's not the only record Hamilton will leave others reaching for when his driving career does finally come to an end.