United States GP: 2018 'critical' for McLaren, says Zak Brown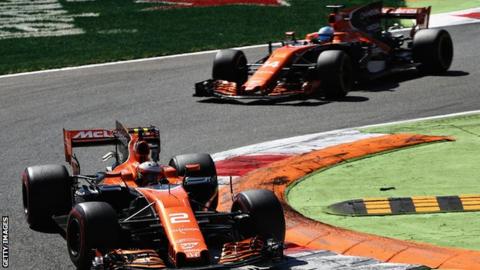 McLaren admit that next season is "critical" for the team following their re-signing of Fernando Alonso and move from Honda to Renault engines.
McLaren have negotiated an early end to their contract with Honda after three difficult years and have given up close to a net $100m (£76m) in the process.
Executive director Zak Brown said: "Next year is critically important to show we are a front-running team."
McLaren are targeting podium finishes and potential wins in 2018.
"I'm not sure I'd use the term make or break," Brown said, "but clearly we have the drivers we want, we have a good power-unit, we have a great team, we have been given the resources we need to have a competitive race car."
Alonso, who has signed for 2018 with options to continue beyond that, believes he can return to competitiveness next season - it is more than four years since his last win, in the 2013 Spanish Grand Prix with Ferrari.
The 36-year-old Spaniard believes he has a chance of winning a third world title by staying at McLaren.
"That's why I stay... I was thinking what was the best option for me for next year because I don't like too much being out of Q3, I don't like too much being out of the podium, so I said if that'll be the case next year maybe it is better to look outside F1 and to experience again the podium celebrations and those victory tastes.
"But we made a lot of progress this year. I have been in the factory a lot. I know what is in plan for next year. I know what Renault is preparing for next year, so if I am here it is because I believe I can be in those podium celebrations and in those moments."