Lewis Hamilton 'really happy' before potential US Grand Prix decider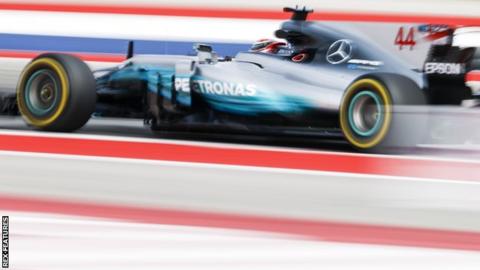 Lewis Hamilton said he was "really happy" with his preparations for what could be the title-deciding race at the United States Grand Prix.
Hamilton, who will seal a fourth title if he wins on Sunday and Ferrari's Sebastian Vettel is lower than fifth, was fastest in both practice sessions.
"It is a lot of fun," said the Briton. "There was one moment in the beginning when I was shouting in my helmet.
"I don't want you to hear me because it sounds silly - but I am like a kid."
United States Grand Prix coverage details
Date
Session
Time (all BST)
Radio coverage (available online)
Online text commentary
Saturday, 21 October
Third practice
16:55-18:35
BBC Sport online
From 16:30
Qualifying
21:55-23:05
BBC Radio 5 live sports extra
From 21:00
Sunday, 22 October
Race
19:00-22:00
BBC Radio 5 live
From 18:30
Monday, 23 October
Review
04:30-05:00
BBC Radio 5 live
Hamilton, who has won four of the past five races, was 0.6 seconds quicker than Mercedes team-mate Valtteri Bottas in both sessions.
He beat Vettel by 0.5secs in the first session and then Red Bull's Max Verstappen by 0.4secs in the second, in which Vettel had a spin and then suffered car problems that restricted him to just one competitive lap.
Hamilton added: "It is just crazy that over half the season has gone and I am still like that when I get in the car.
"That is a really good sign and it really fills my heart. When you get in the car, I still have that love and fire. That is burning stronger than ever and I think that is why I am driving as well as I am.
"I have been really happy in the car. I have been really able to extract a lot. This is a strong circuit for me.
"It is a track that bodes well for an aggressive driving style. I can be aggressive here and even more so this year because the front tyre doesn't give up.
"I can always be more aggressive but in the past the tyres haven't necessarily taken it and this year it is looking quite good."
He said he paid little attention to Vettel's struggles in the Ferrari.
"I just focus on my job. The only thing I did see was Sebastian making a mistake," Hamilton said.
"Because I want to win this race, that is what I am working towards. I am not being distracted by looking at other people's times."
Vettel said he was confident he would have a better day on Saturday, when final practice starts at 17:00 BST and qualifying at 22:00.
"The spin was my bad," the German said. "In the end there was something not right with the car, we came in to check, we didn't find anything. Now we need to take a good look. Tomorrow we will have more planned running and less trouble.
Asked if he could match Mercedes' pace, he said: "When we are on track, I think yes. The only lap I did was the one I did and it was not very good - so I am sure we can step it up."