Lewis Hamilton wants close race at United States Grand Prix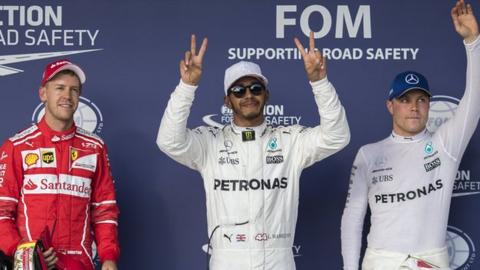 Lewis Hamilton says he is hoping for a close race with title rival Sebastian Vettel in the United States Grand Prix.
Hamilton will start the 20:00 BST race in Austin, Texas, from pole position with Vettel in second.
The Mercedes driver will seal his fourth world title if he wins the race with Vettel's Ferrari lower than fifth, but the Briton says that is "unlikely".
"He is going to try to win and I'm going to try the same. I expect nothing but the best from him," said Hamilton.
The 32-year-old has built up a 59-point lead after three terrible races for Vettel and Ferrari in Asia. Hamilton expects the German to fight back on Sunday but believes he has the speed to win at the Circuit of the Americas.
Hamilton, who beat Vettel by 0.239 seconds in qualifying, added: "They were very quick, it was quite close and with more sessions he maybe had the potential to get closer.
"On the long runs they are always relatively close but I have put myself in the best position and I hope I can hold that off the start.
"Then it's about managing tyres to make sure you hit stint lengths.
"The Ferraris are going to be quick. They always are in the race. He got a better start than me in the last race and I plan to get a better one than him.
"Every pole counts. When you are not on pole it makes the weekend little tougher. It doesn't mean it's impossible, but starting on pole gives you a different outlook at the start of the race.
"Naturally, you still have to do the job. You still have to get off the start and then manage it. I am hoping for a close race like we had in Spa - but we will see."
Hamilton's win at Spa-Francorchamps in Belgium at the end of August was the start of a run of four wins in five races that put a stranglehold on the championship.
But he says he is only focused on winning the remaining four grands prix of the season.
Vettel has retired from two of the past three races - including a crash in Singapore and an engine problem in Japan last time out - but insists he has not given up on the title yet.
"I think we have better pace so we should be fine. I am looking forward to the fight, which I wasn't allowed to do in the last one so we see what we can do," said the 30-year-old four-time world champion.
"The car is good. We have generally a bit better race pace, but we have to show and prove it."