Lewis Hamilton on pole for United States Grand Prix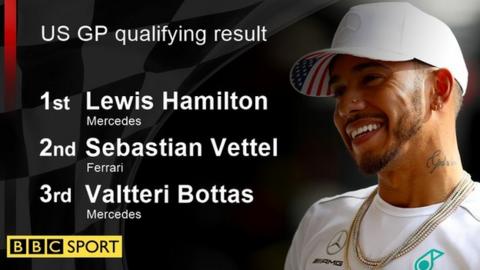 Lewis Hamilton took pole position for the United States Grand Prix and will have title rival Sebastian Vettel alongside him on the front row.
Hamilton beat Vettel by 0.239 seconds as the German rescued his day with a superb final lap.
Vettel was fourth after the first runs in final qualifying, over 0.7secs off the pace, but improved at the death.
Hamilton, who took his 11th pole in 17 races, will clinch the title if he wins the race with Vettel lower than fifth.
Sunday's race is live on BBC Radio 5 live and the BBC Sport website at 20:00 BST.
Hamilton in control
It was Hamilton's 11th pole position in 17 races so far this season and it continues a weekend of domination for the 32-year-old Briton at one of his favourite circuits.
Hamilton topped all three practice sessions and all three parts of qualifying to stamp his total authority on the weekend.
Hamilton said he "loved this track" but said qualifying was difficult because of a gusting strong wind in hot and humid conditions.
"It is going to be a great race," he said. "Looking after the tyres in these conditions is going to be tough, but I am the best prepared I can be."
Hamilton said it was "highly unlikely" that he would win the title on Sunday.
"Sebastian did a great job to get back up there. Unless he makes a silly mistake - which is very unlikely, he's a four-time world champion - it is going to continue to the next race.
"This is such a fantastic circuit - just the layout and the way the wind comes really makes it challenging. You are constantly dancing with the wind."
A great recovery from Vettel
Ferrari have had a difficult weekend - starting with a spin for Vettel on Friday, a car problem which led to a chassis change - but recovered well on Saturday.
Vettel said: "I was very happy in the end. I was lacking a bit the rhythm, especially the transition from the first to second sector. Got it right in the end, but it was very tricky with the wind."
His front row starts sets up a potentially fascinating battle between the two in the race, when Ferrari are usually more competitive than in qualifying.
The heat is also giving Mercedes concerns. The hotter it is, the more problems they have managing tyre temperatures, which could be a significant issue for them in the race, although it is expected to be a few degrees cooler on Sunday than the 30C temperatures in south Texas on Saturday.
Bottas again struggled to match Hamilton, as he has since the season re-started after the summer break in late August and Ricciardo could be a factor in the race, qualifying only 0.469secs off the pace.
Raikkonen exactly matched the Australian's team but as he posted it second was classified behind.
Verstappen was just under 0.1secs off his team-mate and will start from the back because of a 15-place penalty for excessive engine usage.
Sainz's steller debut
There was an impressive performance from Carlos Sainz on his first outing for the Renault team following his transfer from Toro Rosso to replace Jolyon Palmer.
The Spaniard took eighth place, pipped by Force India's Esteban Ocon but ahead of McLaren's Fernando Alonso and the second Force India of Sergio Perez.
Sainz was on the pace of team-mate Nico Hulkenberg all weekend and was 0.2secs quicker than the German in first qualifying, although Hulkenberg did only one run because he is one of the other drivers with a major grid penalty.
New Zealander Brendon Hartley qualified 18th on his Formula 1 debut for Toro Rosso, saying he had lost a lot of time locking front wheels at Turn 12 and 15.
He was 0.8secs slower than team-mate Daniil Kvyat in first qualifying but said he was optimistic of a strong race, which he will start from the back because of a 25-place engine penalty.
"It has been a steep learning curve," said Hartley, who is expected to be retained for the rest of the season when Frenchman Pierre Gasly returns for the next race in Mexico.
"I was happy with final practice but I didn't really get it together in qualifying. There is a lot to learn with these tyres and peak performance, the long-run pace I feel confident I can do a good job tomorrow. Bit of work to do on short runs. Pretty happy with how the weekend has gone so far."