'How Lewis Hamilton climbed to another level'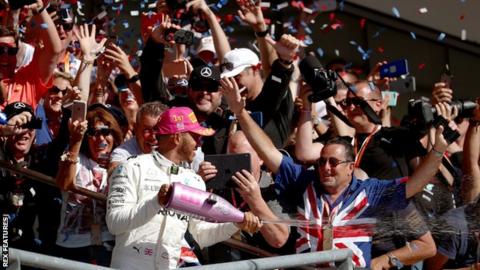 Lewis Hamilton came out for his post-race news conference, following his debrief with his engineers after his dominant victory in the United States Grand Prix, holding a cigar.
"It's a victory cigar," he said, smiling. A pause. "It's disgusting."
The moment, though, was sweet. The cigar was to signify Mercedes' fourth consecutive victory in the constructors' championship, the first spanning a major regulation change, a remarkable achievement.
But it also felt like a recognition of the fact that Hamilton's own number four was just around the corner.
As long as Hamilton does not lose 16 points to Ferrari's Sebastian Vettel in Mexico next weekend, he will be world champion for the third time in four years, in addition to his first title in 2008 with McLaren.
He is already the most successful British driver in Formula 1 history by some margin, in that with 62 wins he has double the number of the next man in the list, Nigel Mansell (31). But this title will move him clear of Sir Jackie Stewart and the other triple champions and into a rarefied group of drivers that includes only Michael Schumacher, Juan Manuel Fangio, Alain Prost and Vettel.
Barring a retirement, Hamilton will surely win the championship in Mexico City. And how close that title is can be judged by the fact that on Sunday evening, for the first time this season, Hamilton was prepared to admit he is nearly there, even if his team boss Toto Wolff was not.
"This is motor racing," Wolff said. "I can imagine every scenario. It is not done until mathematically we have achieved it."
Not Hamilton, though.
"Shoot," he said. "It's getting close. That does sound good. I am going to work even harder to make sure next week we come out on top."
Another sublime drive
Hamilton's championship victory, so inevitable now, was anything but not very long ago. The season has turned on his remarkable form since the summer break, and Ferrari's simultaneous implosion in three remarkable races in Asia before F1 turned up in Austin.
Had Vettel not crashed in Singapore and hit engine problems in Malaysia and Japan, things might well look different. But he did. And the reality is that, as a collective, he and Ferrari have not matched the heights of Hamilton and Mercedes over the season, and right now Hamilton is rubbing salt into his rivals' wounds.
He has been in irresistible form since the summer, winning five of six races and finishing second in the other. Austin was another copybook drive, but he had to work for the win.
Starting on pole, he was beaten to the first corner by Vettel, but it was immediately obvious he had the speed to stay with the Ferrari.
"Pace feels good," he said over the radio as he tracked the Ferrari closely. Halfway around lap six, he was past into the hairpin at Turn 12 and the race was effectively won.
There was a minor scare when Mercedes delayed his pit stop and he came out with Vettel right behind him at the first corner, but his confidence in his ability to win was clear.
"When I came out they said I was fighting Sebastian," he said. "I thought I came in way ahead of him but in actual fact that for me is quite exciting. In hindsight it wouldn't have been too bad if he passed me because then we could have had another fight."
He said it was one of his most enjoyable wins of the season, comparing it to what most would say was his best, when he fought back past Vettel to win the Spanish Grand Prix in May.
This one did not seem as close, in terms of the relative pace of the cars, but perhaps Hamilton's driving is flattering the Mercedes a little at the moment. Certainly Bottas is not getting anything like as much from the car.
Why is Hamilton on 'another level'?
Mercedes team boss Toto Wolff believes Hamilton has never been better than he is now, even in his utterly dominant 2015 season.
"I have worked with him for five years and I have never seen him operate at that level," Wolff said. "The raw pace, spectacular, understanding the tyres and the ability of the car that was difficult sometimes is not easy. The sustainable performance on that level I haven't seen before."
Hamilton himself has said he is driving on "another level" at the moment and the big question has been why. As the weekend wore on, this question was returned to again and again and finally on Sunday night Hamilton opened up fully about it.
The foundations go back to a meeting he had with Wolff after the dust had settled from the controversial end to last season's championship, when Hamilton tried to back team-mate Nico Rosberg into Vettel and Red Bull's Max Verstappen in a vain attempt to prevent the German taking the title, ignoring the team's order to stop doing it.
"We had a difficult moment in Abu Dhabi last year," Wolff said. "And we came back together a couple of days later and had a long evening in my kitchen and put it all out.
"All the frustrations and questions that had grown over the years were all dismantled. We went off and he came back with a great mindset and it has grown stronger through the year and you can see the positive relationship with Valtteri is an important factor.
"The spirit is great within the team and we have [it] through all the difficult moments. That was an essential piece of the jigsaw."
What was unsaid by Wolff was that the relationship between Hamilton and Rosberg was so poisonous that it was damaging the Briton's ability to work with the team with total trust - and Rosberg exploited that weakness, effectively 'doing a number on Hamilton' psychologically and preventing him always working at his highest level.
This Hamilton effectively admitted on Sunday evening.
"People in the team will be able to tell you what the dynamic was," he said. "And, for sure, I can't say it was great last year... Going and seeing Toto at the end of last year was crucial in solidifying the longevity in the team.
"Just put everything on the table and say what needed to be said. And then to build on creating a new stronger relationship which we have done.
"Toto has done an exceptional job with this team and there are things we all felt we could have done better if we had a chance to go back.
"My relationship with my engineers, we are constantly working on improving our communication and we have done an exceptional job this year in terms of what we do at the factory."
He added that he was feeling the best he had ever felt, physically and mentally.
"The best decision was moving to this team, the second best was changing my diet, at Singapore," said Hamilton, who announced he was going vegan last month.
"Ultimately you always try to live to your potential and drive to your potential and right now and today was like the greatest day. I felt I was able to be in that zone. It is the greatest feeling.
"It's great also that we are fighting with another team so the focus is different. When you have two strong drivers in the team, as we had.
"Well, when the battle is within the team, it's like a hurricane. Strong energy, and it is just stuck in the room. Whereas now, together we have this hurricane or whatever bundle of energy which we are firing to the car and it is overall a much happier dynamic.
"Valtteri is an exceptional human being and you can see he gets it from his dad. He always comes over and says 'hi'. Valtteri wants to win through merit, and hard work. There is never a moment when he is hiding anything from me and it is an unusual dynamic where I am actually just offering it."
It was not hard to read between the lines of that. And then the killer remark. Could he have achieved all this with Rosberg still in the team?
"No."
It's not all about Rosberg, though
Creating this harmonious internal dynamic has enabled Hamilton to explore more deeply the intricacies of a fast but often difficult car, work on how to get the best from it and the tyres.
His qualifying consistency has improved in the second half the year, after an up-and-down first half, because he has focused especially on getting the tyres to work at their optimum over the balance of a lap.
And qualifying consistently at the front or close to it makes the races easier.
Had you been asked to say who had been the better driver out of Hamilton and Vettel after the Hungarian Grand Prix, when the German equalled his rival on four wins in 11 races and moved into a 14-point championship lead, you may well have picked Vettel, even taking into account his 'moment of madness' in driving into Hamilton behind the safety car in Azerbaijan.
But the second half of the season has changed all that and, to rub it in, Austin was the second time this season Hamilton has caught and passed Vettel to win a race.
Did he feel he was on another level to Vettel, Hamilton was asked?
"I would just like my driving to do the talking," he said. "So, it is for you to decide. I definitely know what I think but I would rather not tell you that. I would rather just drive that way and see."