Lewis Hamilton: Fourth Formula 1 title 'sounding good'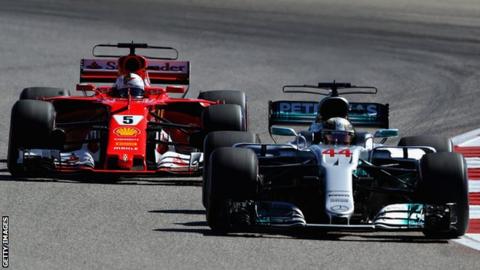 Lewis Hamilton said his fourth world drivers' title was "getting close" after his dominant victory in the United States Grand Prix.
The Mercedes driver is 66 points clear of Ferrari driver Sebastian Vettel, who finished second, with only 75 still available in the remaining three races.
Hamilton only has to finish fifth in Mexico next weekend to guarantee the title, regardless of what Vettel does.
"Shoot. It's getting close. That does sound good," Hamilton said.
"I am going to work even harder to make sure next week we come out on top."
The 32-year-old's victory in Austin, Texas, was his fifth in six races since Formula 1 returned from its summer break at the end of August, and he took second place in the other race.
And he has moved to within grasp of the title largely because of Ferrari's implosion in the three races in Asia, where Vettel crashed out in Singapore, was restricted to fourth by an engine problem in Malaysia and retired in Japan.
"I could only have dreamed of this happening in the second half of the season," he said.
"First half - constantly chasing, chasing. They generally had a bit of the upper hand.
"No-one can say one of us had the better car. There have been races where they have been quickest and races where we have been quickest and races where they have been quickest and they have not done a good enough job, like Singapore."
Hamilton is already the most successful British F1 driver in terms of wins - his 62 wins double that of the next best Nigel Mansell - and a fourth title will draw him clear of Sir Jackie Stewart's three.
He said becoming the British F1 driver with the most titles would be "very cool", adding: "I am very proud to be amongst the great British drivers, it is such a dream. I can't believe the time is now."
One title already won
Hamilton's victory, along with fifth place for team-mate Valtteri Bottas, took Mercedes over the line for their fourth consecutive constructors' title.
Hamilton paid tribute to the team's achievement in managing to remain champions despite a huge change in technical regulations over the winter.
"I really want to say a big congratulations to the team back at the factory," he said. "Because it has been a big, big push to come into another era of car and be competitive with Ferrari, who have been right on it from the get-go and who for sure would have started earlier development with their car because we were fighting for the championship.
"A really great achievement and looking forward to this battle for years to come, hopefully."
Team boss Toto Wolff said: "Our target was to win both championships and to be the first team to achieve it through a regulation change like this.
"Having achieved it here in Austin feels really unbelievable. It is the reward for so many people who have been hard-working. The thing is we have a really great dynamic in the team and we enjoy doing what we do and bringing it home."