United States Grand Prix: Max Verstappen penalty appalling - Red Bull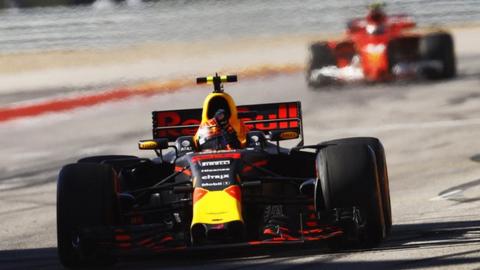 Red Bull heavily criticised the decision to drop Max Verstappen off the podium at the United States Grand Prix for abusing track limits.
He was penalised five seconds for passing Ferrari's Kimi Raikkonen by cutting Turn 17 on the last lap.
Verstappen said the decision was "very weird" and Red Bull team boss Christian Horner said it was "appalling".
Verstappen added: "Consistency is lacking and understanding racing. They do understand how to kill the sport."
The Dutchman, who fought up from 16th on the grid after a penalty for excessive engine usage, went to the pre-podium 'green room' thinking he had finished third only to be told he had to leave because of the penalty.
"I am still a happy man but of course we should have been third," he said.
"It is very weird because the whole weekend we could run off track and there were no track limits.
"Even my fight with (Mercedes driver Valtteri) Bottas, he went off the track when I was in front and he came back in front of me and there was no penalty given, and we overtake him again.
"I am fine with that but then I am fighting with Kimi and I do get a penalty.
"For the sport, the fans also don't understand, they are loving it and then they ruin the sport. They should keep going like this and then for sure within two years the fans are walking away here."
Horner said: "It is a great shame. We have seen cars going off track all weekend. The race director has said he has been happy with the use of track limits. We have seen cars in the grand prix going beyond circuit limits with no action and Max makes an outstanding pass on Kimi and unfortunately had it taken off him."
Horner said officials had gone against an agreement made after a similar incident affecting Verstappen in Mexico last year to take the time to look at the full argument before making a decision.
Instead, the penalty was given in the time it took the drivers to complete the slowing down lap at the end of the race.
He added: "If you don't want people to go there, put a kerb or gravel there. What's annoying is the lack of consistency. How can you say what Valtteri did is OK and what Max did isn't?
"In any other sport, if you are out, you are out. Either get rid of it completely and just let them race or if you don't want the cars to go there put in a deterrent for the drivers not to be there."
The FIA's argument is that most drivers in the race - including Bottas in his fights with Verstappen and the other Red Bull of Daniel Ricciardo - were on the outside of corners when they went beyond track limits but that Verstappen "gained a lasting advantage by leaving the track, with all four wheels clearly off the track by at least half a metre, and overtook [Raikkonen] in doing so."