Lewis Hamilton: 'I'm at peace in my heart'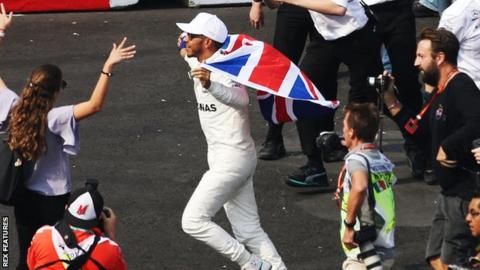 Lewis Hamilton said he felt "at peace" after clinching his fourth title with ninth place at the Mexican Grand Prix.
The Mercedes driver fought back through the field after getting a puncture when he was hit by title rival Sebastian Vettel's Ferrari on the first lap.
But the German could manage only fourth place, not enough to keep the fight alive.
Hamilton said: "It's very surreal. Hard to believe. I feel incredibly grateful and at peace in my heart."
The 32-year-old became the only British driver to win four Formula 1 world championships, moving one clear of Sir Jackie Stewart.
But he said the impact of his success was taking time to sink in.
"Honestly, really don't know, man," he said. "I grew up in Stevenage. This is all beyond my wildest dreams.
"I never thought this… the possibility of even getting into F1 was so far-fetched, so to think now I have four world championships…
"Firstly, for everyone making positive comments, thank you for all the support. For people who follow me on social media and give me all the love, I really do appreciate it.
"Whether you are at home or waiting at the bus stop, in a taxi, or driving to work, or sitting on your couch at home, or mowing your lawn, thanks so much for all the energy you send my way.
"I am trying to represent the British flag as proudly as possible. I won't give up. There is more to go."
Hamilton said the race was a "horrible way" to clinch the title.
He was last for much of the first half of the race after his first lap collision gave him a puncture and bodywork damage made it hard to overtake other cars.
But after a mid-race pit stop he began to make progress and climbed up into the points.
Vettel also had to pit after the incident, to replace a damaged front wing. He never looked like getting into the position he needed to keep the championship alive, but Hamilton repeatedly asked for reassurance from his team as to his position.
"A lot has gone on this year," Hamilton said. "Even today a lot was thrown at me.
"But I felt in my heart just to keep going and when I came across the line I was still pushing, and that was the thing I was proudest of.
"Even though I was in no-man's land, miles behind, I didn't win the race, it was important for me to finish with dignity and with the will to win still.
"I never in a million years thought I would be four-times world champion so this is a special day.
"I had a good start, went in, I gave it everything. I wanted to win the race and then I obviously got hit from behind.
"I have to watch the replays and everything. The only one to get a puncture so I was miles behind, but I kept thinking in the race: 'Still I rise, still I rise, you can make it, just keep pushing, don't give up.'"
Hamilton paid tribute to Vettel after the race, saying: "He's as tough as they come. He really did an exceptional job this year.
"It has been challenging for sure at some stages but to race against him; he had a great platform to race from this year and I am really proud I was able to put up a strong fight and looking forward to a good couple more years fighting."
Vettel said: "It's disappointing obviously but it's not that important what we have done today. It is more important what Lewis has done.
"He has done a superb job all year round and he deserves to win the title so congratulations to him."