Lewis Hamilton: I want to be better next year, says world champion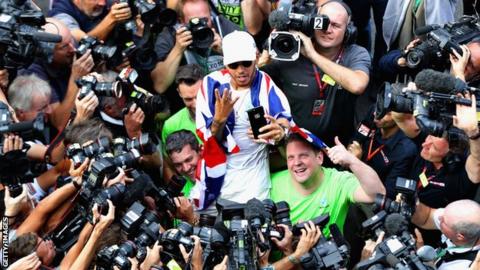 Lewis Hamilton says he is already determined to come back better than ever in 2018 after winning his fourth world title in Mexico on Sunday.
The Mercedes driver said: "I have to sit down and figure out the pros and cons from this year and see how I can improve. I want to be better next year.
"The challenge is going to be even bigger from Ferrari and Red Bull. F1 doesn't sleep. It doesn't stand still."
"There is always someone waiting to take my position."
He singled out Red Bull's Max Verstappen, who dominated the Mexican Grand Prix as Hamilton fought back to finish ninth after a first-lap clash with his title rival Sebastian Vettel, as a potential major threat.
"Max is just sitting there waiting to take it," Hamilton said. "So I have to raise the game another level in order to stay ahead of him and that motivates me, so there is my motivation already for next year."
Hamilton said he had worked hard to be at his best level possible in 2017 and that he would work out how best to approach next season, with particular focus on his decision this year not to work with a personal physical trainer, which is unusual for an F1 driver.
"My consistency has been a major factor," Hamilton said. "Qualifying has been great. I have generally always felt races have gone well but qualifying has been a good step forward in consistency. The starts were very strong.
"Across the board there was not one particular subject I was trying to work on this year; it's everywhere and how you divide that energy on the things that are not perfect, trying to be the best all-round driver you can be.
"I have trained differently this year, I have enjoyed the challenge of not having a trainer. Trying to motivate yourself.
"I have gone for runs and got a few metres down the road and thought, 'Friggin' forget that.' And gone home. Whereas with a trainer you would go all the way.
"Having to find that within yourself I have really enjoyed, so the reward is even sweeter with the success, that I have taken certain things on and it has gone well."
Keen to end the season on a high
There are two races remaining, in Brazil on 10-12 November and Abu Dhabi on 24-26 November, and Hamilton said he was determined to try to win both of them.
"Now the pressure is off, we can go and enjoy these next couple of races," he said.
"I think it is important we focus exactly as we have and continue to race as we have.
"This is not an opportunity for us to take our eye off the ball. The pressure is off so we should be able to perform better than we ever have and I believe we can."
New contract looming
Hamilton's Mercedes contract runs out at the end of next season, but he said he and Toto Wolff had already begun conversations about a new one.
"We already spoke a couple of weeks ago back at the factory that we are at some stage going to sit down and talk," he said.
"It is quite an easy process for us. We already have something great in place and it is really just about extending it, enhancing it, working on what more I can do for them, sponsors, brand or whatever, and vice versa.
"I am pretty sure hopefully within the next month or so we will have had time to sit down."
A new contract is likely to keep him at Mercedes at least until the end of 2020, when he will be 35, matching the commitment of Verstappen to Red Bull and Vettel to Ferrari.
Tougher competition in 2018
Hamilton said he was hoping that the competition at the front would be tougher next year and that he was looking forward to battling more often with Verstappen, who has won two of the past four races.
"We all know he is an exceptional driver," Hamilton said. "It is great to see Red Bull back. I really hope they have a better engine next year and are more in the fight.
"It would be great for the sport. You have got for sure a potential world champion with Max and he is only going to get stronger with age.
"He has a lot of raw talent at the moment but he's young. He has a long way to go but these wins and experiences he's having are only adding to his greatness. I am looking forward to battling with that."
He added that he hoped his long-time rival Fernando Alonso, with whom Hamilton had an intense fight for ninth place in the closing laps in Mexico, would also be at the front in 2018 following the decision of McLaren to switch to Renault engines from Honda for next season.
"I really hope for McLaren, who have a special place in my heart, I really hope next year is a better year for them," he said.
"I hope they have a stronger engine, a stronger car, and Fernando's a tough bugger - a tough cookie, I prefer that word - and I enjoyed the little battle I had with him and I hope we get to have many more like that."