Who is Formula 1's most talented driver? BBC Sport readers give their verdict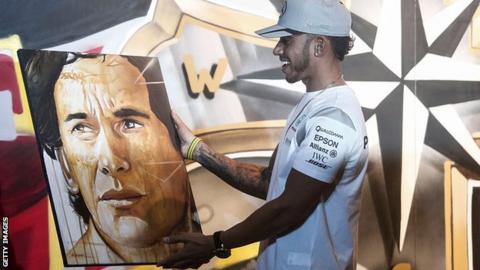 Lewis Hamilton or Ayrton Senna - who is the most talented driver?
It's a difficult question to answer and one BBC Sport readers are split on.
When we posed the question after Hamilton won his fourth world title last month the two drivers topped the vote with 29%.
Determining who is the most talented driver is, of course, a matter of opinion and attempting to compare drivers from different eras is difficult because of the significant changes in technology, reliability and human athleticism over the years.
So instead of trying to suggest who is better we will simply look at some of the statistics from both drivers' careers.
During his decade in Formula 1, Senna won 41 of his 162 races, making for a win percentage of 25.31%.
Hamilton, meanwhile, has won 62 of the 206 grands prix he has competed in and has a win percentage of 30.09%.
In terms of points gained, Senna claimed 41% of the possible 1491 that were available to him between 1984 and 1994.
Since making his debut in 2007, Hamilton has taken an impressive 58% of the 4420 points available.
In his 11 seasons in F1, the Briton has taken more than half of the maximum points available in a year on eight occasions.
The one-lap kings
It was in qualifying where Senna towered above his contemporaries. His ability to take his car to the absolute limit and produce a blistering single lap blew his rivals out of the water.
"Those great drivers are able to pull out an extraordinary lap," Williams technical chief Paddy Lowe, one of the few to work with both Senna and Hamilton, said earlier this year.
"They can't do it every Saturday but every now and again they just go out there and something really extraordinary is required and they produce a lap where you go, 'Wow, where on earth did that come from?'
"And Lewis is certainly one to do that, and so was Ayrton."
Hamilton equalled and then broke Senna's record of 65 pole positions earlier this season before moving ahead of Michael Schumacher on the all-time list at the Italian Grand Prix in September. He now has 72 career pole positions - more than any other driver in history.
Memorable moments
It's hard to condense two great drivers' most memorable moments into a couple of paragraphs given there are so many, but there are perhaps one or two that stand above the rest.
For Senna, his stunning victory at the 1993 European Grand Prix at Donnington would top many people's lists of the Brazilian's greatest races.
Dropping to fifth at the start, Senna swiftly overtook everyone to take the lead by the end of the lap, somehow finding grip on a sodden circuit, before taking command of the race, winning it by one minute and 23 seconds.
Then, of course, there were his many Monaco moments including his simply astounding lap for pole in 1988 when he out qualified team-mate Alain Prost by a whopping 1.427 seconds.
As for Hamilton, how about his Formula 1 debut at the 2007 Australian Grand Prix? The then 22-year-old passing his team-mate and double world champion Fernando Alonso on his way to a podium finish.
Or what about the 2008 British Grand Prix? When Hamilton produced one of his many masterful displays in the wet, lapping the entire field on the way to winning the race by 68 seconds.
As for his best qualifying displays, there are too many to mention.
This year alone he has produced several scintillating pole position laps - from Canada where he fittingly equalled Senna's pole positions record with a lap his idol would have been proud of, to his blistering display for the Italian Grand Prix, finishing a full second quicker than his rivals at the home of Ferrari.
Who is the most talented? Your thoughts
AkA: Lewis's talent is there to see, regardless of the car. He is an extremely gifted racer. F1 contemporaries and legends alike, e.g Lauda, Mansell, Stewart, Alonso, Hakkinen, Prost, Moss, Hill et al. have lauded Hamilton as one of the best ever. Even Vettel himself said Lewis was "the better man this year." Yet a bunch of bitter non-racers are desperate to talk his achievements down. Makes no sense.
AlfaMan: Having watched F1 since 1960 and attending the 63' and 65' British GP I can say that Jim Clark is head and shoulders above any other driver in my lifetime. Mansell the bravest and Prost the most fortunate as he inherited the 86' title and was the most political driver of his era. Senna & Schumacher selfish and dangerous on their day. Stewart & Hill good but dull to watch.
Alwaysred: It's impossible to compare drivers of different eras due to technology etc.
Haytldaho: Senna was an outstanding qualifier (probably the best ever), but Prost scored more points in both their seasons together and had a better average finishing position. Senna was also far more guilty of causing deliberate collisions than either Vettel or Schumacher, something many commentators conveniently overlook. Senna definitely top 5 or 6 of all time, but Jim Clark is clear #1 for me.