F1 Gossip: Hamilton, Alonso, Massa, Pirelli
Last updated on .From the section Formula 1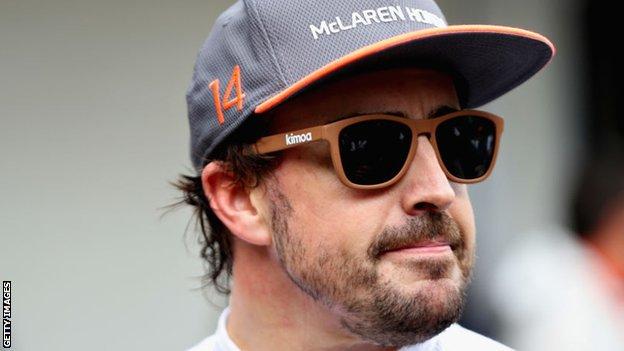 Sunday, 12 November
Fernando Alonso took a swipe at Honda after his drive to eighth in Brazil, saying Toro Rosso should be concerned by its 2018 engine partner's "amazing" lack of power at Interlagos. (ESPN F1)
Alonso says Real Madrid's Cristiano Ronaldo is a better footballer than Barcelona forward Lionel Messi. (The Statesman)
Former Mercedes world champion Nico Rosberg claims Ferrari could fall back even further next season and Sebastian Vettel will struggle to beat Lewis Hamilton. (Express)
Pirelli will introduce a new softest-tyre compound for the 2018 Formula 1 season, and has asked fans to decide whether it is named the 'mega-soft', 'extreme-soft' or 'hyper-soft'. (Autosport)
Williams driver Felipe Massa expressed delight after battling to a fine seventh in his final home Grand Prix in Brazil, comparing it to "many victories that I have taken". (GPUpdate.net)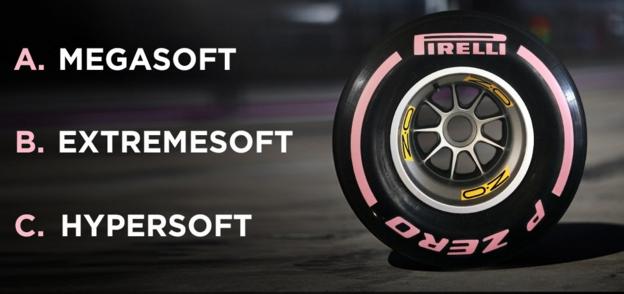 Friday, 10 November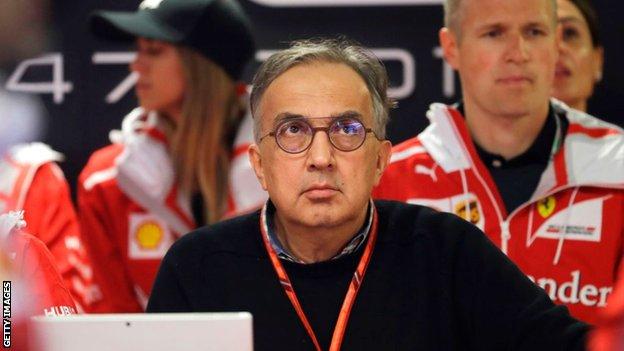 Formula 1 chairman Chase Carey has assured Sergio Marchionne that the sport has "no desire to become Nascar", in response to criticism from the Ferrari boss about increasing standardisation in the sport. (Reuters)
Esteban Ocon, 21, believes Force India would perform at a higher level with a budget cap in place. (F1i)
World champion Lewis Hamilton says it was former team principal Ross Brawn, not chairman Niki Lauda, who convinced him to join Mercedes from McLaren in 2013. (F1 Today)
Valtteri Bottas, 28, says he has no intention of being "number two" to Lewis Hamilton at Mercedes. (Sky Sports)
Fernando Alonso, 36, says that McLaren needs the perfect race weekend to ensure a points finish in Brazil. (Crash)
Meanwhile, Sauber's Marcus Ericsson has been crossing items off his to-do list.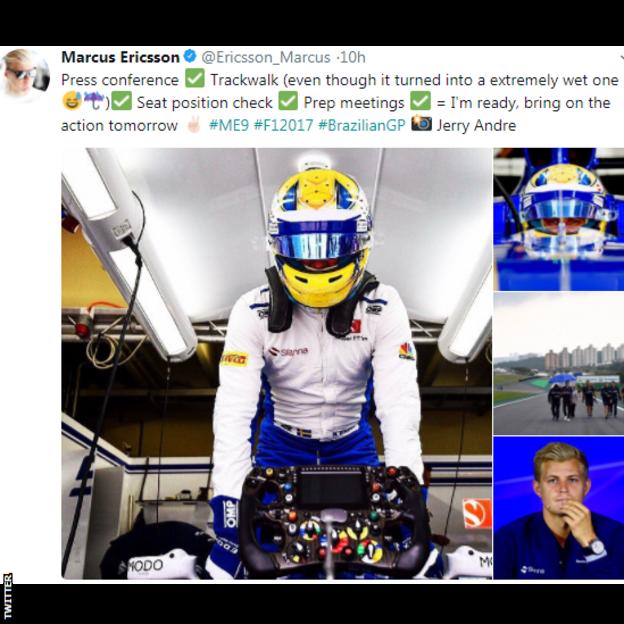 Thursday, 9 November
Jos Verstappen says Red Bull's ability to turn their fortunes around over the course of the 2017 season was the main reason that his son, Max, signed a contract extension with the team. (Autosport)
Red Bull boss Christian Horner has questioned proposals to remove Friday practices from grand prix weekends. (F1i)
Toro Rosso's Brendon Hartley says "with a little bit more luck" his team can fight for points at the Brazilian Grand Prix on Sunday. (F1 Today)
Having wrapped up both the constructors' and drivers' championships, Mercedes plan to use the last two races of the season to test new ideas and parts for 2018. (Reuters)
Renault team boss Cyril Abiteboul says the team's target of finishing fifth in the constructors' championship is now a "tall order". (Motorsport Week)
Marcus Ericsson says he is "optimistic" that he and Sauber can make "further improvements" in Brazil after a promising performance at the last grand prix in Mexico. (F1 Today)
Meanwhile, Esteban Ocon and Sergio Perez have been celebrating at a Force India team dinner.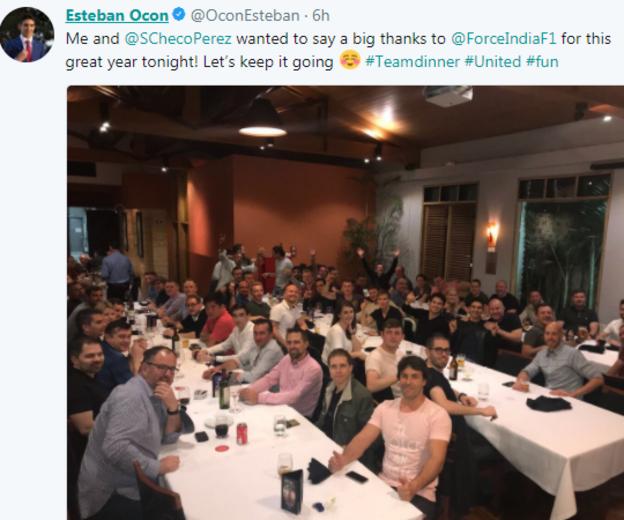 Wednesday, 8 November
Daniel Ricciardo says he holds "a few cards" for his negotiations with Red Bull regarding a Formula 1 contract extension beyond 2018 and will not "rush" his decision. (Motorsport.com)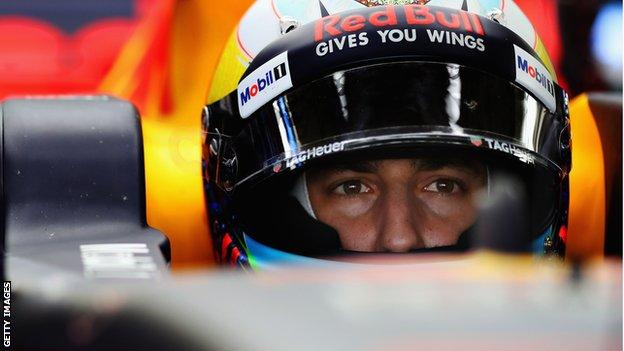 Sebastian Vettel remains confident he can win a world title at Ferrari, despite the team not having a winner of the drivers' championship since 2007. (Sky Sports)
Fernando Alonso was "very close" to making a switch to Red Bull back in 2009 for the 2010 season but no deal came together, according to Red Bull boss Christian Horner. (Motor Sport)
Marseille will host a live Formula 1 street event in 2018 to promote the returning French Grand Prix. (Autosport)

The 2016 Formula 1 world champion Nico Rosberg says he is taking former team-mate Lewis Hamilton's claims their relationship at Mercedes was negative as a "compliment". (Motorsport.com)
Force India duo Sergio Perez and Esteban Ocon would welcome rain at this weekend's Brazilian Grand Prix as it creates more opportunities for F1's midfield teams. (Fox Sports Asia)
Red Bull has a car capable of winning the final two Formula 1 races of the 2017 season, according to team principal Christian Horner. (ESPN)
British teenager George Russell, 19, will make his Formula 1 practice debut at the Brazilian Grand Prix for Force India and wrote on Twitter that he is "absolutely pumped" at the opportunity.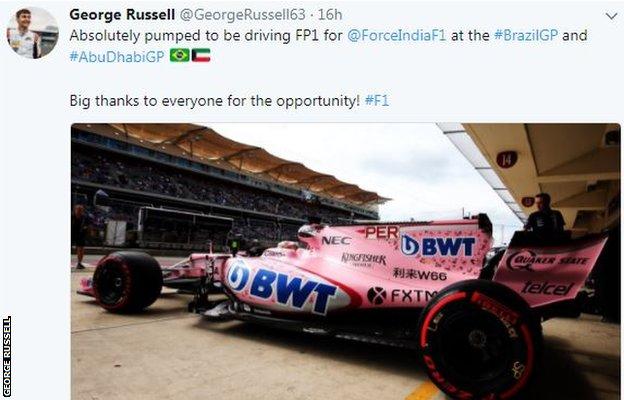 Tuesday, 7 November
Max Verstappen remains cautious about Red Bull's chances of success next season. (planetf1.com)
Haas team boss Guenther Steiner has backed Formula 1's 2021 power unit proposals, describing the initial blueprint as a "good concept". (gpupdate.net)
Bernie Ecclestone believes any attempt to make Formula One more competitive by imposing a budget cap is doomed to fail. (Reuters)
Jacques Villeneuve says Lewis Hamilton "fell asleep" in response to the easy challenge from his new team-mate Valtteri Bottas before Sebastian Vettel "woke" him up. (planetf1.com)
Craig Lowndes leads a group of Supercars drivers set to steer F1 cars at the Adelaide Motorsport Festival in December. (supercars.com)
Monday, 6 November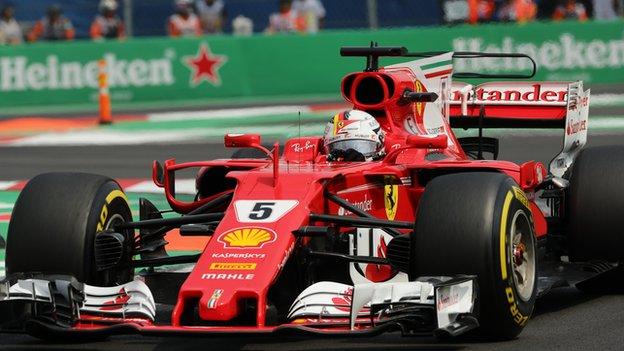 Former F1 supremo Bernie Ecclestone has warned that Ferrari's threat to leave the sport is real if the Italian team believe they cannot win. (Independent)
Valtteri Bottas has been impressed by Mercedes team-mate and four-time world champion Lewis Hamilton's work ethic and says the Briton "is a nice guy" who has "good manners, good respect and doesn't play any games". (F1i.com, via Flying Lap)
Red Bull say they will give driver Daniel Ricciardo, who has been linked with a move to Ferrari or Mercedes for 2019, time to decide his future. Team principal Christian Horner says if the Australian "takes another six months, then so be it". (Planet F1)
Lando Norris, 17, will be announced as McLaren's reserve driver for next season, replacing fellow Briton Jenson Button. (Daily Mail)
The mayor of Californian city San Juan Bautista says plans to host a grand prix in the area will not get approved. (Forbes)
Gene Haas says if his team "are still way at the back and not where we want to be" in five years "then we would have to rethink whether we still want to be in F1". (Autoweek)