Brazilian Grand Prix: F1 'needs to do more' to keep teams safe, says Lewis Hamilton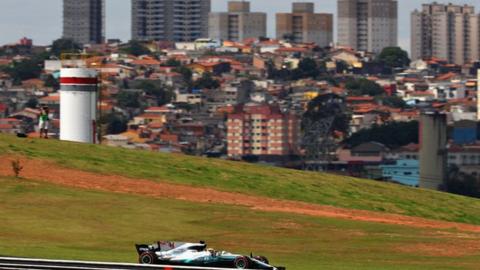 Lewis Hamilton says he was "upset" by news that personnel from his Mercedes team were robbed at gunpoint in Sao Paulo on Friday night.
A van of Mercedes workers was held up on the road away from the Interlagos track. No-one was hurt in the incident.
Hamilton said: "Gun shots fired, gun held at one's head. This is so upsetting to hear.
"It happens every single year here. F1 and the teams need to do more. No excuse."
Hamilton added: "Please say a prayer for my guys, who are here as professionals today even if shaken."
A Mercedes spokesman said: "Valuables were stolen but most importantly everybody is safe and uninjured."
Other F1 personnel had near-misses on the same road, which is notorious for robberies.
A gunman approached a car containing officials from governing body the FIA and tapped his weapon on the window, but the vehicle was armoured with bulletproof glass and they escaped.
A car containing Williams team members was behind the FIA car and was approached by a gunman but managed to leave the scene safely.
They are the latest in a series of incidents affecting F1 personnel at the Brazilian Grand Prix in recent years.
Former F1 driver Jenson Button escaped a similar attempted robbery in 2010 when his driver, again in an armoured car, charged through stationary traffic to get away.