Lewis Hamilton crashes in Brazilian GP qualifying as Valtteri Bottas takes pole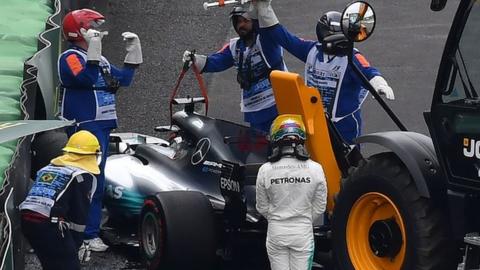 Lewis Hamilton crashed out of Brazilian Grand Prix qualifying on his first lap and will start Sunday's race at the back of the field.
His Mercedes team-mate Valtteri Bottas won a battle for pole with Hamilton's former title rival Sebastian Vettel.
The new world champion lost control of his Mercedes at the fast and difficult Ferradura/Laranjha double right-hand corner.
It was the first significant mistake Hamilton has made all season.
Hamilton said: "You saw it, it is what it is. It is unfortunate. I tend to just look at it as challenges are what make life interesting and overcoming them makes life meaningful.
"I am going to take whatever bubble of negativity comes from that experience and try and grow from it. Very unusual of me, but it just shows we are all human and things happen. I will try to have as much fun as possible tomorrow. Years ago I came from quite far behind and had a great race."
The crash follows Hamilton saying he was "upset" by news that personnel from his Mercedes team were robbed at gunpoint in Sao Paulo on Friday night.
No-one was hurt in the incident, in which a van of Mercedes workers was held up on the road away from the Interlagos track.
Hamilton will start from the pitlane instead of the back of the grid on Sunday after Mercedes decided to change the specification of some parts.
Vettel 'chickens out'
Vettel, who is in need of a win in the final two races of the season after a disappointing second half of the year has seen his title challenge implode, was on provisional pole after the first runs in final qualifying.
Vettel had also been quickest in the second part of qualifying, while Ferrari team-mate Kimi Raikkonen set the pace in the first session.
But he failed to improve on his final lap and Bottas was able to sneak ahead by 0.038 seconds.
"It was a nice lap," Bottas said. "It was so close with Sebastian. Got a clean lap in the end. Lewis was out and I am happy I was able to stand up for us as a team."
Vettel said: "For tomorrow I think its fine. I think I chickened out a bit on the brakes into Turn One on the final run. The lap was fine. I had time to find on the brakes into the final corner, which I got, but by then I was too far behind.
"But our long run looked good compared to Valtteri so I am feeling good for tomorrow."
Perez & Alonso impress
Vettel's team-mate Kimi Raikkonen was third fastest, ahead of the Red Bulls of Max Verstappen and Daniel Ricciardo, who will drop 10 places on the grid as a result of a penalty for using too many engine parts this season.
Red Bull, for whom Verstappen has won two of the last four races, lacked the pace of recent events and the Dutchman, who has been struggling for grip all weekend, was 0.603secs off pole on the second shortest lap of the year.
Force India's Sergio Perez sneaked ahead of McLaren's Fernando Alonso by just 0.019secs to be best of the rest, followed by Renault's Nico Hulkenberg and Carlos Sainz and Williams driver Felipe Massa, in the penultimate race of his career.
Ricciardo will likely start 14th, although this has not been confirmed, while Williams driver Lance Stroll, who qualified down in 18th, and Toro Rosso drivers Brendon Hartley and Pierre Gasly, 15th and 17th, have 15- and 25-place penalties.
An intense weekend
Toro Rosso have had a torrid weekend. Both drivers arrived here with grid penalties because of engine offences and then immediately suffered problems with their power-units in Friday practice.
That led to a row between the team and engine partner Renault, when the team appeared to accuse the French company of deliberately sabotaging them, which could have been construed as defamatory.
Renault F1 boss Cyril Abiteboul stormed down to Red Bull and had a stand-up row with Red Bull motorsport boss Helmut Marko, who then put out a conciliatory statement trying to calm the situation.
In other off-track events, alongside Mercedes personnel being robbed at gunpoint when leaving the track on Friday night, cars containing employees from Williams and governing body the FIA also had similar attempts made on them.
And there is an ongoing political row over the future of the sport between the F1 Group and teams, following meetings in the last week in which F1's owners Liberty Media began to spell out their future plans.