Robert Kubica set for third Williams test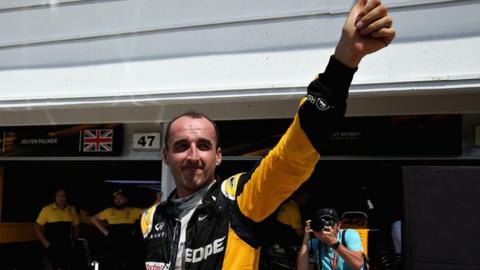 Williams are set to give Robert Kubica a third test with the team as they seek to establish whether he can make a comeback from life-changing injuries.
The Pole has not raced in F1 for more than seven years, following a horrific rally accident in 2011 in which he suffered a partially severed right arm.
Kubica, 32, tested twice for Williams last month and the team's preference is to sign him to race for them in 2018.
But they want him to do another test to allay their remaining concerns.
Kubica has partial movement in his right arm and, that combined with the length of his absence, has raised questions about whether he can again operate at the required level.
He impressed the team in his two tests in October, one at Silverstone and one at the Hungaroring, but they were in a 2014 car with only reserve driver Paul Di Resta as a benchmark.
Williams are now planning to test him at the official F1 Pirelli tyre test at Abu Dhabi in the week after the season-closing race at the Yas Marina circuit to get a clearer idea of his potential.
This will give them a comparison with the other teams as well as their own data from the race weekend just before.
Williams are refusing to confirm the test, saying that their driver line-up for the two days is not yet confirmed.
But Kubica is almost certain to drive at least one day, with the identity of the other driver as yet unknown.
Kubica is very much Williams' first choice to replace the retiring Felipe Massa as partner for Lance Stroll.
Russian Daniil Kvyat, dropped by Red Bull last month, is another option, as is Sauber driver Pascal Wehrlein.
Senior figures in F1 believe that Kvyat has moved up Williams' list as their second choice if Kubica does not work out.
Di Resta's chances, which were never strong, appear to be fading further.