Toro Rosso retain Pierre Gasly and Brendon Hartley for 2018 F1 season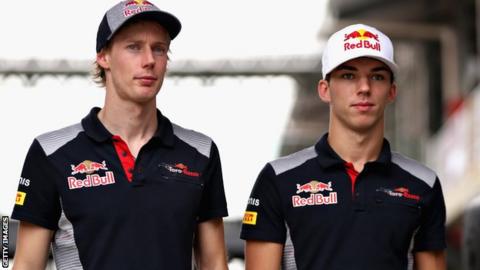 Toro Rosso have confirmed they will retain drivers Pierre Gasly and Brendon Hartley for the 2018 Formula 1 season.
Frenchman Gasly made his debut in Malaysia last month after Daniil Kvyat had been dropped by the team, while New Zealander Hartley's first drive came at the US Grand Prix - also in October.
Neither driver has yet scored a world championship point with Gasly competing in four races so far and Hartley three.
Toro Rosso are sixth in the constructors' championship standings.
Team boss Franz Tost said: "They've shown that they're ready for F1, getting to grips with the car quickly, showing good performances.
"We have been truly impressed by both their steep learning curves."
The final race of the 2017 F1 season is in Abu Dhabi on 26 November.