Robert Kubica 'confident and comfortable' after Williams test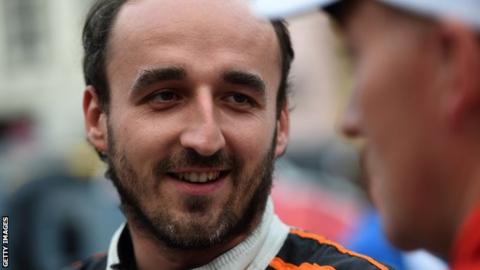 Robert Kubica said he felt "confident and comfortable" in his first test in Williams' 2017 car as the team decides whether to sign him for next year.
The Pole, 32, is aiming to return after a seven-year absence following a horrific rally crash that left him with only partial movement in his right arm.
He set the ninth fastest time of the day in a Pirelli tyre test in Abu Dhabi featuring all the F1 teams.
"I have some limitations and I have to adapt," he said.
"But one positive thing is how my body is reacting and how natural I feel every day, so that gives me a lot of confidence."
It is impossible to make an accurate assessment from the raw times as the teams do not reveal the specification in which they run their cars.
"What the future will bring, I do not know, but today was the kind of day that if nothing else happens there will be disappointment because I feel confident and comfortable," Kubica said.
"It has not been easy, but I am in far better physical shape than when I was racing in 2010," Kubica said. "The motivation is there and the body is reacting in a good way.
"I am starting from scratch because Formula 1 has changed so much over the past seven years, but the experience I gained while racing in F1 has helped me to get on top of the learning process.
"One positive thing is how my body is reacting and how natural I feel every day when I am driving these cars, so that gives me a lot of confidence."
Kubica will drive again on Wednesday, after Russian Sergey Sirotkin, the Renault reserve driver in 2017, also tests the car.
Other candidates for the seat alongside Canadian Lance Stroll in 2018 are Russian Daniil Kvyat, dropped by Toro Rosso in October, and Williams' reserve driver Paul di Resta of Scotland.
Kubica, who has already tested Williams' 2014 car, is the overwhelming favourite for the drive unless the team feel the Abu Dhabi test proves he cannot handle the more demanding 2017 cars.
Felipe Massa, who retired at the end of the season, has said he believed Kubica was effectively driving one-handed because of his injury. Kubica denies this.
"There is someone saying I'm driving one-handed, I'm not driving one-handed," he said. "I think it's impossible to drive a Formula 1 car with one hand.
"But I have some limitations so in some way my body used some compensations, which is not wrong.
"We are human beings and our brains are used to help our bodies overcome disabilities. This is normal daily life.
"I think I am on top of this."
Williams will analyse the data from the test early next week and aim to make a decision on their line-up by mid-December.