F1 bosses propose new security measures for Brazilian Grand Prix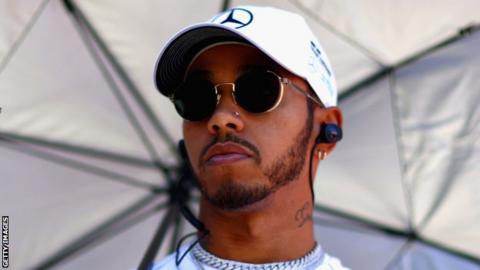 Formula 1 bosses have proposed new security measures following a series of dangerous incidents at this year's Brazilian Grand Prix.
The most serious case came when Mercedes personnel were robbed at gunpoint on a road leaving the Interlagos track in Sao Paulo.
Governing body the FIA has "strongly urged" the implementation of a new security system for next year's race.
It involves an independent security expert and better police communication.
The proposal, drafted at a meeting of F1's legislative body the FIA World Council, makes no mention of what might happen if the Brazil organisers fail to act.
The race is not listed as provisional on the 2018 calendar which has now been published.
An FIA statement said it "recommended that the promoter, who is responsible for the security of the event, retains an independent security expert to evaluate and advise on security plans, implements a police reporting hub at the circuit and improves overall communication between the promoter security, police and F1 stakeholders.
"The World Council strongly urged the promoter to implement these recommendations and improve the situation ahead of next year's event.
"The FIA will offer to participate in discussions with the local authorities and closely monitor the situation."
The US Grand Prix in Austin, Texas, is still subject to confirmation by the national sporting authority. It is not immediately clear what the potential problem might be.
The season, which equals the record for the longest in history, sees the return of the French Grand Prix for the first time since 2008 and the German Grand Prix back after a year's absence.
The championship starts in Melbourne, Australia on 25 March, ends in Abu Dhabi on 25 November and the British Grand Prix is on 8 July.
There were also a series of minor rule changes, including a simplification of the system of penalties for using too many engine parts.
The system has been criticised for being overly complex, and from next year any driver who incurs a grid penalty of more than 15 places will simply be put to the back of the grid. If there is more than one at a given race, the drivers will be arranged in the order in which the offences were committed.
There was also a provision for a "change to the event timetable to increase flexibility". A spokesman said that instead of a prescribed time for the various practice sessions, there will be a window of time in which they can occur.
2018 F1 calendar:
25 March: Australia
8 April: Bahrain
15 April: China
29 April: Azerbaijan
13 May: Spain
27 May: Monaco
10 June: Canada
24 June: France
1 July: Austria
8 July: Britain
22 July: Germany
29 July: Hungary
26 August: Belgium
2 September: Italy
16 September: Singapore
30 September: Russia
7 October: Japan
21 October: USA*
28 October: Mexico
11 November: Brazil
25 November: Abu Dhabi
*subject to confirmation