Lewis Hamilton: McLaren, Ferrari and Red Bull could rival Mercedes for F1 title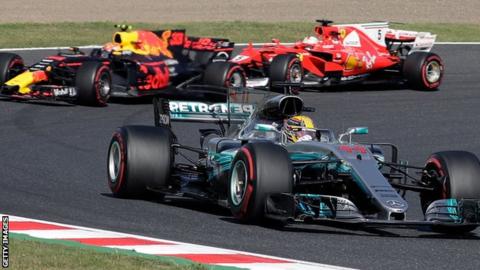 Lewis Hamilton believes there could be four teams fighting for the world championship next season.
The Mercedes driver, who won his fourth title in 2017, said McLaren could join Ferrari and Red Bull as contenders.
"McLaren will have Renault engines, then we may see four teams fighting for the championship," he said.
"Red Bull will be quicker (than this year) and Ferrari will be fast. We can't stand still. We have to keep moving forwards."
In a BBC Sport interview last month, Hamilton said he believed McLaren's Fernando Alonso was one of the four strongest drivers in F1 along with himself, his 2017 title rival Sebastian Vettel of Ferrari and Red Bull's Max Verstappen, and said he "it would be amazing" if all were in contention in 2018.
Hamilton, 32, said he was confident Mercedes would be able to continue as one of the leading teams. He said he arrives at the start of every season believing he can win the title.
Sorry, this content is no longer available.
"I have the same mindset now for next year," he said. "When I'm training and preparing for a new season, I firmly believe that we can be contenders for the next championship.
"It may turn out to be not possible, but you have to have that mindset.
"If you go in with expectations of finishing fifth, it's not going to work. You've got to gear yourself up to win."
Hamilton said he was heading off to his home in Colorado for a winter holiday and to begin his training ahead of the 2018 season.
"I go to the same place in the mountains every year," he said. "I have my dogs, I'm in the snow, and it's very quiet and peaceful there.
"I spend most of the day sitting by the fireplace. We go skiing, watch some movies and catch up with some TV series.
"I've never even seen any of Game of Thrones. My friends and especially my brother are huge fans, and I think I'm going to get into it in the winter."