Formula 1: Williams to wait until new year to announce driver line up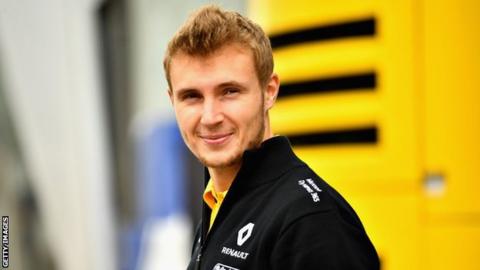 Williams will wait until the new year to finalise their driver line-up, with Russian Sergey Sirotkin the strong favourite for the drive.
The team's interest in Robert Kubica has cooled following the Pole's test with the team in Abu Dhabi last month.
Sirotkin, a GP2 race-winner, was quicker at that test, according to Williams' internal data.
The 22-year-old has a reputed £13.3m in backing but Williams say the decision will primarily be performance based.
What happened with Kubica?
Williams had been planning to sign Kubica for a sensational return to F1 after seven years out of the sport.
The 32-year-old Pole, who suffered life-changing injuries in a rally crash in February 2011 that left him with only partial movement in his right arm, had impressed the team in two tests in their 2014 car at Silverstone and the Hungaroring in October.
Everything was lined up to sign him assuming his first run in their 2017 car at Abu Dhabi after the season-closing race at Yas Marina went to plan.
But Kubica was only marginally quicker in Abu Dhabi than Williams race driver Lance Stroll, who was consistently and significantly slower than team-mate Felipe Massa for the vast majority of last season, and was a second off the Brazilian at the race at Yas Marina.
After analysing the data from the test, the feeling at Williams was that there was enough doubt about Kubica's performance to make signing him a significant gamble.
Kubica has also privately expressed doubts about whether he was quick enough in the test to convince Williams to sign him.
The caveat was that it was his first run in the 2017 car and he might improve over time, but there was no guarantee and the team feel it would be a big risk - even though in his heyday Kubica was one of the biggest talents in the sport.
That forced a rethink and left Williams in a difficult situation.
Why take a chance on a newcomer?
Williams wanted a driver with experience to replace Massa, who retired at the end of the season, but their options were limited.
Former Sauber driver Pascal Wehrlein was considered by both Williams and his backers at Mercedes not to have proved himself sufficiently in two years in F1.
And Russian Daniil Kvyat is coming off the back of two bruising years at the Red Bull teams.
Kvyat was finally dropped by the drinks giant in October and that was after 18 months in which he had first been demoted from Red Bull to Toro Rosso in a swap with Max Verstappen, and then dropped from the junior team following the Singapore Grand Prix this year, after an unconvincing and error-strewn season.
That leaves Sirotkin. He was a front-runner in GP2 in 2015 and 2016, winning three races in two years. He is unproven in F1, but Renault regarded him as quick and solid after a year as their reserve driver and Williams felt he acquitted himself well in both the Abu Dhabi test and in their simulator and that he showed significant potential.
The team believe Sirotkin at the Abu Dhabi test lapped at an equivalent pace to that achieved by Massa at the race weekend a few days before, once the variables of tyre and fuel load are removed.
Is it really all about the money?
Williams know they have a PR problem if they end up - as seems likely - with a line-up of Sirotkin and Stroll.
Not only do they lack experience but they will be perceived as two 'pay drivers' - in F1 because of the money they can bring to a team.
But Williams react angrily to suggestions that they would have ended up with Sirotkin simply because of the money his backers could bring to the team.
They insist that any decision on a partner for Stroll next season will be based primarily on driver performance, with any financial package a candidate might have a secondary consideration.
What about the age issue?
Williams have a complication in that their title sponsor is a drinks company which ideally requires a driver over 25 for promotional reasons.
Both Williams drivers will be under that age next year if the team sign Sirotkin to partner Stroll. But this is not a deal breaker in the decision.