Formula 1: 'Sebastian's emotion and anger just ran away with him'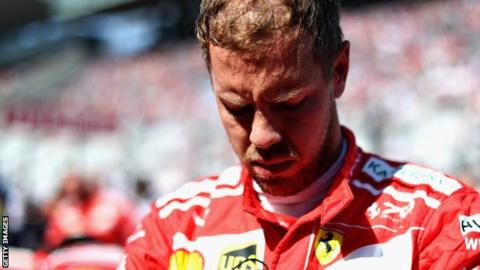 Sebastian Vettel was "let down" by his emotions in his title fight with Lewis Hamilton in 2017, according to Mercedes team boss Toto Wolff.
The German Ferrari driver appears "calm", but "is very emotional and passionate under the skin".
Wolff added: "This has made him win championships in the past. This year, it has let him down.
"Lewis by contrast has grown as a personality and as a driver and outside the car and that made him very strong."
Wolff's remarks, in an exclusive interview for the BBC 5 live Formula 1 review show, were a reference to two key incidents that affected Vettel's championship campaign.
The first was in the Azerbaijan Grand Prix, when Vettel deliberately drove into Hamilton's car in a red-mist moment provoked by his erroneous belief that Hamilton had given him a 'brake test'.
The second was the start-line crash in Singapore, when Vettel's aggressive swerve across the track precipitated a multi-car pile-up that took out both Ferraris, Red Bull's Max Verstappen and McLaren's Fernando Alonso.
The incidents cost Vettel at least 30 points in what had been until Singapore a tight battle with Hamilton.
On Baku, Wolff said: "We immediately looked at the data to see whether you could see something like a brake test and we couldn't see any of that.
"But Sebastian's emotion and anger just ran away with him in that moment. He would be the first one to acknowledge if he could turn back time, he wouldn't do it again."
And about Singapore Wolff said: "I don't know whether it was pressure or not. Sebastian knew that in order to score 25 points (for a win) in Singapore, he needs to lead the race after the start. And he tried to come in strong and with the lack of visibility in these cars he just triggered a chain reaction."
Wolff's remarks were echoed by Mercedes non-executive chairman Niki Lauda, who said: "Why (was Vettel) always moaning and bitching? He is getting more nasty all the time and why is he so emotional? He was never that bad before.
"Emotions in his way distracted - this is my opinion - him from really driving quick and focusing on the real battles."
Vettel said: "The one that stands out that I messed up was probably the Baku thing, which wasn't necessary. We lost some points there.
"Did it make a difference? I don't think it matters. Looking back it is the fact I let the team down, and it didn't gain us anything but other than that we had a very strong year.
"Things, to be fair, here and there didn't come together.
"Stuff like Singapore cost us massively but that sort of stuff happens. If you stop racing you might as well quit. The intention was never to not finish the race but sometimes these things happen. The other races overall we got more or less what was in the car."
A look forward to 2018
Hamilton and Vettel will both be aiming to become a five-time world champion next season, and Wolff expects the fight to be even closer than it was for most of 2017 because it will be the second year of the new rules that introduced faster and more demanding cars this season.
"The longer a regulation stays stable the more everybody closes up," Wolff said, "and for me it was already pretty close at many races.
"So one thing is for sure it is going to be an even more tough fight next year against Red Bull and Ferrari and maybe some other team during the season and we are all up for the challenge."
Wolff said Mercedes hoped to iron out some of the deficiencies that made their cars "difficult" at some races in 2017, where they were out-paced by Ferrari and Red Bull, but added that they would be unlikely to fully succeed.
"We have an understanding (of the car's problems) and we are trying to implement it into the new car," he said.
"Having said that, every car has a certain DNA and I don't think you want and will have a car that is strong on 21 circuits next year but in the end it has to be strong on most circuits."
Hamilton's contract negotiations
Wolff and Hamilton are in the process of trying to agree a new contract to keep the four-time world champion at Mercedes beyond his current deal, which runs out at the end of 2018.
The Austrian said: "Of course he has it in him to want to be the very best and outscore all the results but equally he is a 'frei-geist' - a free spirit - and he wants to keep his options open whether he stays a racing driver in 2019 or becomes a fashion entrepreneur."
But he insisted that both team and driver wanted to stay together after next season.
"We are in negotiations about a new long-term contract and hopefully Lewis can stay with us for many more years," he said.
"This is the wish of all the parties. He wants to be with us and we would like to keep him obviously but at the same time I think he just needs to have the peace of mind that whatever he decides to do in the future he can do.
"At the moment, he loves F1 and he doesn't want to do anything else and all the rest is hobbies but maybe in two or three or four years down the line he changes."
Longer-term decisions
Assuming Hamilton stays beyond 2018, Wolff will have to decide who to sign as his team-mate.
His current team-mate Valtteri Bottas, who joined Mercedes for 2017, is one option, but Red Bull's Daniel Ricciardo is also out of contract, while Force India's Esteban Ocon is a Mercedes young driver and had a very impressive first full season this year.
Wolff said the relationship between Hamilton and Bottas this year had made him reappraise what was required after four years of poisonous atmosphere between Hamilton and Nico Rosberg.
"If you would have asked me the question one year ago I would have said having Lewis and Nico, two drivers who have a strong rivalry and are pushing each other and making the car faster," Wolff said.
"But we have realised that the positive dynamics we had between Valtteri and Lewis in a difficult season like we had in 2017, was an asset.
"In so far as I would like the pairing to continue, we are committed to both of them in 2018 but having said that 2019 is a very exciting new year.
"There are young drivers that will have gained more experience and some of the very good ones like Daniel become free.
"And what we want to see is how the first third of the season pans out, whether our car is good enough and strong enough, and this is what we are actually concentrating on and then we will analyse and then take the right decisions hopefully."
A word on Williams
The Williams team, which uses Mercedes engines, has still to finalise its driver line-up for 2018.
Russian Sergey Sirotkin is the favourite for the seat despite never having raced in F1, after testing with Williams' first choice, the former BMW Sauber and Renault driver Robert Kubica, proved inconclusive.
But Wolff believes Williams should have gone a different route and signed one of the highly regarded rising stars such as Mercedes protege George Russell, McLaren's reserve driver Lando Norris or Formula 2 champion Charles Leclerc, who will be at Sauber next year.
Wolff, who was a former shareholder and senior figure at Williams before moving to Mercedes in 2013, said: "If I were Williams today I would be bold and would put a George Russell or a Lando Norris in the car or Leclerc - one of these really bright talented kids who have won championships in the past to develop the next superstar.
"But having said that there is a financial reality they live in and they have to find the right compromise."