Formula 1: Williams finalising Sergey Sirotkin 2018 drive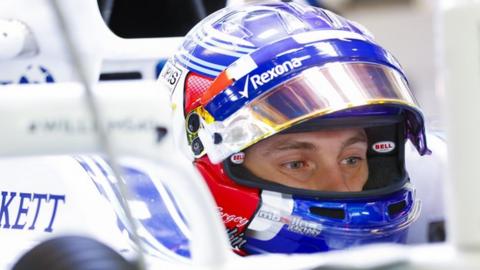 Williams are close to signing Sergey Sirotkin as the final piece of the 2018 grid falls into place.
The team are finalising a contract with the 22-year-old, who established his credentials in a test in Abu Dhabi after the end of last season.
The Russian, who has a reported budget of €15m (£13.3m), was faster than rival Robert Kubica after the team had fully analysed all the data from the test.
Sirotkin and Lance Stroll would be the least experienced line-up on the grid.
Sirotkin will be making his F1 debut as partner to a 19-year-old who has raced for only one season.
Williams had been intending to sign Kubica for a return to F1 seven years after the Pole suffered life-changing injuries in a rally crash in February 2011.
But the team's interest in the 32-year-old cooled after he tested their 2017 car in Abu Dhabi alongside Sirotkin.
Sirotkin has a bigger budget than Kubica by a factor of about two, but the team insist the decision is primarily performance-based.
Although there is understood to be no impediment to the Sirotkin-Williams deal, no announcement is expected for at least the next 10 days as the team take their time to complete the details of the contract.
Meanwhile, Canadian Nicolas Latifi has joined Force India as test and reserve driver for the 2018 Formula 1 season.
The 22-year-old will take part in what the team say are "a number" of Friday practice sessions, as well as the two official 'young driver' tests this year.
Latifi - who finished fifth in Formula Two last season, winning one race - said: "I'm really excited about the opportunity and eager to show the team what I can do."
The Toronto native, who brings with him to Force India a significant budget, has previously been linked to a similar role at Williams.
Latifi is also expected to do another year of F2 alongside his F1 commitments.
It will be his fifth season in the category, which changed its name from GP2 to F2 last year.