Formula 1 boss keen on staging race in Danish capital Copenhagen by 2020
Last updated on .From the section Formula 1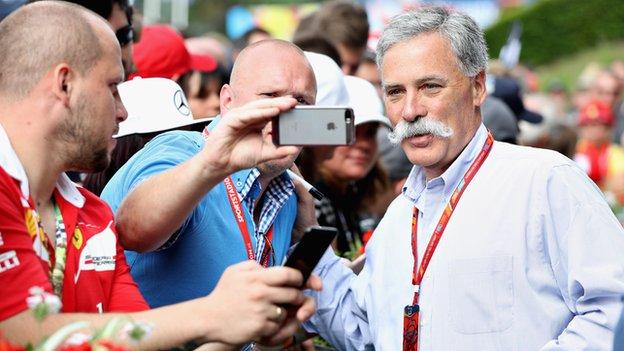 Formula 1 boss Chase Carey has backed plans for a new race in the Danish capital Copenhagen.
Carey discussed the proposal, aimed at holding a race by 2020, with the city's mayor and Denmark's business minister on a visit to Copenhagen on Wednesday.
"We're excited about the opportunity to explore a potential race here," Carey said, adding no decision had been made.
"Copenhagen represents the type of location we think can really provide a great platform."
New races in 'destination cities' are a key part of the ambition of F1's new owners Liberty Media to reshape the sport following their removal of long-time boss Bernie Ecclestone last year.
They are targeting events in key markets such as the US and Asia, and races in Miami and Vietnam are among those that have been mooted.
The Copenhagen project is being backed by a consortium led by former minister Helge Sander and Lars Seier Christensen, co-founder and former chief executive of online trading platform provider Saxo Bank.
"They don't just see it as Copenhagen but as all of Scandinavia which is a potential market for them," Christensen said.
He added that the potential budget was 300-500m Danish krone (£35.7m-£59.5m) a year, while the expected income from spectators including tickets is 1-2bn Danish krone (£119m-£238m).
If the race comes off, it would be the first grand prix in Denmark. The last race in Scandinavia was the Swedish Grand Prix, which was held at Anderstorp from 1973-78.