Formula 1: Robert Kubica named Williams reserve driver to Sergey Sirotkin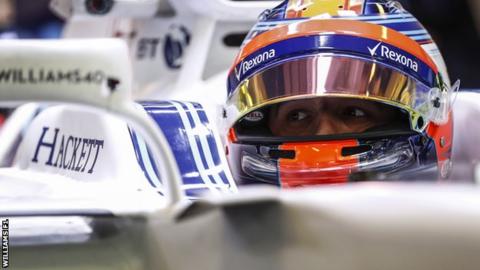 Robert Kubica has taken a significant step towards his ambition of making a return to Formula 1 with a role as reserve driver at Williams in 2018.
The Pole, 33, has not raced in F1 since suffering life-changing injuries in a rally crash seven years ago.
Williams have signed Sergey Sirotkin as a race driver to partner Canadian Lance Stroll after deciding the Russian out-performed Kubica in a test last autumn.
But Kubica will work on development and take part in some practice sessions.
The former BMW Sauber and Renault driver, who won the 2008 Canadian Grand Prix, said: "I feel in the best physical shape that I have ever been, but it has taken a lot of work to get to where I am now, so I'd like to thank Williams for the opportunities they have given me so far, and for putting their faith in me with this appointment.
"I have enjoyed being back in the Formula 1 paddock over these past few months, and I now look forward to working with the Williams technical team, both at the factory and at the track, to really help push forward the development of the FW41 (car) and to make a real difference to their 2018 campaign."
He added: "My ultimate goal is to race again in F1 and this is another important step in that direction."
Williams said Kubica would drive the car in pre-season testing, in-season testing and "a number of race weekend practice sessions".
Why did Kubica not get the race seat?
Kubica has only partial movement in his right arm as a consequence of the injuries he suffered in a rally in Italy in February 2011 and it has been a long road back.
He took part in three tests for both Renault and Williams last year and was hoping he had done enough to convince Williams to give him a race seat in 2018.
But the team felt that Kubica did not show the required performance level for them to take what they saw as a risk on giving him a full season, especially given his physical limitations.
Sirotkin tested at Abu Dhabi alongside Kubica and the team decided that, once all the variables had been removed, the former Renault reserve driver was quicker. Sirotkin's abilities with regard to technical feedback also impressed Williams.
Money was a secondary factor in the decision, the team insists, but at a reputed €15m (£13.3m) the budget Sirotkin brings to the team is twice what Kubica was able to muster.
But they recognise that Kubica is a special talent - he was regarded as on a similar level to world champions Lewis Hamilton and Fernando Alonso in his previous time in F1 with BMW Sauber and Renault - and did not want to risk losing him.
So once the decision to take Sirotkin instead was taken, Williams began to explore a significant role for Kubica that left open the possibility of a return at a later date if he managed to erase their doubts over his performance, which were particularly focused on his speed over one qualifying-style lap on the softer tyres.
Deputy team principal Claire Williams said: "All of us at Williams have been immensely impressed at what he has achieved, and it is a great credit to his strength of character and commitment to return to F1."
Chief technical officer Paddy Lowe said: "First and foremost, we'd like to congratulate Robert on what he has achieved so far. To overcome his injuries, return to fitness, and drive an F1 car again is a remarkable achievement, and one that few considered possible.
"We anticipate Robert will make a strong technical contribution to the team, using his wealth of experience in track testing, simulator work, and support to the race drivers and engineers at every race.
"He is a driver I have admired for many years."
What about the Sirotkin-Stroll pairing?
Sirotkin makes his F1 debut for Williams this year, after a year as Renault reserve driver which followed two years in the GP2 feeder series in which he won three races.
He and 19-year-old Stroll, who made his debut last season, together make the least experienced driver line-up on the grid.
Williams said she was "confident" about the pairing and "excited to see what next season brings".
The line-up of Sirotkin and Stroll is likely to draw criticism as being made up of two 'pay drivers' - competitors who owe their position to the amount of money they can bring to a team. Both men have budgets reputed to be worth well over £10m each.
But Williams have sought to emphasise the credentials of both drivers.
Chief technical officer Paddy Lowe said: "We have conducted a rigorous and exhaustive driver evaluation process.
"Ultimately, Sergey impressed the team with his driving pace and talent, technical feedback and work ethic, both at the factory and trackside in Abu Dhabi. I'm delighted he will be joining the team to partner Lance next season.
"Lance will be going into his second season with us, after notable achievements in his rookie year. We have an exciting line-up for 2018 which we believe will help us to maximise the potential of the FW41 (car)."
Sirotkin said: "To say I'm happy and proud to join such a famous team like Williams is an understatement.
"It took a huge amount of work to get where I am, and I'm really happy and thankful to everyone involved.
"The result of our combined efforts has helped me achieve my dream, and rest assured the team can rely on me to deliver my best."
Analysis
Williams are braced for criticism of their 2018 driver line-up, as Stroll and Sirotkin will be perceived as two 'pay drivers' and one of the worst pairings in the history of this once-illustrious team.
Williams hope to prove this perception wrong over the season. But the reality is that, one way or another, they have managed to get themselves in a difficult position.
Not overly keen on continuing with Felipe Massa into a fifth season, Williams failed to find a replacement from the existing drivers in F1 and effectively put all their eggs in the Kubica basket by September.
They had wanted to keep Massa as a back-up option in case Kubica did not work out, but the Brazilian refused to be treated as such and decided to announce his retirement from F1 before the end of last season.
The team hoped Kubica's test in Abu Dhabi last year would be final confirmation - after two previous tests in their 2014 car - that he could make a comeback that on paper looked highly appealing.
But an unconvincing performance there made them feel they could not take a risk on Kubica.
That being the case, they felt their only choice was to take Sirotkin as what they perceived to be the best available option.
The team believe he was quicker at the test than both Stroll and Kubica once tyres and other variables were taken into consideration - although not, as far as they can tell, as fast as Massa had been at the race weekend a few days before.
There will be disappointment that Kubica has not been given a race seat, but even to get this far is a remarkable achievement, showing immense levels of courage and resilience.
From the outside, however, it does not appear to be a particularly encouraging position for Williams to go into 2018.
They finished fifth last season and have hopes that they have produced a better car this year, the first in which new technical chief Paddy Lowe has been involved since his move to the team from Mercedes a year ago.
But Williams face threats from what are expected to be the resurgent Renault and McLaren teams this year, as well possibly as Ferrari-backed Sauber, and could be in danger of finishing as low as seventh or worse in the championship this season.