Formula 1: Force India and Sauber withdraw 'anti-competitive' complaint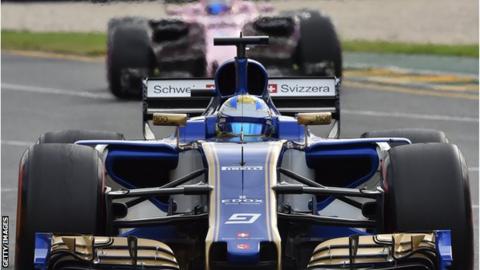 Force India and Sauber have withdrawn their complaint to the European Union regarding anti-competitive practices in Formula 1.
The teams lodged the complaint in 2015, claiming former F1 boss Bernie Ecclestone had set up an "unfair" governance structure and split of revenues.
But the teams say they are "encouraged by dialogue" with F1's new owners.
US group Liberty Media bought F1's commercial rights last year.
Under new boss Chase Carey, who ousted Ecclestone last January, they are conducting a thorough review of F1 and plan to make changes to many aspects of its governance and structure over the next few years.
Among the changes being pushed are a cap on the amount of money teams can spend, a fairer revenue split, simplifying engines to help generate a more competitive field and changing the technical rules to encourage closer racing and make overtaking easier.
The statement from both teams on Thursday said Carey and his new management team had "brought a new culture of transparency to the sport and illustrates willingness to debate fundamental issues such as the distribution of the prize fund monies, cost control and engine regulations".
It added: "We are encouraged and reassured by the even-handed and fair negotiating approach taken by the new management of Formula 1 to all the teams and their issues.
"While the concerns leading to the complaint were fully justified, we believe this new approach provides the necessary degree of assurance that our concerns will be looked at objectively, and we prefer to resolve the issues facing the sport through dialogue rather than a legal dispute.
"We want to support this transformational process in F1 and have thus resolved to withdraw our complaint with immediate effect."