Formula 1: 'Grid girls' will not be used at races this season
Last updated on .From the section Formula 13407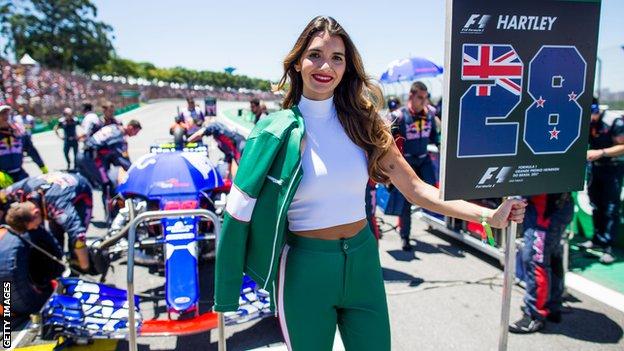 'Grid girls' will no longer be used by Formula 1 from the start of the 2018 World Championship season.
Sean Bratches, managing director of commercial operations, said the change would be made "so as to be more in tune with our vision for this great sport".
F1 managing director of motorsports Ross Brawn told BBC Radio 5 live in December that the use of female promotional models was "under review".
The new F1 season begins on 25 March.
"While the practice of employing grid girls has been a staple of Formula 1 grands prix for decades, we feel this custom does not resonate with our brand values and clearly is at odds with modern day societal norms," Bratches added.
"We don't believe the practice is appropriate or relevant to Formula 1 and its fans, old and new, across the world."
Stuart Pringle, managing director of British circuit Silverstone, said: "We wholeheartedly support the decision by F1 to drop the use of grid girls - it is an outdated practice that no longer has a place in sport."
Last week, the Professional Darts Corporation said walk-on girls will no longer be used at events.
The Women's Sport Trust said in a statement: "We strongly encourage sports such as cycling, boxing and UFC to follow darts and Formula 1 and reconsider the use of podium girls, ring girls and octagon girls.
"This is not a matter of feminists versus models, which seems to be the way many people want to portray this story.
"These changes are taking place because global businesses are making a considered choice about how women should be valued and portrayed in their sports in 2018. They deserve significant credit for doing so."
In December, BBC Sport carried out a vote on whether 'grid girls' should be part of Formula 1, with 60% saying that they should be.
The view from the grid girls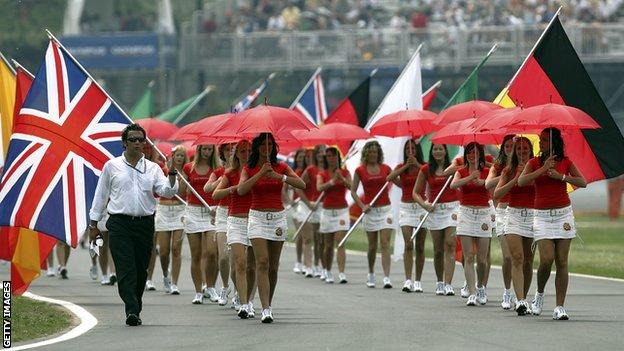 Charlotte Gash is a part-time grid girl, who says she is "disgusted" with F1's decision.
"It's upsetting and I'm rather disgusted that F1 have given in to the minority to be politically correct," Gash told BBC Radio 5 live.
"I'm one of the lucky ones that I don't rely on this as a main source of income, but there are girls out there who do.
"I know the grid girls are there to look pretty when they're out on the grid but my role was interacting with the crowd and we were there as an advertisement for the sponsors. We love doing it we don't want it taken away from us."
Caroline Hall is another former grid girl, who now owns an agency providing staff for promotional events.
She told 5 live: "I think it's sad they've taken such extreme measures so quickly. I think they could have looked at ways of bringing the role more into line with modern times instead of scrapping it entirely. They could have looked at making it more equal between the sexes in the role.
"The question is 'what are people offended by? Are they offended by the role, that there is somebody standing there with sponsors over their clothing or is it the fact that it's only women doing it?'"
What did they actually do?
'Grid girls' are models used to conduct certain promotional tasks, usually wearing clothing that bears the name of a sponsor.
Their duties in F1 included holding umbrellas or driver name-boards on the grid and lining the corridor through which the drivers walk on their way to the podium.
Their use has become the subject of debate as social attitudes have changed, and some races have begun to experiment with alternatives, such as using male models instead of female, or children as mascots - Formula E currently has grid kids instead of grid girls.
"It's a great and emotional experience for these kids to be on the starting grid, next to the drivers and cars that they might drive one day, so hopefully it also works as a good motivation for them," a Formula E spokesperson said.
"The concept is working really well."
The first race of the season is the Australian Grand Prix in Melbourne on 25 March.
Analysis
Andrew Benson, chief F1 writer
Formula 1 will no longer use 'grid girls' - and the reaction to that move will inevitably be mixed.
Some have already bemoaned the decision, saying it is a regrettable break with what they see as a fundamentally harmless tradition and an inevitable diminution of the sport's so-called "glamour".
Others will say that in 2018, at a time when the objectification of women in western culture is increasingly coming under the spotlight, it is not before time.
F1 entered a new era last year, when new American owners removed its octogenarian - and notoriously reactionary and politically incorrect - boss Bernie Ecclestone and replaced him with a new corporate structure aimed at making the sport fit for the 21st century.
Society is living through a defining moment in sexual politics. It is the time of #MeToo, and revelations of sexual harassment and worse by powerful men.
Some will see this decision as tokenistic and unnecessary. But the likelihood is that the vast majority of those people will be men.
In that context, it feels like an appropriate decision for the times, and one that F1 had to make.