Haas unveil new VF-18 car for 2018 Formula 1 season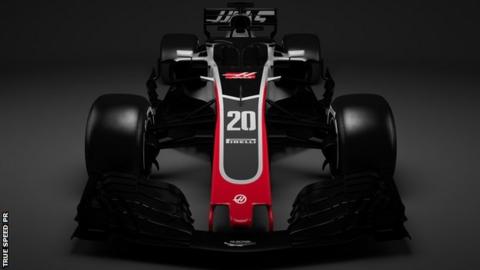 American outfit Haas are the first team to release images of their 2018 Formula 1 car.
Haas, who finished eighth last season, have published digital images of the VF-18, which they hope will enable them to "close the gap to the top teams".
The colour scheme attempts to minimise the visual impact of the controversial 'halo' head-protection device, the biggest technical change this year.
Boss Gunther Steiner said the car was an "evolution" of last year's model.
"We eliminated a lot of the variables where we knew we were weak," Steiner said.
"We've focused on what it's going to take to get our car to be consistent.
"It's less about reinvention and more about refinement. You see elements we had from last year on the car this year.
"Our 2017 car was actually pretty good but we didn't always get the best out of it, and that's what we aimed to change in 2018."
F1's new machines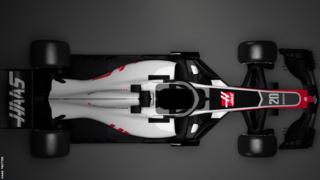 Haas... struggled to stand out at most races in 2017, as did the predominantly grey livery
Aside from the head protection system, among other obvious changes from last year is the absence of a large vertical fin on the engine cover and the so-called 'T-wing' attached to the rear tip - both these have been banned for 2018.
Haas continue this season with drivers Romain Grosjean and Kevin Magnussen and using latest-specification Ferrari engines.
The season starts with the Australian Grand Prix on 23-25 March, with two, four-day pre-season tests on 26 February to 1 March and 6-9 March.
Williams are due to be the next team to reveal their car at a launch event in London on Thursday evening.