F1 pre-season testing: Sebastian Vettel edges Valtteri Bottas on day two

By Andrew Benson
Chief F1 writer
Last updated on .From the section Formula 1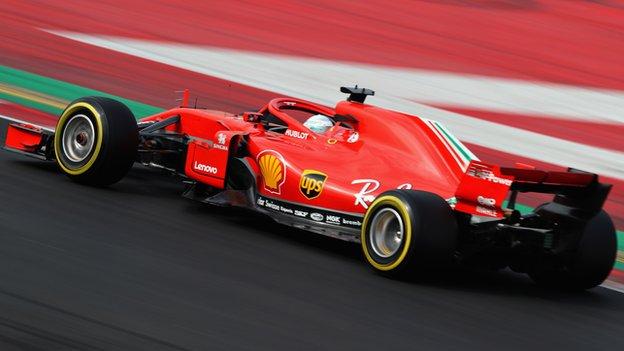 Ferrari and Mercedes have given the first indication that they could be set for another close title battle in 2018.
Ferrari's Sebastian Vettel and Valtteri Bottas of Mercedes were first and second fastest on day two testing at Circuit de Catalunya in Spain.
Vettel was quickest but Bottas was only 0.303 seconds behind despite using a tyre one grade softer and slower.
Lewis Hamilton had been due to drive in the afternoon but Mercedes kept Bottas in the car to maximise running time.
The world champions wanted to make the most of the brief window of reasonable weather in the middle of the day after a cold start so opted against losing the time that would have been spent adjusting the car to fit Hamilton.
The team said the unpredictable weather meant plans were flexible and that Hamilton had been involved with and agreed with the decision.
Red Bull's Max Verstappen was close behind the leading two, the Dutchman fourth fastest and just 0.35secs slower than Bottas on the same medium compound tyre.
"It looks good, the car," Verstappen said. "It is handling good so far. I am happy with the balance of the car. You can always improve it but in terms of lap times we are doing well, so we don't really have big issues. That is a big difference compared to last year."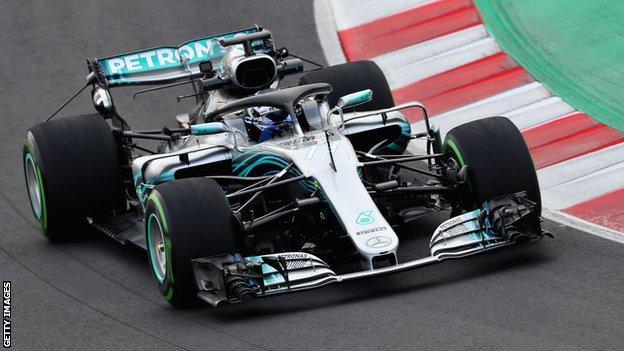 McLaren's Stoffel Vandoorne was third fastest on the day, just 0.001secs quicker than Verstappen, but the Belgian was using the fastest hyper-soft tyre, which is three grades softer than the soft used by Vettel, so the time cannot be directly compared.
Vandoorne did only 37 laps after a problem with the exhaust caused overheating.
It was a second consecutive difficult day for McLaren, for whom Fernando Alonso lost the morning on the first day after a wheel-nut problem caused him to lose a wheel and spin after just six laps.
Vettel was one of three drivers to have off-track incidents during the day. He lost it at Turn One, while Sauber's Charles Leclerc and Haas' Kevin Magnussen also had spins.
"It's very cold. It's very difficult to get the tyres to work and I think everybody is having the same issues," said Vettel.
"The car is working, we didn't have any problems reliability-wise. In terms of performance, I don't know yet, but in terms of general operation it's been very smooth."
All times in pre-season testing are potentially misleading in terms of judging teams' competitiveness because it is impossible to know the specifications in which the teams are running their cars - and tyres, fuel loads and engine settings can all make significant differences to lap times.
However, a pattern looks to be beginning to emerge after two days of testing, despite the unexpectedly cold weather in northern Spain, with the day starting with freezing temperatures, the mercury never rising above five celsius and a few flakes of snow starting to fall towards the end of the day.
Mercedes, Ferrari and Red Bull appear at this early stage to have the three fastest cars - as they did last year - while Renault, who were the next quickest team on Tuesday, as they were on Monday, are also looking promising.
McLaren look to be more competitive after their switch from Honda to Renault engines but their insistence on choosing much softer tyres than other teams is making it especially hard to judge them.
Behind Renault's Carlos Sainz in fifth was Toro Rosso's Pierre Gasly.
At Williams, former F1 driver Robert Kubica had his first run in an official test since being appointed official reserve and test driver and was 0.327secs quicker than Russian Sergey Sirotkin, who was selected for the race seat ahead of the Pole.
Kubica, who has only partial movement in his right arm as a result of injuries sustained in a rally accident in 2011 that curtailed his F1 career, still believes he can make a full-time return to F1.
Fastest second day pre-season times:
1 Sebastian Vettel (Ger) Ferrari one minute 19.673 seconds*
2 Valtteri Bottas (Fin) Mercedes 1:19.976
3 Stoffel Vandoorne (Bel) McLaren-Renault 1:20.325 ****
4 Max Verstappen (Ned) Red Bull-Renault 1:20.326
5 Carlos Sainz (Spa) Renault 1:21.212 *
6 Pierre Gasly (Fra) Toro Rosso-Honda 1:21.318 *
7 Robert Kubica (Pol) Williams-Mercedes 1:21.495 *
8 Sergey Sirotkin (Rus) Williams-Mercedes 1:21.822 *
9 Esteban Ocon (Fra) Force India-Mercedes 1:21.841 *
10 Charles Leclerc (Mon) Sauber-Ferrari 1:22.721 *
10 Kevin Magnussen (Den) Haas-Ferrari 1:22.727 *
* = time set on soft tyre; ** = time set on super-soft tyre; **** = time set on hyper-soft tyre; all other times on medium