Pre-season test: Ferrari's Sebastian Vettel hopeful of challenging Mercedes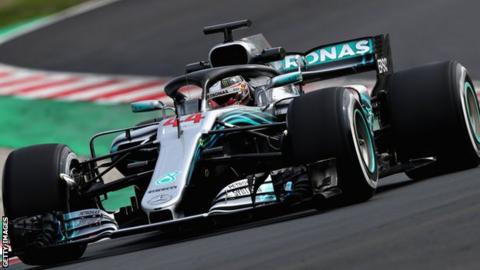 Sebastian Vettel ended the first pre-season test hopeful that he and his Ferrari team are poised for another tight battle with Mercedes in 2018.
In reality, though, the teams came out of four mostly damp and cold days at the Circuit de Barcelona-Catalunya, home of the Spanish Grand Prix, with only a vague idea of what shape they might be in with their new cars.
Single-figure temperatures for the first three days of the test, the third day so bad that it snowed in the morning and was effectively a write-off, were followed by one afternoon's dry running in more typical temperatures of around 15C on Thursday.
It was not enough, teams said, to be sure of where they stood. But Vettel at least felt he had seen enough to predict: "Mercedes are the favourites. I think it will be close, very close."
Sure enough, world champion Lewis Hamilton ended the test fastest, his lap time of one minute 19.333 seconds on the final day 0.3secs quicker than the fastest lap achieved by Vettel two days before.
As everyone with even a modicum of interest in Formula 1 knows, headline times in pre-season testing are often an unreliable indicator of true competitive form.
This year, this test, that is even more the case.
So little running was there in representative conditions that tyre supplier Pirelli did not even feel confident enough to release data on the lap-time difference each of its tyre compounds made. Teams themselves admitted to not having a clear idea of where they stood.
But some vague indications were beginning to take shape.
Fastest times of the week
1 Mercedes (Hamilton) 1:19.333 (medium tyre)
2 Ferrari (Vettel) 1:19.673 (soft)
3 McLaren (Vandoorne) 1:19.854 (hyper-soft)
4 Red Bull (Ricciardo) 1:20.179 (medium)
5 Haas (Magnussen) 1:20.317 (super-soft)
6 Renault (Hulkenberg) 1:20.547 (medium)
7 Williams (Stroll) 1:21.142 (soft)
8 Toro Rosso (Gasly) 1:21.318 (soft)
9 Force India (Ocon) 1:21.841 (soft)
10 Sauber (Leclerc) 1:22.808 (soft)
The top three
While a clear competitive order might not have emerged, there was enough evidence - both numerical and verbal - to suggest that the top three teams of last year - Mercedes, Ferrari and Red Bull - will be the top three teams of this year.
They topped a day each, for a start, and when teams are simply running their cars to understand them as much as they can with limited time, that does mean something.
Exactly where they stand in comparison to each other, though, is not yet clear. But the impression is that Mercedes have a slight edge and Red Bull might have closed the gap on Ferrari a little.
Mercedes were typically impressive. The car looked consistently quick and Hamilton set the fastest time of the test using the 'medium' tyre - the hardest tyre teams used all week, whereas the fastest Ferrari time was using the 'soft'.
And the Mercedes was quick in all sectors of the lap - straights, long, fast corners and slow, short ones. For a car that last season had its limitations on slow-speed tracks and a narrow set-up window that made it difficult to balance across different corner types, that is especially worrying for the opposition. If Mercedes have kept the strengths of the 2017 car and ironed out its weaknesses, as that suggests they might have, the opposition could have a major problem.
That is not necessarily bad news for Ferrari, though, because it was said that there was very little difference between the ultimate lap-time potential of the soft and medium tyres in Barcelona this week.
As for Red Bull, their fastest time was Daniel Ricciardo's 1:20.179 on Monday. But Verstappen did a lap that was almost certainly faster in reality.
The Dutchman's 1:20.326 on Tuesday was set on the ninth lap of a 22-lap run. Fuel-correct that (i.e. subtract the lap-time effect of the minimum fuel weight he must have had on the fastest lap of the run) and it becomes a 1:19.5 - i.e. the same speed as Vettel's fastest lap of the test.
What about the Renault engine?
The big question hanging over the potential for a three-way title battle is the Renault engine in the Red Bull.
After suffering too many failures last year, Renault have made it clear that they are focusing on reliability first this year and performance second.
That's not great, considering they had a performance deficit to Mercedes' and Ferrari's engines last year, although Renault F1 boss Cyril Abiteboul points out that it does not necessarily mean they won't start the season with a stronger engine than they ended the last one.
"Reliability and performance and competitiveness go hand in hand," Abiteboul said. "Last year we had to reduce the performance potential of the engine because of reliability.
"So the target is we need to start the season reliably so we can use the engine to its full potential, which we were not able to do last year. So from a performance perspective the engine should be performing better."
The wider concern, though, is whether Renault have the wherewithal to catch up when they do start to focus on performance.
Renault's big shortfall - both in terms of performance and reliability - is in the hybrid element of their engine. Last year, they ended up being forced to revert to their 2016-specification energy recovery system (Ers) because the new one they were developing could not be made reliable enough.
This year, they have another updated hybrid system in development, but it is not ready for the start of the season - so they will again be using what is now a two-year-old design. They plan to introduce the upgraded Ers later in the season but are not able to say when that might be.
The hope is said to be that it will be around the fifth race of the season, the Spanish GP in early May. They may prefer to wait until they introduce the second of the three permitted engines - which would presumably be at the seventh race of 21 in Canada in June. But at this stage there is no guarantee of when - or even whether - it will appear.
Unless Renault can get on top of this, it could torpedo Red Bull's title hopes before they start - although they could still be able to mix it with Mercedes and Ferrari for wins.
"Our expectation and goal is to try to reduce the gap to the cars ahea of us," Red Bull team boss Christian Horner said. "Mercedes are the benchmark, the favourite. If rumours (that they have) 1,000bhp are correct, that is going to put them in a mighty position. But we have made good progress and we hope to be a challenger team particularly at circuits that play to our strengths."
Some good news for Renault
Abiteboul has made it clear that the Renault works team is the French company's priority, and they appear to have made strong progress over the winter.
The yellow-and-black cars were towards the sharp end of the timing sheets for much of testing. They ran reliably and the team got through a lot of work.
The impression up and down the pit lane is that Renault, at least at the first test, are clearly the fourth fastest team, and in a bit of a no-man's land behind the big three and ahead of everyone else.
With plenty of developments to come on their car, Renault are looking good to make the progress their five-year plan to be title contenders by 2020 dictates.
What about McLaren?
McLaren enter this season with high hopes of returning to relative competitiveness after three dismal years with Honda engines.
They have switched to Renault engines after losing faith with the Japanese company and have been talking about their expectation of being at least able to fight for podiums again.
But attaining a better engine comes with a flip side. McLaren's car can for the first time since 2014 be directly compared with those of other teams, in their case, Red Bull and Renault, both of whom have the same engine.
McLaren admit that this brings pressure but they say they welcome it.
Everyone in F1 accepted that the McLaren was a good chassis last year - although not many felt it was as good as McLaren themselves did. They regularly claimed it was in the general ballpark of the Red Bull.
No one who looked at the lap times drew that conclusion about McLaren this week.
McLaren's performance was especially hard to read because they spent the entire test running on the softest tyres, when most others focused on the soft and medium. This was a deliberate choice based on the weather forecast, McLaren thinking the softer tyres would work better in the cold conditions.
Stoffel Vandoorne set the third-fastest time of the test overall - 0.5secs slower than Hamilton's best - but he was using the softest 'hyper-soft' tyres to do that. There was no official tyre off-set in Barcelona. But at the post-season Abu Dhabi test of 2018-spec tyres, the hyper-soft was more than two seconds quicker than a soft.
Fernando Alonso did his best, a 1:20.929, on the super-soft tyre. That's quite possibly a de facto quicker lap than Vandoorne's - but 1.6secs slower than Hamilton, who was using a tyre estimated by one team to be around 1.3secs slower.
With this as raw data, the impression up and down the pit lane was that - on the evidence of this week - McLaren have a lot of work to do.
But then it was their first test with a new engine supplier, they had some very public reliability issues - a wheel fell off on the first day; an exhaust clip broke causing significant overheating damage in the engine bay on the second - and may well have had others that were not known about. In that context, it could be that the car was running in a way that compromised its true performance.
In short, it would be wiser to wait before jumping to any conclusions about McLaren's performance.
The others
As for the rest, the midfield battle looks to be close again. Haas set the fastest time of these teams - but Kevin Magnussen used the super-soft to do it. Williams looked OK. Force India looked unexpectedly slow, but then the same could be said of this time last year, and they went on to finish a very impressive fourth in he championship.
Toro Rosso had a very reliable first test with new engine Honda, and were making positive noises about how smoothly it was all going. But they also admitted Honda were still behind on the engine front. The big interest is in where they and McLaren are going to shake out.
And Sauber looked to be adrift at the back, albeit not as far as they were last year.